Let us give you a glance at another comprehensive showcase of effective web tools and services for various goals.
Below, we tested over 50 professional web tools and services, from many different industries – WordPress support service, website builders, logo creators, Goodie – a top web development service, and much more. Here it goes.
1. Smart Logo Design
LogoAI is a smart logo design software that uses Artificial Intelligence to create unique and gorgeous designs. The results are impressive, give it a try and see.
The process is very simple and intuitive. You start by writing your company names and after a few steps, you will get tons of logo designs to choose from. When you find the right logo, you can edit it with what you need for your project.
Payment will be made after you find the logo you like, not before. Pricing starts at $29 per logo.
2. actiTIME
Besides being proficient in programming, developers can largely benefit from having an extensive set of project management skills. They should be capable of optimizing work processes in a way that lets completing the planned work on budget and schedule. Moreover, they should be able to respond to any changes in the project's scope promptly and efficiently.
An intelligent timesheet tool, actiTIME, can be of great help for developers and their managers in attaining these objectives. Its core features are:
Scope management for creating projects and tasks, setting up estimates and deadlines, and monitoring current performance on the Kanban board;
Time tracking for keeping an accurate record of working hours and billable time;
Thorough reports for a comprehensive review and analysis of productivity trends, as well as project costs and revenues.
With all these features, actiTIME fosters closer attention to details in the management process and reduces the risk of errors during data collection. Moreover, it automates many HR and accounting processes, from PTO accrual to client billing and invoicing. Therefore, it saves a ton of time that you may invest in working on more critical project-related issues.
actiTIME is also very flexible, and you can easily integrate it with a wide variety of other useful tools through Zapier or API. Moreover, actiTIME's automatic timer can be accessed directly through the Chrome extension in Jira, Github, and GitLab. In this way, the tool enables you to track time while being entirely concentrated on the primary work process. Sign up for a free actiTIME trial and bring your productivity to the next level.
3. Whatagraph
Whatagraph is a marketing analytics and social media reporting tool for smart marketers to track advertising results and visualize campaign performance data. Use Whatagraph to build customized cross-channel reports and easily present analytics to your clients or company with pre-made templates that integrate with 30+ channels including: Facebook, Google, Instagram, YouTube, Linkedin, Twitter, TikTok, Mailchimp, Shopify, Klaviyo, Amazon, Snapchat, Pinterest, Ahrefs, Semrush, Microsoft, Hubspot, Woocommerce & others.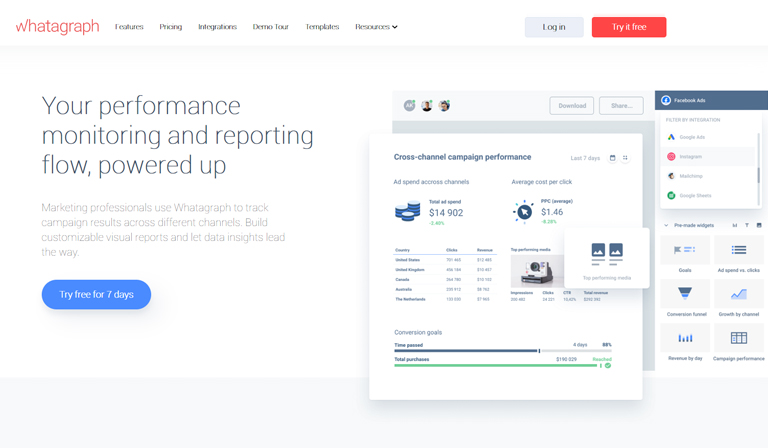 4. Total
Total is the most advanced and complete WordPress theme on the market, being used with huge success by tens of thousands of people and companies from all over the world. Use Total to create any kind of website – Personal, Blog, Business, Shop, Portfolio, Photography, etc. It has included 40+ gorgeous premade designs that you can install with 1-click, 80+ builder modules, 500+ styling options, 3 bundled premium plugins (Visual Page Builder, Templatera, Slider Revolution), and much more. Total does offer support renewals.
Websites that use Total theme load much faster, get more traffic from search engines and usually convert better.
5. Mobirise Website Builder
Mobirise is a super-advanced, yet simple to use offline website builder that comes loaded with tons of things:
4,000+ awesome website templates
Zero coding, Drag-and-drop builder included
Latest Google AMP, Bootstrap 4, PWA
eCommerce and Shopping Cart
Sliders, Galleries, Forms, Popups, and Icons.
A friendly, quick, and intuitive interface.
Deep customizations.
Use Mobirise to create superb and fully functional websites, even if you have zero experience and zero design skills.
6. TinyIMG
Image optimization is at the forefront of any fast Shopify store and TinyIMG is your number one option.
What's great about TinyIMG is that you can compress images by 70 percent without any loss of quality. Plus, it's completely up to you whether to optimize images automatically or manually. Some other features you can take advantage of after getting TinyIMG include:
JSON-LD structure
Website audit
Broken link reports and redirects
Optimized metadata
Easy ALT text modification
For any technical assistance or support, TinyIMG has a live support team ready to troubleshoot with you and answer your questions in no time.
Overall, TinyIMG is a great Shopify image resizer and general SEO app with varied plans at affordable prices.
7. Graphic Design Contract
Bonsai is a highly popular producer of tools dedicated to freelancers. They created all kinds of web tools for this niche that are interconnected and work extremely well. Now they help you with a professional graphic design contract that you can download right away.
8. Wp Customify
WP Customify is a complete WooCommerce support and maintenance service that will help you with tens of different things. Let this team of experts take care of your WooCommerce store so it will function perfectly 24/7/365. Work with WP Customify, their rates are super affordable.
9. Doit.io
Doit is a smart software that will help you organize your work and personal lives, all in one place. Use Doit to take notes, manage projects, share ideas, and collaborate, in a visual and simple way.
The free forever plan is more than enough for most users, look at all these included features:
1 GB of Storage
25MB/File Upload Limit
Share any Note with 5 Users
Unlimited Notes & Tasks
Use Doit and you will have your life organized as you always wanted.
10. GreenGeeks
No matter what website you have, GreenGeeks will offer you a solid and high-performance hosting solution – Shared, Reseller, VPS, and WordPress Hosting. They care about absolutely everything, and you will feel it from the first moment working with them. The company is eco-friendly, doing its best to lower global carbon emissions.
GreenGeeks offer 24/7365 support which is a very rare thing in the industry and the following 2 guarantees:
99.9% uptime
30-day money back
11. TheGrayDotCompany
Are you getting the best out of SEO? If not, get in touch with The Gray Dot Company, a professional SEO consulting company, and let them help you master and scale SEO results. The rates are affordable and they create custom SEO strategies for each customer. Get your free quote now.
12. CollectiveRay
CollectiveRay is the best place for people looking for WordPress reviews and guides (both themes and plugins), but also for Shopify, web design, and other technologies. These guys do super in-depth articles that will help you learn new skills or get the right information before you buy something. Take a look.
13. Lead Generation Software
Mailmunch is a complete lead generation software that will help you design forms, landing pages, and emails using the intuitive drag and drop builder. You can create as many forms and landing pages as you wish, there are no limitations.
Use Mailmunch to capture leads from multiple forms and grow your subscriber email list, it is simple. You don't need any experience or skills. The platform will help you every moment. Boost conversions by up to 400% with Mailmunch sleek opt-in forms and landing pages.
14. Free Email Templates
Unlayer is a powerful email builder that comes loaded with 600+ gorgeous email templates and a smart drag-and-drop editor. No matter what kind of email you want to create for your marketing campaigns, Unlayer have you covered. Learn more about Unlayer.
15. Landingi
Landingi is a professional landing page builder used mostly by marketers and agencies that need to create quick landing pages that convert. The platform is loaded with 250+ gorgeous landing page templates, and 50 pop up templates. It will help you big time kickstarting your marketing campaigns.
16. WhatFontIs
WhatFontIs is the best font identifier software on the market. It is free to use and you don't need to register. Upload a picture on WhatFontIs website, and the smart AI software will identify the font telling you the following things:
The name of the font.
If it is free or paid, and its price.
Where to get it from.
For each identified font, the software offers you 60+ free and paid font alternatives. WhatFontIs is very simple to use and efficient. Give it a try, identify all the fonts you like.
17.  UPQODE
UPQODE is an American web design agency that has reaped the rewards of its proficient WordPress websites since 2015. It has won plenty of awards for its responsive, operational, and secure websites built with cutting-edge technologies that assure long-term optimization. The company also offers cost-effective packages for small businesses.
18. Marketing Contract Template
Bonsai created a professional marketing contract template that you can use for free, right away. Just edit it with your own data, and your area good to go. Check it.
19. Heroic Inbox
Heroic Inbox will help you manage customer support email directly from your WordPress website, and collaborate with your team. You will save lots of time with this smart solution. Learn more about Heroic Inbox plugin for WordPress.
20. Heroic Table of Contents
Heroic Table of Contents is the best plugin for WordPress that will add tables of contents instantly on your website, with just a few clicks. And even better, the plugin is absolutely free to use. Get it now.
21. Argon Design System by Creative Tim
Argon Design System is the name of a super collection of free UI Kits and Dashboard for developers that Creative Tim did for all of you. All these products are looking great, are top quality even if they are free, and come with a huge number of components. Get Argon products and save tons of time.
22. Icons8 Stock Photos
Icons8 Stock Photos is the resource of images for creators. Based on machine learning and professional photography, it goes from a traditional stock photo library to a creative community. Use images with models of different ages, nationalities, and body types, photos of various objects and backgrounds. Also, you can customize photos for your unique stories. The photos are free for a link.
23. Ozeum
Having a clean and minimalist website design with amazing features is great. It can be a huge boost to you and your brand. If you sell your work online, having an easy-to-use shopping experience is a must. That's why Ozeum supports the WooCommerce plugin. Besides, it comes with the Elegro Crypto Payment functionality, too. Plus, since it's based on Elementor, it's easy to customize your page layouts. Encourage people to stick around and dive deeper into your offerings. To make that happen, take care of your galleries. The Essential Grid plugin is here to help.
24. BeTranslated
BeTranslated provides top-quality translations of a huge range of texts at very affordable rates. A reputable translation agency with considerable experience with projects of all sizes, they take pride in delivering outstanding translations in a timely manner. Get in touch with the experts for a free quote.
25. Wokiee
Wokiee is a gorgeous Shopify theme that will supercharge your store with a brilliant design and easy navigation. The theme is heavily optimized for conversions and it loads very fast.
26. Antideo
Check all the data you collect for your marketing campaigns in real time before it is populated into your contact lists for campaigns, as it is the only way to have accurate data. Antideo will help you validate emails and phone numbers, and check IP reputation against a number of industry-leading parameters including publicly available large databases of spammers and scammers. The Email and IP intelligence offering is available through an API as well as a WordPress plugin for email validation.
For up to 10 requests per hour, the software is free to use, then it is $5 per month.
27. uKit
For everyone looking for a quality, cost-effective and simple web design tool, uKit will definitely be a handy solution! This is the all-in-one website builder, which is rightfully included in the list of the most intuitive, convenient, and functional platforms. The system can be used both by beginners and web design professionals as it has much to offer to both user categories. uKit has powerful eCommerce and blogging platforms, SSL Certificate connection option, shared website access rights, and other merits that contribute to its functionality.
28. Opinion Stage Wix Quiz
Opinion Stage will help you create engaging Wix quizzes right away, using the included templates and the smart drag-and-drop editor. Start with the free plan and upgrade if you need more usage or more features.
29. uCoz
uCoz is a free website builder meant for DIY applications. At the same time, the system can be effectively used by professionals, who deal with custom website development. The platform comes with a versatile list of features, integrations, and tools that allow running all types of personal and business projects. Its module-based structure contributes to high-end website performance, letting you get the most out of this integrated functionality. uCoz is a reasonably-priced website builder – everyone can pick a suitable subscription here to fit any budget.
30. stepFORM
When it comes to online form creation, stepFORM is one of the most effective tools to use! The form builder works well for different audience types. The platform comes with a simple visual editor, which eliminates the need for code application. Users also get access to the basic elements needed to design a lead form without third-party assistance. All the forms created with the tools are responsive and look great on each website.
31. Fotor Online Photo Editor
Do you want to create engaging Facebook banners, or gorgeous pictures for your website or ads? Take a look at Fotor. This is an all-in-one online photo editor that is loaded with thousands of gorgeous pictures and elements, and the interface is super simple to use. Use Fotor to create awesome graphic content.
32. LinkSture eCommerce Agency
No matter what kind of website or eCommerce solution you want, LinkSture will help you. This is a professional agency with over 12 years of experience in creating wonderful and top-performance websites for customers from the United States of America, Canada, the United Kingdom, Germany, Italy, Australia, and many other countries.
LinkSture has expertise in Magento, Shopify, and WooCommerce. Get a free quote.
33. uCalc
uCalc builder was created with the needs and requirements of business owners in mind. This is the tool you can effectively use to design, customize and add an online calculator or a web form to your website. The service is free, convenient, and simple even for non-techies. Just pick a template to match your business niche and configure it on your own. The service allows editing the design, style, structure, and content of your project without any third-party assistance. That's a notable advantage that appeals to most users.
34. ThemeZaa
Check ThemeZaa's portfolio of awesome website themes for WordPress, WooCommerce, Magento, Shopify, and HTML. You will find immediately products that you will love, all of them looking great and having a super-premium feel. Take a look, I bet that you will love them.
35. WordPressToWix.PRO
WordPressToWix.PRO specialists will help you develop the best website transfer strategy when you decide to switch from WordPress to Wix. This is the full-cycle service, which can handle any project, irrespective of its complexity and specialization. They employ only knowledgeable and skilled web developers, who are responsible for the decisions they make. This ensures the utmost quality and safety of each project they work on.
36. Content Snare Client Portal
Content Snare is a smart software that will collect content from your customers, in your place, helping you save tons of time each month. Configure it in a few steps and a couple of minutes, and put it on autopilot content collection. Start a free 14-day trial and see how it works, no credit card required.
37. SuperbWebsiteBuilders
SuperbWebsiteBuilders.com highlights the merits and demerits of the most popular and trusted web design platforms used for a variety of web development needs. The blog allows browsing dozens of reviews and comparisons of these systems to figure out the one, which matches individual requirements and objectives most. There are also top ratings of these services here as well as reviews of hosting providers to pick the system to securely host your ready-made project.
38. RumbleTalk
Use RumbleTalk to add a moderated group chat on your website, for free, in under 2 minutes. It will help you engage your audience and improve your website conversions. Start for free.
39. Pixpa
Pixpa is a very simple to use, yet efficient website builder that you can use to create gorgeous websites in a matter of minutes. No experience and no design skills are needed. Use the included templates and the smart editor to create your own professional website. Sign up free.
40. XSTORE
XSTORE is the most customizable and most complete WooCommerce theme on the market, being loaded with a massive library of 100+ shop designs and tons of elements. Supercharge your store with XSTORE and help it get more conversions.
41. Digital Web Solutions
You always wanted to work with a very powerful digital marketing and online advertising agency that generated millions of dollars and leads for its customers? Then you should get in touch with DWS – Digital Web Solutions. These experts are popular for the insane results they generate.
42. Animas Marketing
Animas Marketing is a Colorado website design agency that is popular for the gorgeous websites they created. No matter the size of the website, or how complicated it is, Animas Marketing will create it for you. Their rates are affordable and they always respect tight deadlines. Get your free quote from Animas Marketing.
43. Acowebs
Acowebs is a suite of powerful WooCommerce plugins that will add cool functionalities and features to your store, helping get more conversions. The recently launched and highly acclaimed plugin from Acowebs is the WooCommerce Invoices which helps website owners to create custom-designed invoices based on their company branding and also to generate packing slips, dispatch slips, delivery notes, etc., along with each order.
44. Customer Data Platform
FoxMetrics is a professional web analytics software that is loaded with tons of features and functionalities, helping you understand exactly which of your marketing efforts work and which ones should be improved. Sign up for a free demo and see FoxMetrics in action.
45. SiteBuilders.Pro
SiteBuilders.Pro differs from its niche competitors due to its special approach to each client and project. This is the all-in-one website migration service, which sees its mission in helping clients professionally transfer their websites between web design platforms. They ensure a high proficiency level and exact replication of website content/design. Additionally, they offer copywriting, website promotion, and SEO services to guarantee effective project management and performance afterward.
46. WrapPixel
On WrapPixel website, you will find very cool free and premium UI Kits and Dashboards for developers. All the products look great and will help you kickstart your projects, saving tons of time.
47. Briny
When on the lookout for the best water sports WordPress themes, don't miss out on Briny. Attractive and clean, it could be the theme of your choice. The list of benefits included in Briny has no end in sight. On top of that, you can switch from white to black skin. The collection of custom shortcodes will help you showcase your skills and achievements, too. Plugins such as Revolution Slider and ThemeREX Addons would be also a huge help. Show how fun your water sport is. Create stunning galleries to show potential customers the fun they shouldn't miss.
48. IP Geolocation API
Abstract is a highly popular provider of a wide range of API keys, but their most-used key is the IP Geolocation API. Get your free API key now from Abstract and join the 10,000+ happy developers that use this service.
49. Shella
Shella is a professional Shopify theme dedicated entirely to fashion stores. All the skins and elements were created specifically for this niche, helping stores get more conversions. The theme loads ultra-fast and has simple-to-use navigation. Get Shella and supercharge your fashion store with a very powerful theme.
50. Ramotion
Ramotion is a very powerful, technic, and results-oriented digital design agency that will help you with:
Brand Identity
UI/UX Design
App development
Web design
Get your free quote and start working with Ramotion, you will love it.
51. Breakline
Breakline is a highly popular and respected SEO agency that has over 10 years of experience in the industry, providing excellent results for its customers. It doesn't matter which industry you are in, or how complex is your website, Breakline has the right team to help you master and scale your SEO results. Get your free quote.
52. Web Designers
AMG DESIGN is a powerful web design agency that provides a full web design & marketing service plus free support. Let these experts build you a fully customized website, optimized for sales and speed. Get your free quote.
53. nTask
nTask is a complete project management software with features that can help teams of all sizes to collaborate and get work done easily. It is a robust tool that can make the work of your team and whole departments at your organization more productive. Use to collaborate, assign tasks, manage calendar scheduling, to-do lists, meeting creation, and task log. The functionality of Kanban boards, custom fields, risk matrix, Gantt charts, and financial management makes it a very useful software for project managers from every industry. It integrates with several third-party apps to bring everything in one place.

54. Taskade
Taskade is a powerful, smart, fully customizable, and simple to use all-in-one collaboration tool that you and your remote teams will love. The platform is lightning fast and you will find easy to use, even for the first time.
Register for the free forever plan and you will get:
5MB File Size
Unlimited Storage
Unlimited Tasks
Unlimited Projects
Unlimited Collaborators
Conclusion
No matter what your project is about, this article includes everything you need.  For successful web development projects, discuss them with Goodie. But if you need more, you can see other AI tools to help you in your journey!
About the author: this is the guest article by the TopDesignMag team
Title image from Polar pack on Ouch, free library of vector illustrations