Studying at college is an important and exciting life chapter, but it has some challenges. Learning and memorizing lots of new information, sleepless nights in front of the computer, moments of frustration… All this is not easy but can be amazingly rewarding if the student dedicates some effort and time.
Luckily, the Internet and modern technologies can assist any learner. The educational software is able to make studying not only easier but also more fun and effective. If so, here are ten examples of software for students that prove to be invaluable during one's time in college.
Lunacy: Get Free Graphic Design Software for Your Projects
Lunacy is free graphic design software for Windows users. It's a full-fledged graphic editor with icons, photos, masked images and illustrations integrated and ready to use. It's Sketch for Windows with numerous and diverse design assets.
The special point is that Lunacy makes software and content work together. Get the libraries of visual content already built-in into the editor:
trendy illustrations in 20 different styles
over 100,000 icons in 22 styles
variety of high-quality photos in a single style
Lunacy can become your everyday helping hand in making original slides for presentations, manipulating images, making creative projects, preparing visuals for whitepapers and original cards, and even create memes to have some fun.
DoMyEssay: Get Professional Help with Your Papers
DoMyEssay is a popular online writing service where students can find and hire professional academic writers to get help with their homework, group projects, and even post-graduate papers. The learners can get help with any assignment. But the main focus of the service is essay and paper writing.
Every online essay writer who works for DoMyEssay is an experienced professional with a university degree and an excellent command of the English language. Writers can either write the papers for students or proofread and, when needed, edit the texts students wrote themselves.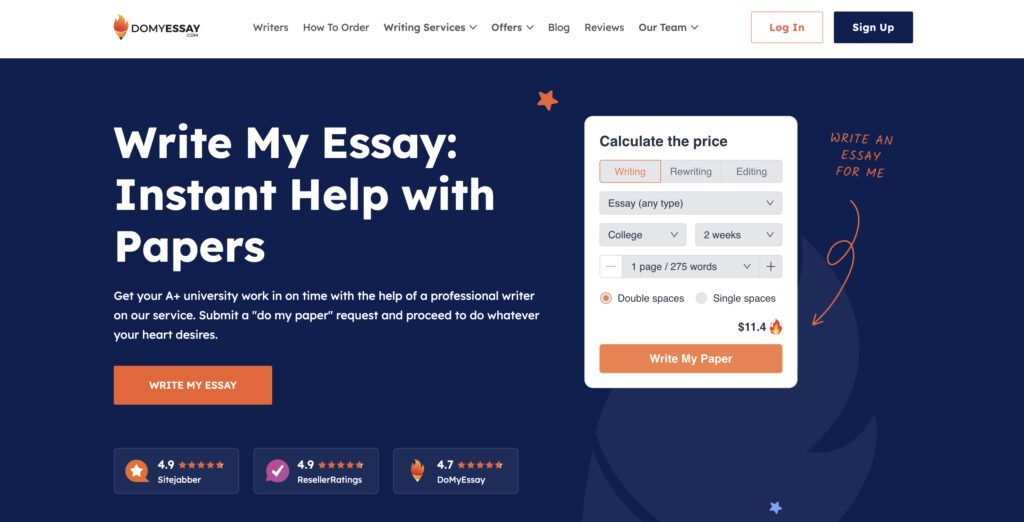 In addition to high-quality papers, students also get to enjoy a bunch of free features. At request, they can receive a plagiarism report, a title page, a detailed paper outline, and an unlimited number of revisions. And probably one of the most important things students ought to know about DoMyEssay is that they are not required to pay for anything in advance.
DoMyEssay doesn't only help students get better grades and have more free time by completing their papers for them. The service also encourages students to improve their own writing by using professionally-written papers as a benchmark. After they receive essays written by professional writers, students can study the techniques used and try to apply them in their writing.
Anki: Learn More in Less Time
Anki is a flashcard software. It uses two powerful learning techniques: spaced repetition and active recall testing. Regular studying with Anki helps students to memorize any information. Think about historical dates, foreign words, even chemical compounds!
The main idea of spaced repetition can be boiled down to a pretty simple point: introducing time intervals between studying. It allows not only to learn more but also to spend less time on this activity. The key is to come up with the exactly right time intervals.
The app offers lots of extra functions. For example, Anki supports a variety of media: images, audio, video, and even LaTeX document markup.
Active recall testing also has a pretty simple idea behind it. The learner will be asked a question, and the main goal is to memorize the answer. This technique is proven to be more effective than passive studying when students simply read, listen to, or watch something. They do not try to memorize the information making such an approach less effective.
A combination of spaced repetition and active recall testing leads to efficient learning. Also, it helps in avoiding detrimental binge-studying as the idea behind Anki is to study regularly and memorize smaller chunks of information.
Anki has multiple versions: for web, Android, and iOS. Web-version and Android app are free. But students who want to use Anki on their Apple devices have to pay a fee.
Autodesk: Get a Hands-On Practice
Autodesk Inc. is a corporation that develops software for different industries — entertainment, media, architecture.
Some software produced by Autodesk became an industry standard. For instance, Maya, which allows creating stunning visual effects. Now, this software is used for producing well-known films and TV-shows. Have you heard of little something called Game of Thrones and Stranger Things?
But Autodesk has so much more to offer. For example, Fusion 360 for improving the product development process. Autocad is used by architects and engineers. Revit is a software for building information modeling. All of them are invaluable assets for students with different majors — architecture, design, engineering.
Luckily, Autodesk has a special offer for all students and teachers — not only USA-based! The company provides more than 100 products under an educational license. It allows using Autodesk software for free and takes only a few minutes to set it up. Here is how it is done for Maya:
All that student needs to do is to create an Autodesk account, choose the version of the software, the operating system, and the language. After it, the standard installation begins.
Also, Autodesk has its own Autodesk Design Academy, filled with free educational resources. It is worth to check out.
Prezi: Create Beautiful Presentations with Ease
Prezi is online presentation software that is considered to be the main rival of good old PowerPoint. It is easy to use; there are lots of templates and even a PowerPoint-to-Prezi converter for those who can not let go of old habits.
Still, it is worth to check out the Prezi and functionality it offers. There is whole research suggesting that Prezi is more effective than PowerPoint. Especially when it comes to business or educational presentations.
Prezi can be used by both students and teachers to create engaging content. The company even provides special discounts for educators. But it is also possible to use Prezi entirely for free by choosing the basic plan.
There will not be some advanced features, such as privacy control. But students will still be able to create beautiful presentations quickly by following these easy steps:
pick a presentation template;
customize it (for example, by changing background color or image)
create a layout of the presentation and add topics to be presented;
fill the presentation with educational content.
After it, the presentation will be available online and ready to use.
To start with Prezi, students have to undergo a simple registration. It takes a few minutes, and Prezi even cheers you up — see the screenshot.
Icons8 Free Clipart: Use Images in Various Styles for Projects and Presentations
Icons8 is a huge library of about 100 000 free clipart images and icons for different needs. The graphics help to educational projects not only useful but also bright, catchy, and emotional.
Forget about boring lessons and projects and get tons of free images for your projects, designs, and presentations. The graphics present a variety of popular themes, including education, business, nature, science, communication and much more. The images are presented in various styles, from minimalist and monochrome to colorful and funny.
Another important thing to mention is that you can download free clipart and use the library of images offline with a desktop app.
Wolfram Alpha: Answer Every Question
Wolfram Alpha is a computational search engine — think about it as an even more advanced Google. Its main function is answering specific questions on four different topics: mathematics, science, and technology, society and culture, everyday life. To make it happen, Wolfram Alpha uses algorithms, a broad knowledge base, and AI technology.
Wolfram Alpha is easy to use — the process will be familiar for everybody who has used Google or other search engines at least once. Simply type the question, and Wolfram Alpha will provide lots of information.
Also, it can be used for calculations: for example, completing the square or even something more advanced. This makes Wolfram Alpha especially useful for students whose major is STEM (Science Technology Education Mathematics). But other learners can use it too — there are lots of information and topics worth to be explored.
Wolfram Alpha has a web version, as well as ones for Android, Windows, iOS and even Kindle fire! It is free software, but there is also a pro version with some advanced features.
It is quite pricey ($5.49 a month), but Wolfram Alpha has a special discount for students and educators. Still, even a free version has lots to offer!
Zotero: Keep All References in One Place
Zotero is an especially useful education software for every student who works on research papers. It is a free research assistant allowing us to collect documents, organize them, create references, and bibliographies.
And a nice bonus — Zotero can synchronize the data across all the devices the student uses. Moreover, it is possible to collaborate inside Zotero and work on a paper alongside a partner. Also, Zotero can be used by teachers — for example, to distribute course materials.
Zotero is an entirely free tool. It is a project of a nonprofit organization called the Corporation for Digital Scholarship. Zotero is available for Mac, Windows, and Linux. Unfortunately, there are no official mobile apps.
Also, Zotero has a whole community behind it. Students can join various discussions on the forum, create or join groups to share their work, collaborate with other learners, or meet people with similar academic interests.
Students with a major in computer science can also help Zotero and become a volunteer developer. Still, others can benefit the project as well — for example, by translating Zotero, so more students will find out about this useful tool.
Edmodo: Study Together
Education is a long, challenging journey. But it is much more relaxed and fun with a community by your side — and here enters Edmodo.
Edmodo is a global educational network. It connects not only students but also teachers, parents and even whole school administrations!
It works quite simply: students and teachers can set up personal free accounts and start exploring Edmodo features. For example, educators can chat with learners online and answer their questions. They also can create personalized lessons and connect with colleagues.
Students can use Edmodo planner, connect with their teachers, and discover useful educational resources. Also, it is worth to check out Edmodo Labs. These are educational tools that utilize modern learning techniques to help young people study.
For example, it is possible to experience VR via VR Mysticraft (available for Windows) and use 3D EBooks (available for Windows and Android). Teachers can try Edmodo Classroom, which allows creating educational presentations and exercises (available for Windows).
All in all, Edmodo is a great resource to explore and connect with other aspiring learners and educators. It is used by more than 100 million people in 190 countries and is a great place to find not only educational resources but also international friends.
GeoGebra: Do All the Math
GeoGebra is a software which comprises of different math tools available online. It covers a variety of topics: graphing, geometry, 3D, and offers classic, new, and offline apps. For example, 3D Calculator, good old spreadsheet, or even an augmented reality app!
This app is available on iOS devices. It allows learning mathematic and science by using modern technologies such as AR and 3D. Also, students can help developers to improve the app by offering ideas for other 3D models. They can be featured on GeoGebra Augmented Reality App.
Moreover, there are more than 1 million of free classroom resources: activities, simulations, games. GeoGebra is a great tool for all students whose major is math and science. It allows not only to learn something new but also brush up previously studied material. Also, check out College Math Activities, designed specifically for university-level math concepts.
GeoGebra is available on different platforms: App Store, Google Play, Microsoft Store. There are also some tutorials that help to start strong with GeoGebra. For example, students can learn how to use GeoGebra Graphing Calculator or help GeoGebra to implement gamification elements by filling a simple questionnaire.
EssayService: Taking Essay Writing to the Next Level
EssayService is a credible online resource that employs hundreds of professional writers. The main goal of it is providing essay help for college students on such platforms as essayservice.com. Experienced authors of EssayService can write papers on a variety of topics — business and finance, biology, agriculture, and so much more.
EssayService is easy to use: all the student needs to do is log in, write down the assignment requirements, and make an order. After a few minutes, the authors will start offering their bids, so the student can choose the most appropriate one. Pro tip: it is better to select a writer who is proficient in a particular topic. Also pay attention to such variables as one's rating, customer reviews, and, of course, price.
After picking up the writer, the student can chat with him or her throughout the whole writing process. It helps to keep in touch, work on the text issues right away, and get the best result possible. When the material is ready, EssayService will notify the student about it via an email or SMS. All that left to do is to download the paper, review it, pay the author, and maybe leave him or her a positive review.
Final Words
There are lots of ways to improve studying experience and learn better, faster while having fun!
No matter what the student chooses: to write essays along with a proficient tutor, use flashcards to improve memory, explore learning resources and become a part of large educational community — all these options are great and effective.
Just remember: years at college do not have to be boring. Use the power of technologies to get the most out of it and make this time count.
About the author: this is the guest post by Rachel Tomlin
Title image from the Ouch free vector library
Review the pack of education vector illustrations and free school clipart, check a list of best free vector software, and learn how to remove background from picture in Word, and how to remove background from picture in PowerPoint.