We love 2019 and you should also. Why? Today it's super simple to launch a new business or quickly complete a project that was ultra-complicated years ago. Today everybody can literally do anything in terms of business, new products, and services. The only thing you need is an idea. The costs today are much lower or even zero to launch a website, to have a gorgeous logo, to launch an online shop and so on.
Whatever you may need can be done by a web tool or service, for a fraction of the cost that was years ago. In this article, you will find over 30 efficient web tools and services used for a variety of business goals and creative tasks, highly popular and recommended.
1. Creative-TIM
Creative Tim is a highly respected company determined to build the best possible web design tools. That ranges from UI kits to dashboards, templates, and plugins built on top of Bootstrap, Vue.js, React, Angular, Node.js and Laravel. With over 750,000 creatives and huge companies (Microsoft, IBM, Amazon, Cisco, and others) using with great success its products, Creative Tim is a huge marketplace where web designers and web developers can find everything they need to create web and mobile apps, saving lots of time and hugely improving their own products.
This major player in the UI tools is helping the community to grow: until now Creative Tim sponsored over 20 global hackathons from 14 countries and it's super simple to send them a message for sponsorships.
Pricing: free to $249. If you have many upcoming projects, check the 6 awesome Bundles that are offered with over 70% discounts. Each Bundle is serving another category of needs: Angular Bundle, Big Bundle (34 products), HTML Bundle, Material Design Bundle, React Bundle and Vuejs Bundle. Browse their website and pick what you need.
2. EasySendy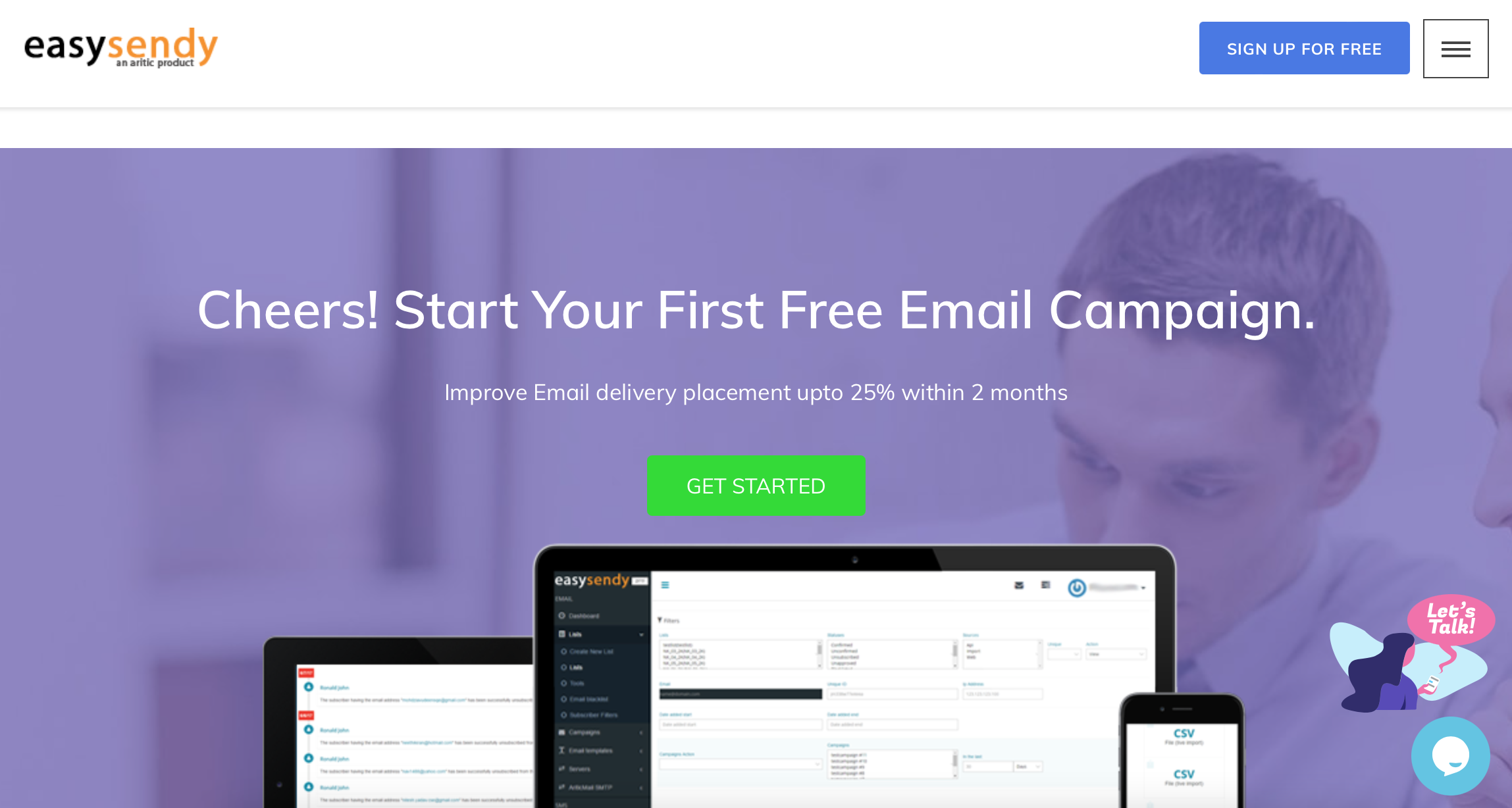 Above 70% of the email marketing leaders are switching to hybrid marketing solutions because they are unhappy with their email campaigns. Therefore 65% of the brands looking forward to switching to easysendy. EasySendy Pro is the heart of every email leader who nurtures them to grow businesses and drive 3X results. EasySendy is all in one hybrid email marketing software developed to satisfy email leaders' and small businesses' email marketing needs.
With EasySendy, you can easily send advanced email campaigns to drive high-end results. You can customize email templates, maintain email list hygiene, do email warm-ups, and add more than 2 API integration inside the application.
Furthermore, you can automate your campaigns with warm-up integration, maintain email list hygiene, and set up roles and permission for your account inside EasySendy Pro.
3. Brizy Site Builder
Brizy is simple to use WordPress visual page builder. Anybody can use it to create awesome websites without having any designers or coding skills, and without writing a single line of code. It works as a plugin and also a landing page builder using the Cloud platform versions in which hosting and domains setups are provided with the Brizy PRO plan.
It provides tons of features and options, including a friendly interface. Websites created with Brizy can easily compete with some of the best websites in the world (where tens of thousands of dollars were paid and teams spent months to complete), and imagine that all of this happens by only mastering clicks and drags. It is the future and Brizy is taking you to the next step in website and landing page designing.
Brizy includes free tools that other builders only offer as paid features: Visual contact forms (no more complex, hairy form plugins) , sliders from any block (any block of content can be turned into an animated slider with a click of a button) and saved & global blocks (update all instances of a global block from a single place; great for repeating content). Build a new website with Brizy for free.
4. Tailor Brands
Tailor Brands is one of the best logo generators in the market because it doesn't use templates for its designs (logos, presentations, brand identity). Every design is unique and super simple to use. The results it generates look fantastic, you cannot tell if a design was made by a computer or by a talented professional.
This AI driven online platform is lightning fast. In less than 30 seconds you can create anything you need: a gorgeous logo, a detailed presentation of your company and even an entire corporate identity. Tailor Brands is used by over 10 million very happy users and every second new design is made using this platform. In total there are over 400 million designs made with Tailor Brands and numbers heavily increase every moment.
Complete your logo name, make a few selections and Tailor Brands will show you lots of designs to choose from. You pay only after you find the design that you love.
5. 48HoursLogo
48hourslogo is a revolutionary way to get a gorgeous, creative and pixel-perfect logo for a very small cost. The minimum prize of the contest is $99 for a logo design and the platform fee is only $29. It's a very small cost to pay for a project where multiple designers will compete on your project. After you launch the contest, you will receive plenty of designs, right after you will select the 3 finalists and in the end, you have to pick the winner. Keep in mind that small tweaks can be made to the final design.
6. Weje – Online Whiteboard Collaboration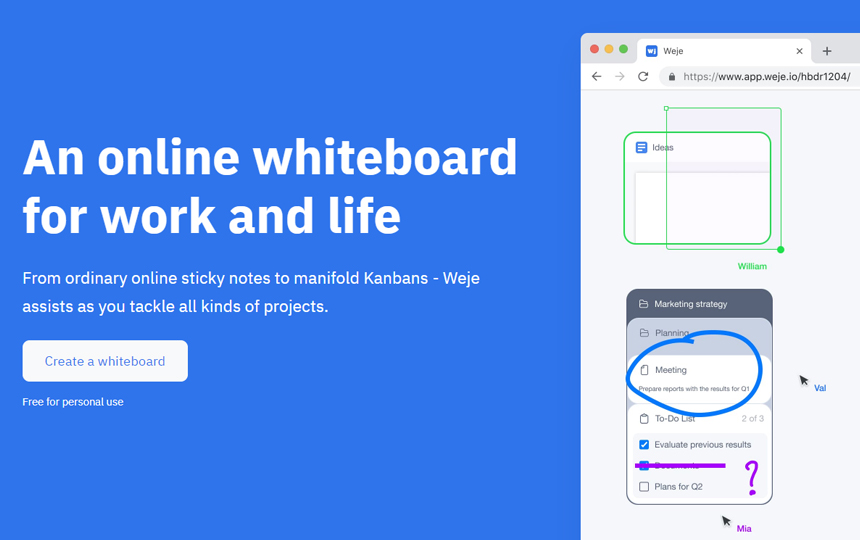 Need somewhere to write your business goals? What about sharing your creative ideas online to gather feedback? Here is a free online whiteboard tool – Weje is used for whiteboard collaboration by individuals, agencies, businesses & remote teams to easily collaborate online with the aim of accomplishing business goals. 
Add drawings, sticky notes, mind maps, to-do lists, folders, images, website links, virtual cards, and manage all of your collaborators together by assigning roles and private-access to certain boards using the dashboard. Collect details for any project, organise, synchronise across multiple devices, search your data, collaborate with your friends or team and publish whiteboards to your social networks. All of this is possible using this tool (free for personal use). 
7. Codester
Codester is the place where web designers and web developers will find thousands of useful, premium PHP scripts, app templates, themes, plugins, graphics and much more. The website is updated daily, so check it for awesome new stuff.
8. NameQL
Whenever you are looking for a brilliant name with available .com domain, use NameQL. In a couple of seconds, the platform will verify for you if the name (or derivations) you entered is available with a .com domain.
9. SeekVisa
Some of the best web designers, developers, and design agencies are based in Australia. Why? Because this country is hugely in the shortage of these skills. If you want to emigrate to Australia or New Zealand, discuss with SeekVisa, their migration agents and lawyers will assist.
10. MobiLoud
Mobile is key for digital publishers and website owners, driving up to 90% of traffic for most of them. But you don't really have a mobile strategy without native apps – the ultimate channel for engaging readers, driving revenue and growing brands through a channel you own 100%.
MobiLoud is a solution that converts your existing WordPress site into native apps for iOS and Android. All this happens in a few weeks and costs a fraction of traditional app development. The finished apps are what you'd expect from top publishers. They're easy to manage and packed with features to drive engagement and make money like: push notifications, subscriptions, advertising integrations, analytics and many more.
11. Total WordPress Theme
Total is a complete, SEO-friendly and lightning fast WordPress theme that is packed with tons of features and options. The theme is loaded with over 80 builder modules, 40 premade demos that can be imported with 1 click, 500 styling options and much more.
12. RankMath
Rank Math is a powerful SEO WordPress plugin that will help your website rank higher in the search engines. Once you configure it, which takes only a couple of minutes, Rank Math is autonomous, putting your SEO on autopilot.
13. Schema
Schema is the fastest SEO WordPress theme on the market, by far, making the surfing experience of the website visitors unique and extremely pleasant. It works with any page builder on the market, being super easy to fully configure and use.
14. WebResourcesDepot
WebResourcesDepot is a popular website where awesome free Bootstrap themes and UI Kits can be found. They are specialized in providing great products for startups, so if you are an entrepreneur be prepared to find outstanding items that will help you a lot.
15. ArchitectUI Dashboard Vue PRO
ArchitectsUI is a very popular dashboard that is having a pixel-perfect and beautiful design, with over 300 color schemes and options combinations for different layouts and components. The personal license is $49 – onetime fee.
16. Format
Format is a free website template using Bootstrap that can be used by agencies, web designers, freelancers, and others for showcasing their work. This portfolio theme looks great on any device, it is super easy to configure it and is SEO friendly.
17. Raptor
Have you ever wanted to launch your own web hosting company? Use Raptor, a free HTML web hosting website template that looks great on any device, it has a professional and clear design that will help your customers better engage with your brands and it is extremely fast, an obligatory condition for a web hosting theme. Even though Raptor is free, the level of expertness it brings on the table is outstanding, very close with the premium products.
18. Email Template Builder
Unlayer is a revolutionary email editor and page builder for SaaS that will permit your customer to create beautiful mobile-ready emails or landing pages right from your app. Your customer will find gorgeous templates, a drag-and-drop builder and tons of features and options.
19. Newsletter Templates
MailMunch is an innovative way to create eye-catching emails in minutes using the beautiful pre-designed newsletter templates and the drag and drop builder. The platform has advanced features like Template Blocks and Media Library to make the workflow even smoother and there is no coding required. Anybody can immediately grab attention with great email content with the fastest growing email marketing platform, without having any special knowledge.
20. actiTIME
actiTIME is an innovative and popular timesheet software used by thousands of companies to manage work assignments, for time tracking the way you like, to track work progress, harvest the data and much more. Try all features of actiTIME Online timesheet for free for 30 days
21. 8b Website Builder
8b is a futuristic website builder that has a fast interface, and it is loaded with over 250 awesome templates to start with. No coding required or any special knowledge. Anybody can create professional and fully functional websites with 8b.
22. ContentSnare
Content Snare is an online tool to help you gather content from your customers, without the normal hassle. Say goodbye to content headaches, let this innovative software gather content in your place by configuring in 3 easy steps. You need zero skills or previous experience to use this software.
You create "requests" with what you need from the customer, you specify a due date and follow up schedule, and Content Snare will do the hard work for you. In the end, the platform will notify you when something is ready for approval. Start your free trial today and see Content Snare in action.
23. Work Examiner
Work Examiner is a powerful internet monitoring software that will help you heavily increase productivity and efficiency, prevent data theft and much more. Use it for the website and email tracking, for keylogging, PC activity and much more. Start a 30-day free trial with Work Examiner.
24. Logaster
Logaster is the way to go whenever you need fast a gorgeous logo design and you want to spend as low as possible. Write your logo name, add a tagline and symbol if needed, and Logaster will present you hundreds of potential logo designs to choose from. You pay only you find the logo you love.
25. WrapPixel
WrapPixel is specialized in providing free & premium Bootstrap, Angular & React Admin Templates + UI Kits, with over 150,000 creatives using their products. Their most popular bundle is the Mega Bundle which is loaded with a ton of awesome good stuff: over 45 unique dashboards, 11 admins templates, 130 customized plugins, 6,500 UI components and pages, 3,000 premium font icons and much more.
The price for single use is $79.
26. Pixpa
Pixpa is a website builder that anybody can use with zero programming skills or special knowledge. Use it to create a website, store, blog and client gallery, all in one place. The included gorgeous templates, the drag and drop builder and the lightning-fast interface will help you achieve great results in no time. Sign up for free.
27. WordPress Maintenance Service
SteadyWP is a professional WordPress maintenance service that will take care of your WordPress website. The standard plan includes daily backups, uptime monitoring, setup of staging site, online support, bi-weekly updates and much more.
The standard WordPress maintenance cost is $35/month or $350/year.
28. HelpJet
HelpJet will help you build a knowledge base where your customers will find answers for their questions in no time. Using such a solution is a win-win situation for both your company and your customers. Your company can now quickly grow without hiring more support staff. No need to have any coding skills or special knowledge to implement HelpJet. Try HelpJet free of charge.
29. WordPress Forum Theme
Looking for a great WordPress forum theme? Meet ForumPress, a WordPress theme based on the bbPress forum plugin which is having an awesome design and it is lightning fast.
30. Gorgias
Gorgias is the first customer service app built especially for Shopify. Using it, you can connect your support emails, social media and more in a single support app. You can connect as many Shopify stores as you want. Gorgias includes a live chat that you can add to your store in one click. Visitors get to ask questions to your support team, and your agents see their cart and order history next to the conversation. This way, you can engage potential customers and guide them until checkout. Get started for free.
31. InvoiceBerry
InvoiceBerry is professional invoicing software that simplifies invoices and expense tracking, helping you save time and money. Creating and sending a fully customized invoice takes less than 60 seconds and the process is easy and straightforward. Have a free trial and see InvoiceBerry in action.
32. Goodiewebsite
Goodiwebsite is a great platform that connects designers, agencies, and developers directly with web developers. The company that makes and guarantees this service has 12 experience on the market, being a highly reputed brand.
33. Freelance Invoice
Bonsai is a dedicated invoicing solution to freelancers, numbering over 100,000 happy users. Freelancers are using Bonsai to auto-create smart invoices with integrated payments directly from contracts, proposals and time sheet, to track activity, payments and automate reminders. Try Bonsai free.
34. RumbleTalk
RumbleTalk is the simplest way to add a community chat on your website, without writing a single line of code or having any special knowledge. The whole process is straightforward and it takes a maximum of 2 minutes. Start with the free plan (up to 5 seats, 1 room).
35. Fotor
Fotor is the popular all-in-one visual content tool that millions of people are using daily to edit photos and create designs in minutes. It is packed with tons of templates, features, options and a lightning fast interface that will guide you every moment.
36. FreelanceLogoDesign
Whenever you need very fast a beautiful logo design made by real designers, try FreelanceLogoDesign. This platform will help you get 6 custom logos made by 3 logo designers in 60 minutes or less. The results are outstanding, and the interface will guide you every moment, being super simple to use. Start for $19.
37. Icons8 Desktop App
This icon desktop app allows users to download a big library of icons and clipart images by the Icons8 team. The icons are free and can be used offline. Users can switch the styles, recolor and edit graphics to fit their designs, as well as easily drag-and-drop them into graphic software.
38. Rhodos
Rhodos is a modern-looking and professional WordPress theme that's ready to be used for a series of business and consulting purposes. It's based on the powerful ThemeREX framework and comes loaded with a powerful ThemeREX addon plugin. All parts of its layout are fully optimized for all screen sizes. It's fully compatible with Elementor page builder and supports Revolution and Swiper sliders.
39. Mindomo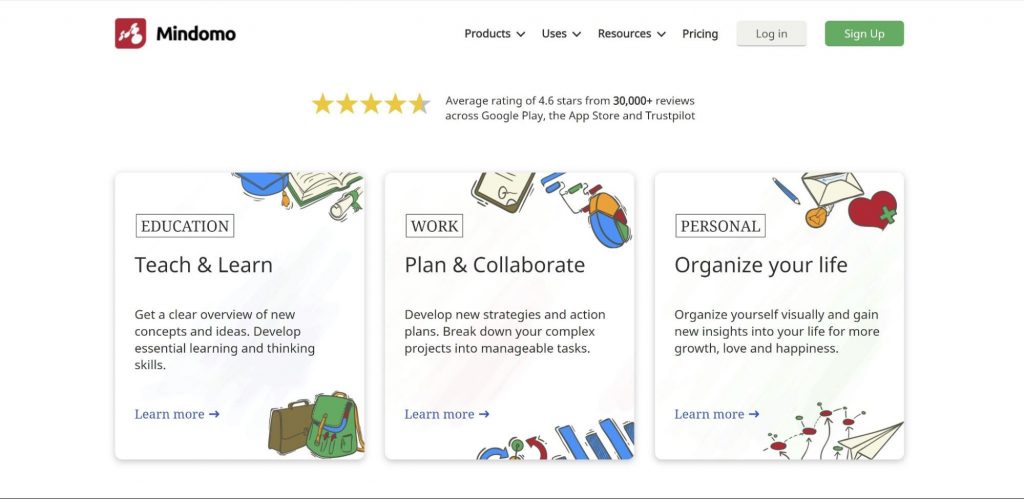 Mindomo is an all-in-one collaboration tool that allows you to create mind maps, outlines, and Gantt charts. You can use mind maps to brainstorm ideas individually or together with your team. Mind maps are diagrams that help you visually organize information and establish relationships between ideas. 
This mind mapping tool helps businesses and professionals to organize their lives, set goals, manage tasks and projects, and brainstorm ideas.
---
About the author: this is the guest article by the TopDesignMag team
Title image from Hugo pack of vector illustrations on Ouch