Analytics tools are not just for monitoring performance over the web. Used correctly, they can help you improve website conversions. Wondering how? Read this article.
Certain metrics have a direct impact on the number of leads or orders your website generates. Let's have a look at what metrics you should be tracking and how you can use that data to increase your profits.
Use the Top Conversion Paths to Determine How People Convert
Top conversion paths give you insight into how users discover your brand, make considerations, and complete purchase decisions.
You can use this information to determine top channels and their strengths. If more conversions are coming from organic search, focus on improving your website's visibility in the SERPs. You can take the help of digital marketing to boost your brand presence online. If social channel is great for conversions, focus on posting for both branding and sales.
Additionally, generate assisted conversions reports (just above the top conversion paths) to see what channels contributed to selling to new customers. Check which channels contributed the most to converting visitors. Use this data to further enhance website conversions.
For example, if emails are the biggest contributor, you can focus on creating more campaigns. If organic search influenced more people into purchasing, create more content to nurture potential customers.
Analyze Sales Between Mobile and Desktop to Better Optimize Your Website for Conversion
More than 50% of web traffic comes from mobiles (as of fourth-quarter 2019) worldwide. However, more people (56%) buy from desktops. Analyzing the conversions between mobile and desktop will give you a better understanding of how different users use your website. This, therefore, can help you optimize your website for conversion.
To view the conversion rate on different devices, check the Mobile Overview report under the Audience.
You can then segment the report by selecting your conversion goals. This will help you compare desktop and mobile traffic in terms of both conversions and behavior. Look for any discrepancies in the traffic, behavior, and conversions.
If the conversion rate on mobile is lower than that of the desktop, then optimize your mobile site for conversion. Mobile users change their minds quickly, so you would want to make their shopping experience as seamless as possible. Make sure your website is intuitive to navigate and has enough call-to-action buttons.
Identify Slow Loading Pages and Remove Malware to Improve User Experience
Loading speed not only affects your website's ranking, but it also impacts conversions. A one-second delay in site loading can reduce the conversion rate by 7%. Besides, websites that load in five seconds have a bounce rate probability of 90%, whereas pages that load within three seconds have a probability of 32%.
To check the loading speed, navigate to "Behavior" and then click on "Page Timings" under "Site Speed."
It will show how much time each page on your site takes to load.
Navigate to the "Speed Suggestions" report to check page speed scores and suggestions for improvement.
While it is difficult to check and improve all the pages altogether, it is better to start with top-performing pages. You can then slowly move towards other pages to improve your overall site speed. This, in turn, will help you retain and convert more customers.
It is important to check your website for mobile compatibility issues. Also, you need to make sure that your site is free from viruses and malware because this can drastically decrease the number of conversions happening on your site. To remain on the safer side, use the best antivirus software to keep your files malware-free. Moreover, use the best VPN for Android if you are uploading files using your smartphone from any insecure network like public WiFi. Always use a VPN for uploading files to your server, whether using a desktop or smartphone.
Track Bounce Rate to Improve Conversion Rate
Bounce rate shows the percentage of visitors that exit your website after viewing only one page. This metric tells you a lot about your site quality.
The ideal bounce rate for retail sites is between 10-40%. Having a high bounce rate means your visitors are not getting what they are looking for. In which case, you would like to revamp your website.
You can check the overall bounce rate on the "Google Analytics Home."
To check the bounce rate for individual pages, open the "behavior tab" and click on "landing pages" under "site content."
This will help you understand which pages on your site need improvement.
The bounce rate is closely associated with the conversion rate. A high bounce rate means people leave your website quickly, which implies fewer conversions.
One of the best ways to lower the bounce rate is by including videos on your website. Add a brand video (explain who you are and why people should choose you) on the home page. Additionally, add videos on the product pages that show what the product is, how it can be used, and how the buyer will benefit from it.
MediaBoom, a digital marketing agency, surely knows how to leverage video to lower the bounce rate. They have integrated a video in the background that tells their story and includes some faces from their organization. This helps in building trust with potential clients, as they know who they are working with.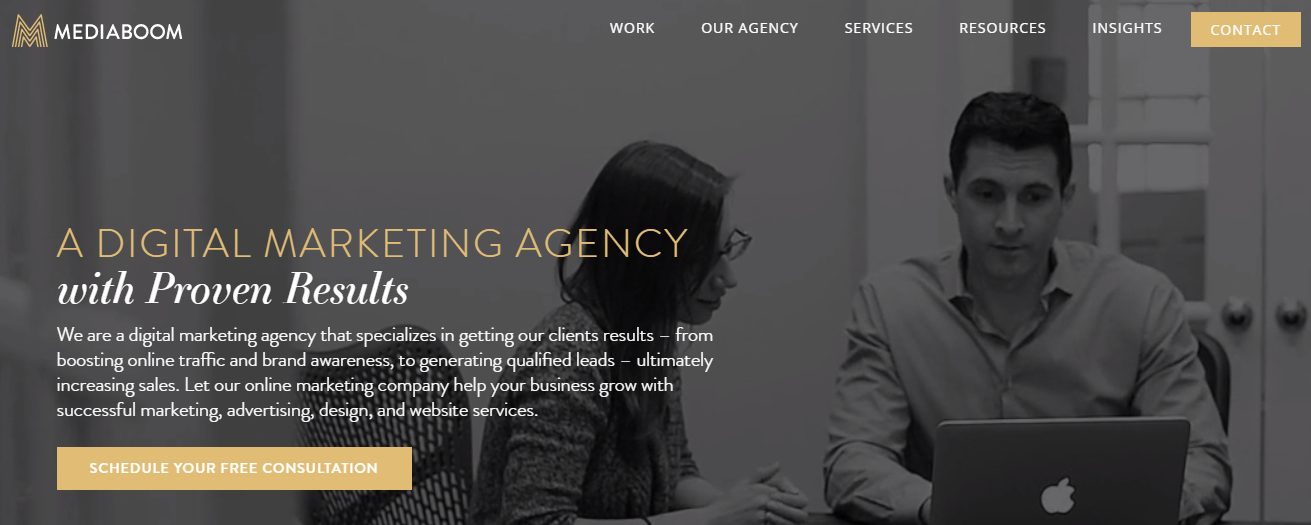 Another way to lower the bounce rate is by internal linking (or related posts widget). You can link to product pages on your blog (that talks about those items). Or you can redirect your visitors to an insightful, actionable post that outlines a specific topic in-depth and would be of interest to your audience.
Mercato has mastered the job of internal linking. They have a related posts section at the end of each blog post. It entices their visitors into spending more time on their site, thereby reducing the bounce rate.

Monitor the Quality of Web Traffic to Determine the Best Converting Channel
You are most likely to get traffic from multiple sources (search engines, email, social media, etc.). But, do you know which source converts the best? Which channel brings high-quality traffic?
Unlike Google Analytics that only shows the source of traffic, Finteza displays whether it is worth paying for.
You can use this information to compare platforms to find the most profitable ones, eliminate the channels with low-quality traffic, and optimize your marketing strategy.
Finteza also shows how many conversions each channel brings in. This helps in identifying the most and least profitable platforms.

You can set the date range to "last month" and compare it with the previous period. If the overall traffic is steady, but the conversions are declining, then you can conclude that the incoming visitors are not qualitative.
Use this information to make thought-out decisions and improve the conversion rate.
Identify Exit Pages to Optimize Your Customer's Experience
The pages where people leave your website are known as exit pages. In most cases, people exit from the same page they landed in the first place.
However, if there are pages with more exits than others, then you need to optimize them.
If a lot of people leave in between the registration or ordering process, then chances are it might be a little complicated.
You can check exit pages in Google Analytics. Open "behavior" and click on "exit pages" under "site content" to find pages where people leave your website.
To improve the exit pages, rewrite the copy, change the graphics, and make it easier to navigate. Reduce the number of fields in the form, the steps required to complete the purchase.
Another benefit of analyzing exit pages is that you get to know what they were looking at right before they left your site. You can later use this information to retarget them via paid ads or emails and increase conversions.
Also, make use of copywriting to convert your existing visitors because well-done copy persuades the users to take actions, and actions lead to conversions.
Analyze New vs. Returning Customers to Understand Where to Focus
Are your returning customers bringing more value than the new ones? Or is it the opposite? Should you focus more on acquiring new customers or retain existing ones? Google Analytics can answer these questions.
Open the "Audience" tab and then click on "New vs. Returning" under "Behavior."
Here you can compare the conversions between new and returning visitors. If the conversion rate from new visitors is high for a cheap cost per acquisition, then you can focus heavily on acquiring customers. If your existing customers come back for more, focus more on up-selling and cross-selling to them.
However, that definitely doesn't mean ignoring other segments of customers.
Monitor Path Length to Determine How Long It Takes to Convert a User
Do your visitors convert the first time they visit your website, or it takes more interactions to sell to them? You can predict all the way you want, but until you have the data to back it up, you can't work on it.
The "path length report" under "multi-channel funnels" can tell you how many interactions people need with your site before converting.
This report enables you to identify the most common touchpoints in the sales journey. It also helps you understand that you can't start selling the products immediately, not when people need more time to make a decision.
You can leverage this information to create new email campaigns, retargeting ads, or blog posts. This, in turn, will help you nurture potential customers and convert them sooner than expected.
Use Real-Time Reporting to See What Users Are Doing On Your Site
Real-time reporting is, by far, the most interesting feature in Google Analytics. You can check where visitors are on your site and what they're doing.
To check it, click on "overview" under "Realtime."
The report shows traffic sources, locations, active pages, conversions happening on your site in real-time.
You can use this to unlock potential conversion roadblocks that are hurting your conversion rate. Another advantage of monitoring real-time reports is that it gives you an opportunity to increase the chances of conversion.
You can display a pop-up (with a limited time offer) or a push notification (inviting them for a webinar). It works this way. They are already interested in a topic or product, and they see an offer related to the same. They click and make a purchase (or complete your desired activity).
What's Next?
Now that you know the best analytics hacks to improve website conversions, it's time to get in action. Start using the above nine methods to increase the number of conversions happening on your site. Make sure to improve your product offerings and work on optimizing the customer churn rate. Enjoy conversion optimization!
About the author: Joydeep Bhattacharya is the author of the SEO Sandwitch Blog, where he shares tutorials on digital marketing. He is also a contributing author on SEMrush, Search Engine Watch, Single Grain, and others. You can connect with him on LinkedIn.
Title image from Abstract pack of illustrations on Ouch