Good design is essential for establishing your brand. We'll outline key tips on how to choose a design agency and collaborate with it effectively and name the top three UI/UX design agencies.
Whether you're approaching the launch of a new project or in the preliminary stages of developing the project's strategy, soon you'll likely be in the market to hire a UI/UX design firm to assist. 
Still not sure about the true value of user experience design? It's simple. Make the experience of your target audience the number one priority and your brand or business will be in a great position to succeed. 
In short, one of the best decisions you as a business owner can make is to find a reputable UX/UI design firm to improve upon or entirely build a user interface for your company's website or application.    
To make your vetting process quick, efficient, and successful, we've put together some tips on how to choose a design agency, a guide on working with one effectively, and a list of the top five UI & UX design agencies globally. Check them out!
Tips On How to Choose A UI/UX Design Agency
User experience (UX) design is creating products that provide meaningful and relevant experiences to users. It is essential to product development, as it helps ensure that your product meets customer needs and expectations. 
If you are looking for a user experience agency to help with your product development, there are a few key factors to consider to make sure you choose the right one for your business. 
Evaluate Agencies and Services 
Before you start the process of selecting a user experience design company, it is essential to evaluate agencies and their services. Knowing what each offers and comparing them will help you narrow your search. For example, if you need an interface for your payment system but a design agency only has crypto gaming projects on its portfolio, it may not be a good professional fit.
Make sure to check portfolios, read reviews online, check if agencies are in the ratings of the best agencies, and look into any awards they may have won – this will give you an idea of their expertise in user experience design. An agency that has earned multiple design awards and been featured in industry publications will likely be more competent than a company created a few months ago.
Focus On Quality Over Cost 
When selecting a UX company, it is essential to focus on quality over cost. While price should always be considered when making decisions, it shouldn't be the determining factor when choosing an agency. Instead, focus on finding an agency that has proven results and provides quality services at an affordable rate. 
Clients often want to know what can be done cheaper or faster, but the associated costs and timelines can block any efficiency gains. For example, you can get into a situation where Agency A quotes 100 dollars, and Agency B asks for 500 dollars. Yet maybe the former provides a limited number of screens/hours/edits, or doesn't provide a certain service, while the latter has all those included in its standard service package and explained everything straightforwardly. So, be sure to ask questions about an agency's process, portfolio, timeline, etc., before committing. 
Communication Is Key 
Communication between yourself and the user experience agency is vital. You should feel comfortable expressing your needs and expectations with them so that they can accurately deliver the desired results for your project. Once you've explained your aims and visions, ask them to repeat their understanding of it back to you. Do they really "get" what you're hoping to achieve?
When interviewing potential user experience design firms, please pay attention to how well they communicate with you. For instance, if they take a week to reply to your messages during the vetting period, this should be an instant red flag. Also, there isn't enough clarity or understanding, it might not fit your business needs best.  
5 Questions to Ask UI/UX Design Companies Before Hiring
When choosing which UI/UX design company to work with, there are several things that go into the consideration and decision-making phase.
As mentioned above, not only do you want to peruse their portfolio to gain an understanding of their past works but you also must vet their credibility and authority before finally meeting with them in person to see whether or not they'd be a good fit for your needs.
Throughout this vetting and hiring process, you'll likely need to ask these agencies several questions to further ensure suitability.
With that said, here are five key questions you'll want to ask UI/UX design firms before you proceed to sign the dotted line and finalize any contracts.
Q1: What is your team's design approach/process/strategy as it relates to our design needs?
Though subtle, it's important to understand that there are two parts to this question; the first being which design process they use and the second being 'as it pertains to our design needs'… In other words, an UI/UX design agency may have multiple methods to their madness depending on the requirements and requests of the client.
With that said, inquiring about an agency's design approach, UX strategy & digital strategy is a mere commonplace question that can even be deemed a formality, however, a necessary question nonetheless.
Not only will you gain a greater understanding of the intricacies of their workflow, but it will also give you the confidence you need (or not) to continue to pursue them and potentially hire them. 
Finally, it's important to note that even the best agencies in the world may not be the best-suited agency to work on your specific project. It is crucial to balance not only the reputation and previous work of the agency, but also how suited they are to deliver what you need. 
Q2: Will you be working full-time on our project?
While it's not totally imperative that the agency dedicate 100% of their time to your project and it alone, it is imperative that they make it a priority by dedicating the necessary hours and then some required to get the job done well and on time.
A better question might be to ask whether or not there will be a team of UI/UX designers dedicated solely to your brand's project specifically. Depending on the answer that they provide you will be able to understand their broader approach to client & project management. While these questions may feel a bit awkward to ask directly, you can always ask in a more nuanced way such as:
"How will you and your team balance the demands of this project and the goals of my business with the rest of your existing and upcoming projects?"
To summarize, while other agencies have the bandwidth to take on numerous clients at once without dedicating almost full-time hours to any one client, UI/UX design is different. Not only is it tedious and complex but it requires a level of detail and a standard of execution that arguably no other specialty does.
Q3: Will your team remain responsive & engaged upon the completion of the initial task or project?
Although we've been using the term 'project' loosely, UX design is far greater than a run-of-the-mill "project"… Instead, it's an ongoing endeavor that requires revisions, updates, and changes even after the initial phases of the project are over. Not to mention, there are always new UX design solutions to incorporate. 
With that said, if the UI/UX design agency that you're in discussions with is giving off the impression that they do not view your project so broadly and comprehensively, then they're not the agency for you. Instead, look for a team that's not only open to the idea but unrelentingly offering up the idea that they'll be available on an ongoing basis.
Q4: What do you look for in a client?
While this might sound like an unusual and counterproductive question to ask a UX agency that you're seeking to hire, it's arguably the most important question you can ask. 
Although you're the paying client responsible for hiring, it's ultimately an equal partnership of two parties moving towards a common goal. As in all partnerships, both sides require give and take to optimize the opportunity for success. 
Asking the agency what you as the client can do for them to ensure the project and partnership run smoothly not only builds rapport, respect, and trust, but it can also bring to light potentially crucial information to help make the whole UX design process more symbiotic and effective. 
Finally, at its most basic, agencies still require your input; at the end of the day, it's your product or service, not theirs.
Q5: What's the expected delivery date and price?
It goes without saying, these basic pieces of information should be identified and put into writing long before you reach the end of your discussions with a UX agency; if not, there's something wrong.
With that said, because we haven't clearly defined which stage of the hiring process you might be in when such discussions happen, it's as worthy a question as any when it comes to choosing the right design studio for you. In other words, even if they meet all of your needs and demands, if they're outside your budget or can't guarantee a timely delivery, they're not the agency for you.
Top UI & UX Design Agencies in the World 
If you're looking for the best in UI and UX design, you need to look no further than these three agencies. Equally capable with an amazing track record,  each of these agencies has a long history of providing excellent design services to their clients as well as their unique specialization.
Clay – A good fit for digital products (consumer and enterprise)
Clay is a top UI/UX agency based in San Francisco, renowned for creating aesthetically pleasing and user-friendly designs. They specialize in creating interactive experiences within digital products, making them the perfect choice for clients looking to build modern consumer and enterprise interfaces.
The team of experienced UX/UI professionals puts rigorous thought into each design to deliver beautiful visuals without sacrificing functionality. Notable clients like Coca-Cola and Slack have turned to Clay as their go-to partner for improving user experience on their websites and apps. With a combination of creative excellence and technical finesse, Clay has earned its position as one of the best UI/UX agencies.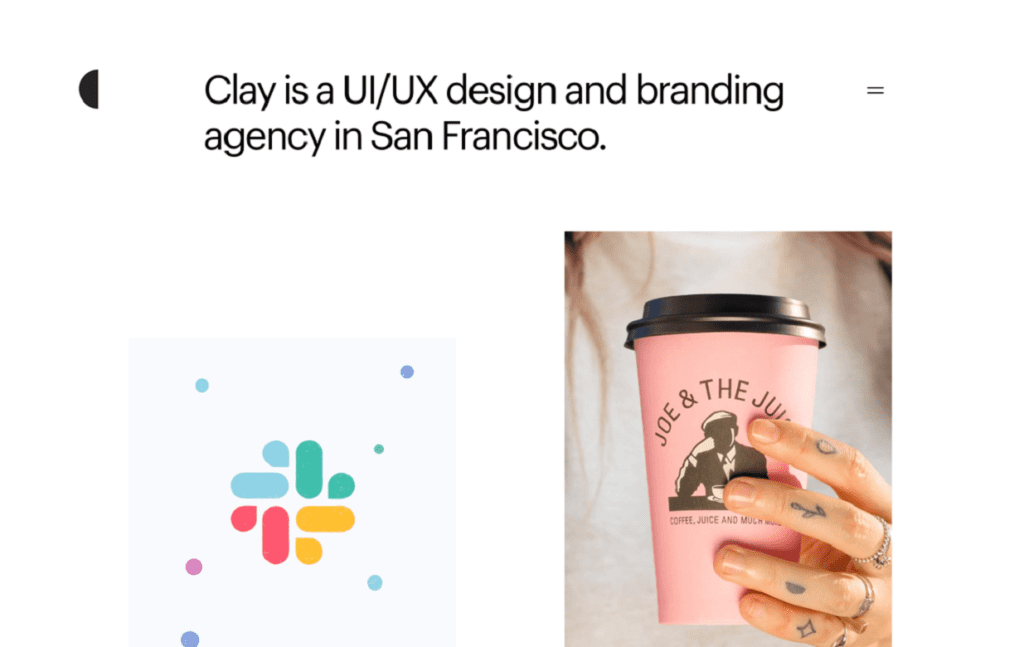 Raw Studio – A good fit for all digital products
Raw Studio is a full-service UX agency based in Sydney, they are all about building from the ground up or improving your existing digital product and services through research, branding, product design execution and data intelligence. As an award-winning UX Design agency, their team of experts combines tech and data with an understanding of user behaviour to strategise compelling user experiences and solutions that drive engagement and revenue. They have worked with impressive brands such as Westfield, Google, and Canva to name a few.
IDEO – A good fit for holistic customer experience (physical and digital)
IDEO is an excellent choice when designing holistic customer experiences that span both the physical and digital worlds. With experienced UX designers and branches in numerous cities across the globe, IDEO can create end-to-end design strategies that integrate the tangible and intangible elements of the experience.
This can involve anything from product development to process analysis, ensuring the user's experience is cohesive and consistent with each step. The company is known for approaching every project with creativity, originality, and sustainability—all critical traits for success in today's digital landscape. With their innovative approach to problem-solving, products designed by IDEO have been transforming companies for decades.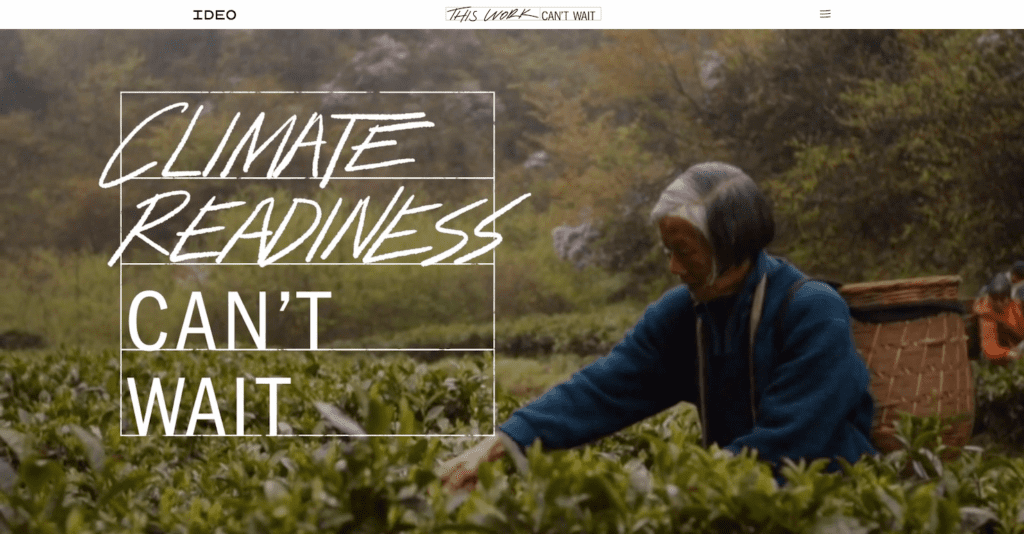 Work & Co – A good fit for e-commerce websites
E-commerce sites have a unique set of design challenges. Consumers must be able to search, browse, and purchase products quickly. Work & Co is an excellent choice for website owners looking to create an outstanding user experience. Their talented team of UI/UX professionals specializes in creating engaging e-commerce experiences that capture the loyalty of customers.
They understand how to create intuitive designs that streamline workflow and simplify complex processes such as product comparison. With their years of experience in the web design field, Work & Co are sure to deliver results and make shopping easier for your customers.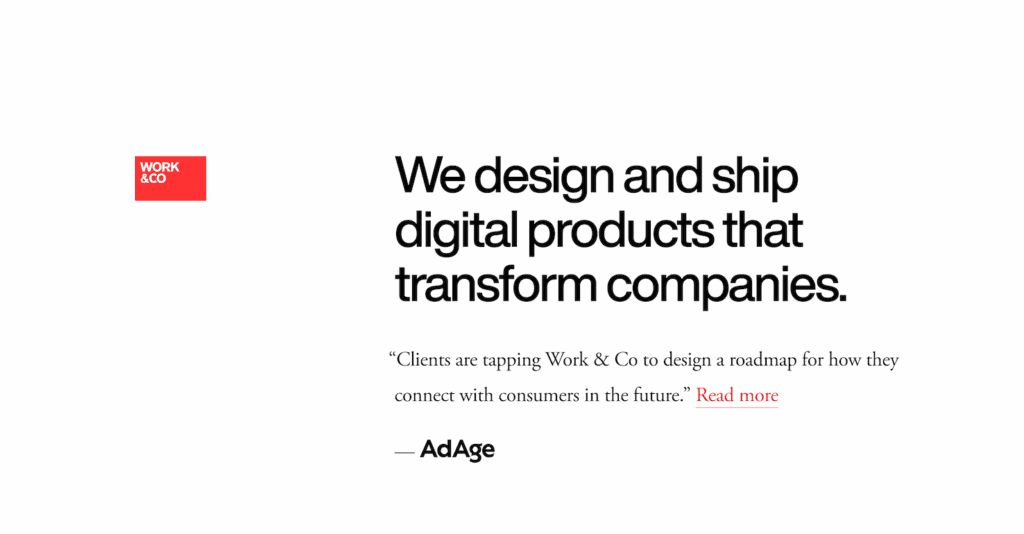 FAQ 
If your business or brand needs to hire a UI/UX design agency for a particular project or multiple projects, you've likely compiled an extensive list of questions that need to be answered before the hiring phase begins.
To help, we've compiled a list of the most frequently asked questions to help guide you through this part of the process. 
Ideally, after reading this section, you'll be one step closer to understanding the world of UI/UX design, thus one step closer to hiring a web design firm and getting your design project up and running.
Here are some of the most frequently asked questions surrounding user experience/user interface design and the agencies that do UI/UX design.
What is the difference between UI and UX design?
UI and UX design are often discussed together, but it is important to keep in mind their differences. Below is a general overview and description of both. 
What is UI Design?
Simply put, UI design refers to the design of a website or an application's user interface. Its primary concern is optimizing digital function to ensure all technical aspects of a given website or application operate smoothly and without complications.
What is UX Design?
UX design refers to the user's experience of the design combined with the website or application's functionality, including everything from ease of use and navigation to the user's satisfaction, engagement, and overall enjoyment.
Concerned primarily with data, user research, information architecture, and implementation of the informational findings, UX design focuses less on the technical aspect of a design and more on the behaviors and demands of the target audience.
Though they differ in many respects, largely created and executed independently of one another, UI/UX together provides businesses and brands alike with the ability to build an engaged and satisfied online presence.
What does a UX design agency do?
Whether software development, product strategy, UX research, or otherwise, UI and UX designers can help. If you're looking to build a project from scratch or to make some tweaks to improve performance and visual appearance, then finding and hiring an agency is a good idea.
Not only are they experts at conceptualizing, developing, and implementing easy-to-understand & easy-to-navigate user interfaces but they're also experts at making them look good in the process. The end result? A happy, engaged, and satisfied consumer.
Withstanding the design element itself, many top-tier user experience design agencies also boast a team of experienced researchers & UX designers. By methodically compiling the most up to date trends and approaches in the world of user experience design, these agencies are better equipped to produce the best product possible.
Other popular areas of expertise of a typical UX design agency include but are certainly not limited to product strategy, discovery, user testing, idea validation and analysis, visual design, branding, and more.
If you're a modern digital brand or business, user experience design agencies are imperative to your process, and make an undeniably suitable partner when seeking to better understand your target audience and create the most appropriate solutions possible. 
When searching for the most suitable UX studio for you, it's important to understand that not all agencies are the same, nor do they all provide the same services. Some opt to specialize on the product side alone, while others are more all-encompassing, offering a wide range of services related to UI/UX design.
Identify what you need, find a UX studio that can meet those needs, and watch your business flourish from the partnership.
What UX designers do on the daily
To summarize, the following is a broad overview of what UX agencies do and what they deal with on a daily basis:
digital product strategy and discovery

persona exploration

and analysis

software design and software development

interaction design and implementation

digital marketing efforts and advising

attention to web applications

user research
While the list certainly doesn't end there, this is a typical overview of what top UX agencies do on a day-to-day basis and what services they offer their clients.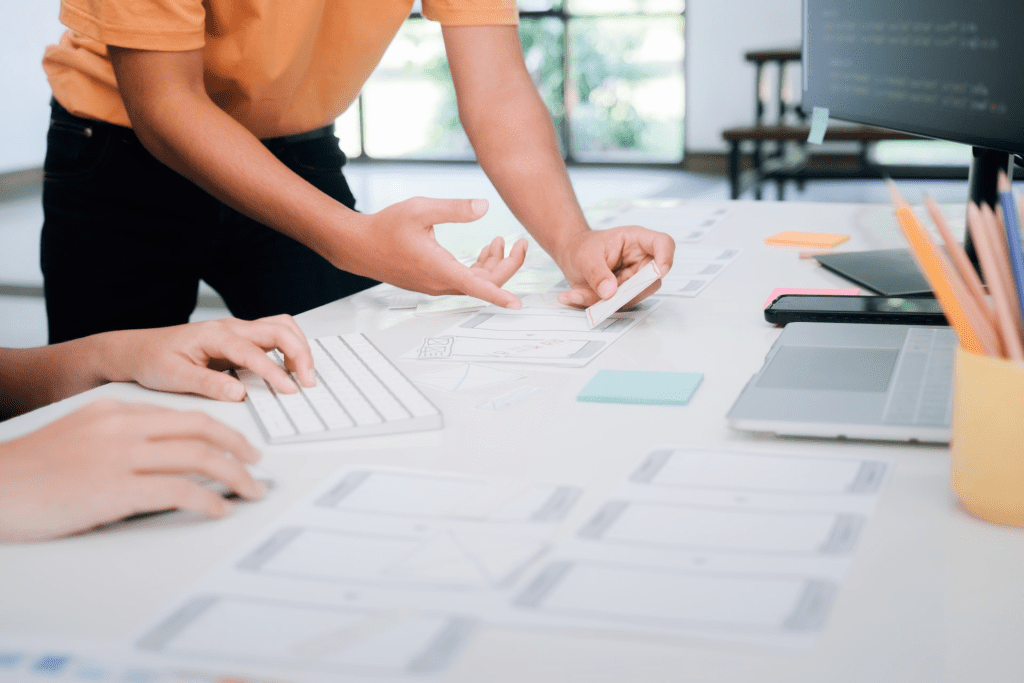 What goes into the cost of user experience design?
The cost of a given UX design project is multifaceted, especially when working with a UX agency. Not only are there several potential pricing models to consider but several contributing factors including client budgets, freedom of design, time, and other potential contingencies.
Typical agency pricing structures
With that said, depending on the scenario, most user experience agencies employ either a time-based pricing model OR they keep it simple with a fixed rate.
To point out the obvious, time-based projects take into account hours worked, allowing for greater collaborative flexibility. In a fixed price model, however, clients pay one flat price for the entire project, no matter how long it takes to complete.
Both models have their pros and cons. If you value greater flexibility and you're accompanied by a fluid budget, a time-based model is likely a better option for you. This may, however, result in a higher overall cost once all is said and done.
On the other hand, if you're on a tight budget, a fixed-based model may be better for you. However, it is important to note that this option also has downsides, among them are a lack of flexibility and the risk of unforeseen obstacles that may impact the final result of the project.
What You Can Expect to Pay
Pricing models aside, cost varies greatly and largely depends on the specific UX/UI design agency. This variation in cost largely comes down to the size of the company, the complexities or lack thereof of the project, the amount of paperwork required, project overhead, and the UX studio's experience and expertise.
With that said, prices could range anywhere from $50 to $500+ depending on project requirements. While you may associate high prices with the best UX agencies, this is not always true, as some of the top UX agencies are quite affordable.
Beware of Location-Based Pricing
Notably, costs also vary based on location, so always factor in where you as a business or brand are based and where the agency you hope to hire is located.  For example, a digital agency based in San Francisco is going to inevitably cost you more than an agency in Portland or Utah.
Finally, remember that a higher price doesn't ALWAYS equate to a better outcome or higher quality product. Instead, hire based on rapport, suitability, and preference. If you're looking for the top UX agencies, refer to our list above.
The Bottom Line
UI/UX design is a very niche industry, however, now more than ever businesses and brands are in need of their expertise and skill.
Taking the time to vet the most suitable design agency/design team for what you need will make all the difference in producing a successful digital product that you and your team are proud of; in today's digital world where many businesses are creating design projects and user flows, we're all in need of guidance and expert assistance.
Good luck!