What are the first things that attract you when you visit a website? Doesn't the first look of a website or visual content design make quite an impression on your mind? Or maybe the functionalities and the ease of going from one page to another? It isn't that easy nowadays to keep your clients satisfied with boring web layout and graphics. People want state of the art graphical presentation and innovative logo design to keep them interested. Now, this is where helpful resources and tools for web designers and developers make your work a lot easier enhancing your capabilities. So, today we will share some of the popular web tools that can truly help you leave a great impression in the mind of your viewers and clients.
1. Wix
WIX is the most powerful, yet easy to use website builder on the market. This complete solution will help you with over 500+ gorgeous designed website templates, with a great logo maker and everything else you need including 200 essential business apps, drag and drop builder, WIX SEO Wiz and much more. WIX has over 140 million users from 190 countries because it is literally packed with tons of features while the interface is simple and the process is straightforward.
You have in your hands the whole design of your website. The powerful logo maker will help you design a professional 100% fully customizable logo in a couple of steps and a few minutes. You can create a logo that looks exactly the way you want. Your logo comes with full commercial usage rights. Change the font, color, size, text and more to fit your brand.
Wix is now accepting applicants for their 3-month web design program this summer in NYC. The program, taught by award-winning designers, emphasizes on how to tell a story, communicate a brand and create a visual language. Submit your portfolio today, Wix will cover the cost of the program!
2. EverSign
The idea behind EverSign is helping both small and large businesses make the digital leap while guiding them every step of the way. They truly understand that a great deal of companies hesitate when it comes to managing and processing sensitive data such as contracts and business agreements in the cloud — this is why EverSign dedicated their time to build a highly secure and well-monitored e-Signature platform that is ahead of its time in terms of functionality, while remaining affordable for both individuals and SMBs, and bringing flexible workflows and an increase in time efficiency for large companies at the same time.
It runs on any device: PC, tablet and mobile device, and it seamlessly connects your EverSign account to popular cloud storage solutions like Dropbox, Box, OneDrive or Evernote, and even sign documents right from within Gmail, Google Drive, Google Docs and the Google Chrome browser. Sign-up for free.
3. Tailor Brands
Branding on a budget can seem limiting by definition, but Tailor Brands calls that entire claim into question with its affordable logo and branding design. The company offers its users an entire branding package, complete with an easy-to-use logo maker and a personalized brand book that details the style guidelines for each business, centered around the logo they make.
Instead of paying exorbitant fees to a logo designer, users can subscribe to Tailor and make a logo within five minutes. But the fact that it's affordable and the process is quick doesn't mean the design of your logo suffers; the logo maker is replete with the expertise of professional designers, and you can put your personal touch on it by tweaking the layout, colors, fonts and icon orientation after purchase. Additionally, your logo comes in all different sizes along with an EPS/vector file, so you can download and print on any branding or marketing material.
4. Gutenberg Starter WordPress Theme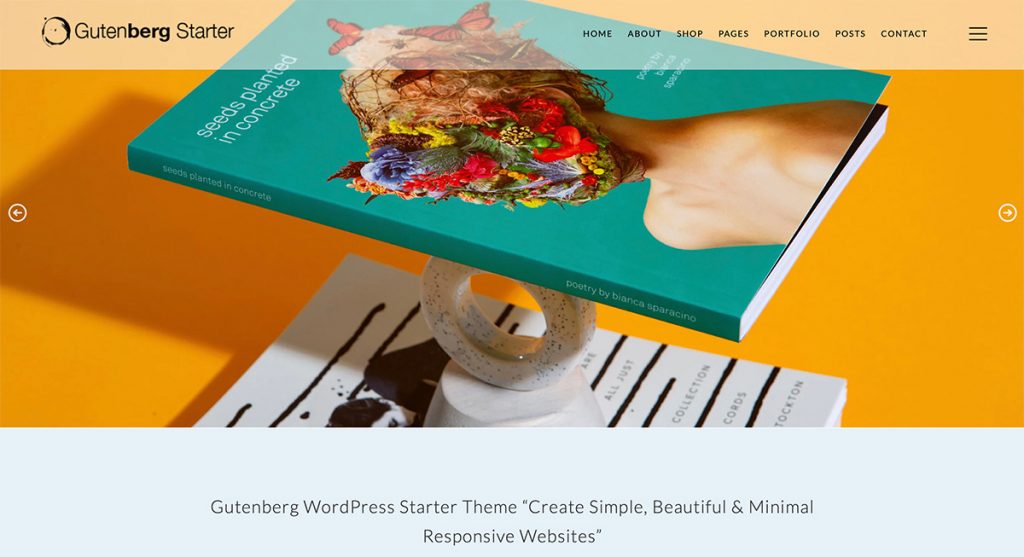 Gutenberg Starter is a WordPress theme based on updated WordPress front page editor easy drag-and-drop features. This theme is compatible with block and patterns which are the new standards in WordPress development. Its fully compatible with WooCommerce if you looking to open online eCommerce store. Gutenberg is both for developers and designers ready to create modern looking websites mobile and SEO optimized. Easily add as many pre made blocks and patterns that come with standard WordPress install. change fonts and colors based on your brand.
5. Total WordPress Theme
Total is a WordPress theme created with both developers and DIY-ers in mind. No matter what your website, niche or experience level Total is a great theme to build your dream WordPress site. The included drag-and-drop front-end page builder, premium Revolution and Layer sliders, WooCommerce integration, and translation options make the theme flexible. Plus there are hundreds of typography, color, site width, header, and other styling options built into the live WordPress customizer. Other notable features include bbPress compatibility, header & footer builder, five-star support and regular theme updates.
6. Landingi
Landingi is a powerful landing page builder that can be used by all types of users, including the ones that have zero programming skills or previous experience.
Landing page creator has everything you need to design and optimize landing pages, so you can see visitors convert into paying customers. You will find 200+ templates to start from, a brilliant drag-and-drop builder, image and icon library and tons of other great features.
7. DarwinPricing
Darwing Pricing is a highly respected and expert partner that you can choose for Dynamic Pricing software development. They are serving over 700 customers worldwide, covering all types of companies, from small to huge corporations like Otto Group which is having an annual turnover of over $13 bn.
For Otto, they have developed internally the next-generation sales forecasting and dynamic pricing solution which after implementation helped the company to grow the sales volume with 52%, the sales revenue with 31% and the net profit with 20%. Read the whole case study on their website.
8. Codester
Codester is a fast-growing marketplace for web designers and developers where they can find thousands of scripts, codes, app templates, all kind of website themes, graphics and much more. Always check the Flash sale section where hugely discounted items are sold. If you want to make an extra income, you can sell your products via Codester, they are not requesting exclusivity over your items.
9. NameQL
Looking to find a great name for your next product, company or website? Name QL will help you with this task in seconds. You simply write the base name that you like, and the software will show a lot of variations that you can choose from. It's a simple, yet very effective tool.
10. Dr. Link Checker
Broken and malicious links can kill your website conversions. We all hate them and run far away from the website that are having such issues.
Using Dr. Link Checker you can easily automate the scan of your website by simply writing your website address and hitting Start check. You will get a detailed report and you can start fixing the bad links. Register for free and upgrade anytime you need.
11. Rank Math SEO
Rank Math SEO is the WordPress plugin that will help you generate more traffic to your website. This all-in-one solution is fast, very simple to install and setup, the interface is friendly and it is packed with features that usually can be found on premium, paid SEO plugins. Generate more traffic for your website by letting Rank Math SEO plugin do its job.
12. Opinion Stage
Using Opinion Stage, everybody can create quizzes from a wide variety of quiz templates. It takes minutes to create a fully functional quiz using a template and you don't need to have any coding skills or previous experience. Templates are optimized for conversions and are a guaranteed way to bring great results.
13. WP Hacks
WP Hacks is an awesome website that is loaded with great WordPress tutorials, themes, plugins, and deals. In each section, you will find great stuff, the quality of the items is very high.
Browse the website and pick what you need for your next project.
14. MeridianThemes
Meridian Themes is a powerful WordPress developer which is building gorgeous themes, and which is promoting excellent deals that will help you save money. All their themes are pixel-perfect, fully responsive and can be fully customized in minutes.
15. WP Review
WP Review is the WordPress plugin you can use to review products, services and everything else. It is loaded with tons of options and features, it can be used on unlimited websites and it is totally free. Download it now.
16. Grace
Grace is an awesome HTML template that you can use for any type of project you have. It is having a pixel-perfect design and it is loaded with great features that will make your next project stand out of the crowd. It is featuring fixed and side navigations variants, it features single and multi-page layout, full-screen homepage header and many others. Build a gorgeous website with Grace, fully customizing the theme takes minutes.
17. Landing
Landing is a free OnePage Bootstrap 4 template with a minimalist design, it's fast loading and it can be used for unlimited possibilities. Its clean code makes this theme extremely good for generating lots of traffic via SEO, try it.
18. Free Photorealistic iPhone Xs PSD Mockup
Photorealistic iPhone XS PSD Mockup for Free is a cool and realistic freebie that you ought to have. Featuring a hand holding a space gray iPhone XS is ready to make your apps look fantastic!
Download it for free.
19. NextGen Gallery
With over 1 million happy users, NextGen is the known powerful and complete WordPress gallery plugin on the market. Use it to display stunning galleries that are fully customized for your needs or use it to sell images. If needed, NextGen can be made even more powerful than it is by adding pro extensions.
20. The WordPress Photography Theme
Great photos need a great way to be displayed. That means that you need the photography WordPress theme, a dedicated theme for this niche, and NextGen, the best gallery plugin. With Photocrati you will have both. Forget about general themes that try to be perfect for projects, it's impossible.
21. Tesla Themes
Tesla Themes is a highly respected WordPress developer and a true brand in this world, very well known for its wonderful, pixel-perfect and powerful themes. All of them are fully responsive and are super simple to customize. Get 67 stunning WordPress themes for just $99, it's a great deal that will help you save lots of money in the long run.
22. WordPress Event Themes
Designing an event website is hard and especially for this type of websites, you need the best theme and design you can pay for. It is the single way you can have high conversions. ShowThemes is the way to go, with over 6,000 happy users, they build 10 amazing templates which were made by event professionals, solving all the issues that general themes have in this niche.
23. uKit
uKit platform is the right choice when you're looking for a CMS that combines powerful tools and intuitive approach. Enabling HTTPS for your custom website is as easy as managing the entire design, only several clicks are necessary. uKit templates are 100% mobile-friendly and can be used to create an online shop, a promo site or a landing page.
24. uLanding
You no longer need to hire web designers and coders to create a professional landing page. With uLanding you can do it on your own. You won't need to dive into the debris of coding with its intuitive drag-and-drop interface, while its multi-purpose designs are perfect for creating landing pages for any business tasks. Building a landing page has never been so easy!
25. uSocial
uSocial is an innovative builder of share and like buttons that provides a surprisingly easy way to improve your site mentions in social networks and drive extra visitors to your site on top of this. Browse a generous collection customizable, adaptive button designs and the service will produce an embeddable code snippet. All you need to do is to add it to your website and that's it.
26. Logaster
Are you looking for a pixel-perfect logo or brand identity and you don't want to spend all your budget? Logaster is a great way to get these tasks done in minutes, using a super-friendly interface. The results are remarkable, try it.
27. Content Snare
Content Snare helps businesses gather content, info, and documents from their clients, without the normal hassle. The software will make automated follow-ups, so you can focus on your main activity while being sure that you will get paid or that your contract will be signed.
The company is also dedicated to helping digital agencies grow through the accompanying podcast, Agency Highway.
Use it once and you will never let it go.
28. Work Examiner
Work Examiner is the best and most simple to use internet monitoring software in the market that you can use to increase productivity, to prevent data theft, improve efficiency and much more. This software is fully loaded with tons of features and options, including a friendly interface. Try it for free for 30 days.
29. MailMunch
MailMunch is the most convenient and professional way to build highly converting landing pages and squeeze pages, without having any coding skills or previous experience. Using their drag-and-drop landing page builder it is easy to create any layout in minutes. Help your website convert better by building beautiful landing pages.
30. Invoice Berry
Invoice Berry is a professional invoicing platform that you can use to create, fully customize and send invoices in less than 60 seconds. The platform is loaded with lots of useful features and options, being a perfect fit for freelancers, small and medium companies.
31. Bonsai Contracts
With over 100,000 freelancers using Bonsai Contracts, this is a dedicated solution for this niche that will help you put your freelancing on autopilot. This all-in-one freelancing is packed with tons of features and options.
From Designers to Developers, fill in a few details of your project, and Bonsai Contracts will generate a complete contract from templates written and reviewed by top lawyers. Sign your contract online quickly and securely. Send to your client to sign and store the legally binding contract online (or download as a PDF).
These are only 2 examples of how Bonsai will help you, start for free to have a better understanding.
32. SuperbWebsiteBuilders
SuperbWebsiteBuilders is a credible niche resource, which specializes in providing users with interesting and informative facts about website builders and hosting providers. This is the top-notch destination for people, who are looking for a decent web building tool that will come up to their special web design needs and requirements. Apart from reviews, the service also contains comparisons of hostings, website builders and articles on web design.
33. Xfive
Xfive is developers who care about you and your projects. They can act as an extension of your team, saving you lots of time and money by skipping you of the recruitment phase, by offering you a fixed price every month, and by making you 0 dependent of leaving people from the ongoing project.
Xfive can also be hired to make your project alive. Offer them the details and start a discussion.
34. actiTIME
actiTIME is a professional, all-in-one web-based application for time tracking and project management. It is a perfect fit for thousands of companies – from startups, non-profits and family businesses to Fortune 500 organizations – in their daily operations. Start a fully functional 30-day online trial to see actiTIME in action.
35. uCalc
With the help of uCalc builder, you can create beautiful forms and calculators to display on your website. All the work is done in the visual editor and you don't need to dive into the coding jungles. Just move items around, change colors, set up payment collection and Google Analytics to better understand your clients and track success. And the best part — it's free!
36. What Font Is
Many times, we are seeing awesome fonts on the internet and we don't know how to find out their names and from where we can buy or download. The best font identifier on the market, that is totally free to use, is What Font Is. You simply upload a picture containing the font you like or write down the picture URL and the software is making the rest. In seconds you will find out the name of the font or you will get 60 similar fonts. What font are you looking for? Try this resource to get the answer
37. Wokiee
Wokiee is more than a theme, it is a powerful design tool that comes loaded with 18 home layouts, 12 available skins, 8 layouts options for shops and much more. It was built as all in one solution, extremely fast for mobile devices (mobile traffic is much higher than other sources) and will help you get out of the crowd.
The regular license is only $39.
38. Pixpa
Pixpa is an easy, drag-and-drop website builder enables you to create your own beautiful portfolio website without any coding experience. Choose from fully customizable, stunning website themes to showcase your work. Your mobile-ready, online portfolio website comes with all the features and tools you need to grow your creative business. Start your 15 days free trial, no credit card is required.
39. Instant Logo Design
Instant Logo Design is a logo maker platform that is winning a lot of ground in the last 6 months. It is super simple to use and the logos look awesome. You simply type in your business name and get logo designs instantly. Give it a try.
40. TMS Outsource
Since 2014, TMS is a powerful service that will help you extend or back up your existing team. They develop web applications using up-to-date technology stack, which includes: PHP, Symfony, Laravel, WordPress, AngularJS, Node.js, React, Vue, Slim, Silex, and other tools – TMS keep learning and evolving together with the industry, adding new tools to our toolbox whenever they can. Join hundreds of companies that are successfully using TMS Outsource.
41. Apparelix

Apparelix is a vibrant fashion-related Shopify theme that makes it possible to present your items in an effective way. It may be difficult to make customers believe in your company and trust your services. However, with such a multi-functional assistant, everything will be easier. You will be surprised by a large number of e-commerce functions included in the package. Get ready to use a product carousel, different labels, and multilingual support to impress your potential customers.
About the author: this is the guest article by the TopDesignMag team
Title image from Hugo pack of vector illustrations on Ouch