The rise of video content on platforms like YouTube has been huge for content creators. According to research by Visual Capitalist, YouTube is the second most visited site in the world. Youtube videos can reach any type of audience through comedy sketches, tutorials, or anything in between. But many people don't know how to edit YouTube videos properly and pay the price with lower rankings.
This blog post provides you some insights on how you can edit your YouTube videos so that they get more views and engagement.
How does the editing of your video impact its performance?
When it comes to video content, every aspect involved in creating the video contributes to the result. According to a study by Hippo Video, 58% of the most viewed videos were edited before they were uploaded on YouTube.
Editing your videos can make a massive difference in the number of views, comments, likes, etc. It's not just about how well it looks or what kind of content is shown, but rather a holistic view of how your video is structured.
Editing can structure your storyline, make your message clear. It can deliver a powerful impact with animation and music elements. This uses transitions, titles, and video graphics that complement each other with the same style for a cohesive message.
The first step to editing YouTube Videos is to ensure that there's a clear message.
It is where you should ask yourself, "What am I trying to say?" or "What do I want my viewers to take away from the video?"
You might have a fantastic idea for content that's so good you can't wait any longer. But before publishing it, edit your YouTube videos to make sure the idea you're trying to portray is being conveyed correctly. You need to have a complete content production strategy to make your YouTube video successful.
A well-edited video garners more engagement and watch-time, which can lead to higher rankings. It's worth spending your time and money (If you want to outsource) in editing your YouTube videos. The following section explores some tips to help you make the most of your editing efforts.
6 powerful tips for editing your YouTube videos
1. Create a compelling intro
According to a report by Marketing Land, YouTube doesn't count views till someone watches the video for at least 30 seconds. It is crucial to ensure the first 30 seconds of your video are as exciting and eye-catching as possible.
Editing your videos with proper animation and editing elements can help you make your intro captivating. If viewers don't watch past the first five seconds, your video won't garner the engagement it could. It may be resulting in wasted time uploading videos, shoot footage, and editing them.
To create a compelling intro, FlexClip video editor offers a free intro maker that helps you create professional intros to add to all of your channel's content. You can add your channel name with text or a logo to make your channel known. You can level up your YouTube intros by applying artistic filters and adding exciting transitions using the free intro maker. If you don't prepare your own video content, you can find over 4,000,000 royalty-free stock videos and audio files. You are also allowed to customize the ready-to-use intro templates in FlexClip intro maker.
Spend ample time crafting an opening scene or sequence to make sure people keep watching. A commonly followed practice is to fade in or fade out your video's opening scene.
Using a compelling intro animation serves two purposes: engaging your audience and building a brand recall. The best intro animations are short and sweet, such as a logo of your company or animation that draws attention to the subject matter in the video. This keeps people watching so they can learn more about what you have to offer.
This also means that you should end the video well; the outros are as important as the intros. YouTube end cards serve the purpose of call-to-action and can appear for 5-20 seconds. Outros give a hint to your audiences to show their interest.
You can add like, comment, share, and subscribe icons or animations at the end of your video to prompt your audience to take action.
Here are some powerful tips to make the first few minutes of your YouTube videos highly engaging:
Create a custom thumbnail for your video
Thumbnails can be a significant deciding factor for a video's success on YouTube. We can consider a thumbnail as an interactive gateway that brings viewers inside the video. When you upload a video, YouTube auto generates a couple of pictures, and you can pick one as your main thumbnail.
A survey by YouTube reveals that 90% of the top videos have custom thumbnails. Using a custom thumbnail might be your gateway to increased engagement and help you grow income on YouTube.
However, most thumbnails are random and have no context at all. To thrive on excellence, create a custom thumbnail that describes your video in brief.
If you are making a car comparison video, use multiple car images in the thumbnail. You can highlight one interesting idea from your video in the thumbnail to build excitement and improve the video CTR.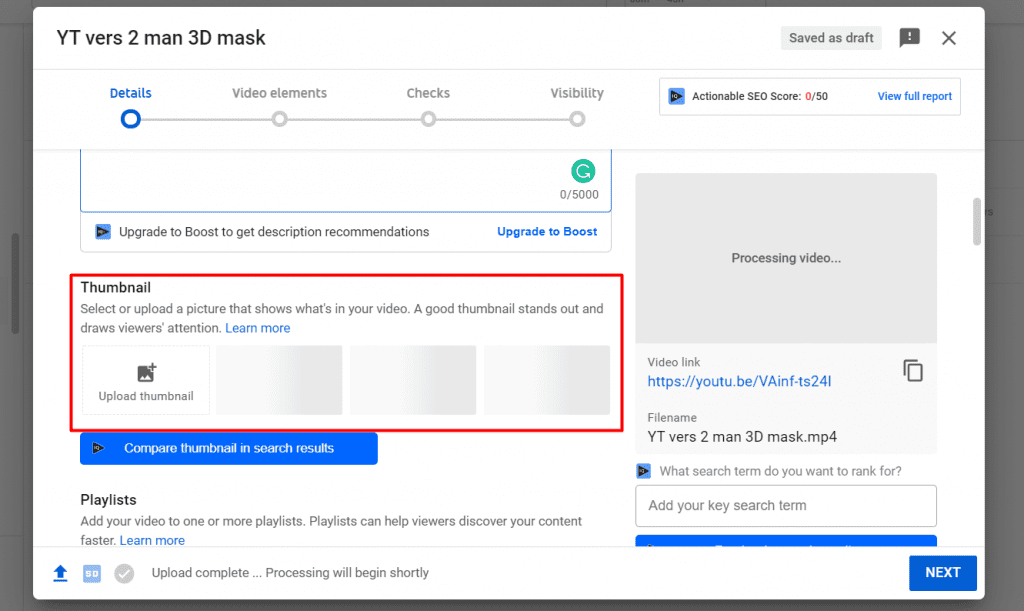 YouTube recommends an ideal resolution of 1280×720 (with a minimum width of 640 pixels) for thumbnails. For better viewing across devices, use a 16:9 aspect ratio widely used in YouTube previews and players. Additionally, don't forget to add your company's logo at the video's starting.
Choose colors for your YouTube logo that can be easily layered over other colors in the thumbnail for enhanced visibility.
Add a transition between intro and body
To make your videos hold audiences' attention, add a quick transition effect or animation between the intro and the main content of the video. This small trick helps to retain the excitement.
Adding short text will keep the viewers hooked with the complete video. It is because adding contextual information enhances the storytelling.
Add a beautiful B-roll at the start of the video
For better narration of the video and build excitement, create a b-roll by picking up the best pictures from the clip. For fine-tuning b-roll shots, you can use platforms like Vizeedy and download stock shots from there. Keep the b-roll's quality the same as the original video's resolution.
Adding a little bit of animation or sketching effect to b-rolls will make the video stand out and improve the watch time. Apart from b-rolls, you can shoot a timelapse video to insert it with appropriate background music.
These essential editing elements will help you create visually appealing videos without distractions. By adding a professional touch to your videos, you can increase YouTube subscribers over time.
2. Make sure you have good lighting, sound, and background noise levels
Even if the content is informative, videos with loud audio don't get their share of views and engagement. Ensure you use a reliable tool like Audacity to edit the audio levels and remove any background noise.
The same goes for lighting: dark rooms or poor camera exposure will make your video hard to watch. Use the best tools at your disposal, like any editing software with a brightness/contrast setting. Ensuring there are no spotlights on faces is necessary while still having great visuals.
Lighting should match what's happening in the video. For example, if you're shooting outdoors on a sunny day, use natural light from your surroundings. If it's dark outside or indoors, then adjust using a light source.
Minimalize background noises, such as cars honking in the distance or a family's dog barking. It will be easier for your audience to listen and watch you speak without interruptions.
How to improve audio in your YouTube videos?
While filming indoor, for example, interviews, use good quality hands-free microphones to capture audio precisely. If you shoot outdoors, use boom setups or microphones while you film bigger shorts. By doing this, you can improve the sound quality drastically. You can use lavalier or lapel microphones for a smoother audio output while you edit your video.
If you shoot a clip from your smartphone, attach an additional microphone to capture the voice and surroundings like a pro. You will notice a big difference when you use an external mic for your smartphones to cut most of the unnecessary noise.
Optimize your captions for a wider audience
Some people have trouble hearing the video. Some people can hear but don't understand what the person is saying owing to the language barriers. For overcoming these issues, captions help the audience listen to what the person is saying if they can't speak out loud or cannot see clearly.
Adapt your video captions for different languages so people have no trouble understanding your message.
It will lead to a better understanding of the content on your YouTube channel and, in turn, higher rankings on search engines like Google. Search engines give higher preference to videos that deliver a better viewing experience. Going the extra mile and adding multi-lingual captions will work in your favor.
How to add captions and subtitles to your video?
Closed captions and subtitles can improve your video's visibility on YouTube and search engines. To add closed captions or subtitles to your video, you must upload timed subtitles or a text transcript file. You can also insert the transcript text for your video, as it will auto-sync with the video.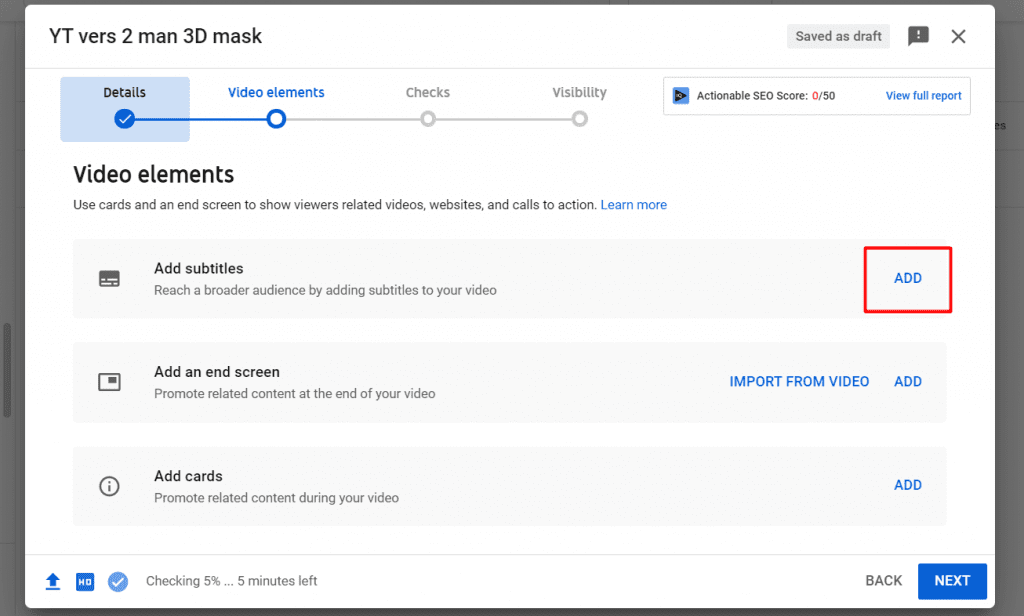 To add subtitles to your video, you need to ensure the amount of text shown when the video plays.
Go to the video manager setting, then navigate to the 'Videos' section under 'Video Manager.' Find the video to which you want to add subtitles and choose the 'Subtitles/CC' option. You can also select your preferences by adding closed captions or subtitles to the video.
Before you publish the video, read and correct the subtitles as sometimes the words get misinterpreted. When both captions and subtitles are accurate in all respective supported languages, the audience can enjoy the video in a better way. You can also use online tools to add subtitles to mp4 videos manually and then upload them on your channel.
How to edit the video text?
Keep the caption or subtitles text style sharp. Pick bold and clear fonts and keep the words on the video screen minimum. You can also use text animations to enhance the viewing experience.
4. Edit out unnecessary parts of the video
The good thing about editing is making your message more precise, even if you couldn't completely do it while making the video. Ignore keeping unnecessary pieces only to increase the video length. If the video has irrelevant clips, the audience will lose interest.
If a critical scene doesn't come out great, consider re-filming it instead of keeping the original clip. Use a simple voiceover if your outside footage is not great. For example, the audio quality in the video came out terrible.
Voiceover is a great alternative to cut down the disturbing audio and give a better context to the viewers. You can use one of several free or paid online video editing applications for it.
For making the video look professional, you can follow many filming rules, and the Rule of Thirds is one of them.
The rule of thirds
The rule of thirds plays a vital role in making the video look more professionally shot. For this, split the video into thirds and filming the subject at their intersection. For example, film the persons in one of the side panels of the split frame.
When you position the most vital elements of your picture at these intersection locations, you produce a much more natural image. It is also recommended that any horizon is placed on either the top horizontal line or the bottom horizontal line.
You can try off-center composition as it is more appealing because it's where the eyes go first. When there is a subject off-center, it allows viewers to cooperate with that space between them. This allows for interpretation between the main subject and the background.
5. Include high-quality gifs and relevant images in the video
Images and GIFs inside the video improve the quality and the content. If you have the resources and want your videos to be more than just text on screen with images.
This step is especially relevant for explaining a concept or idea with graphs and pictures.
You just have to know how to download YouTube videos and save them for reference.
Remember, your YouTube videos will garner more engagement if you can simplify your message for your audience. However, don't overdo graphs and animations, as it will distract the audience from the core context of the video.
You can use an online graph maker to create custom statistical graphs to give better context to viewers.
To make the video more appealing, you can include stock images and GIFs. You will find plenty of pictures and GIFs for free that you can use in your video under a creative license. Whenever you use stock graphics, always add credits in the video.
6. Optimize your videos for mobile
Mobile users are booming, and you need to optimize the video for the best viewing experience on mobile devices. The correct resolution can make or break your viewership.
For providing viewers with an engaging video experience, make sure you have the option for 1080p or higher resolution. Always ensure the videos are available in high quality. Most people watch videos on their smart TV, and hence it's essential to render the video at higher resolutions.
YouTube video editing tools and resources
Now that you've all the steps you need to take, let's dive into some tools and resources you can use to make the editing process more manageable.
Video editing tools: iMovie, MovieMaker, Premiere Pro CC, and Synthesia STUDIO, and Appy Pie's AI Video Editor are just a few of the popular video editing tools available on both Mac and PC platforms that can help you edit your videos. There are many more helpful free and paid YouTube video editing tools that you can research and use according to your specific requirements.
Learning resources: A few websites offer free video editing courses and tutorials to help you learn the tools. Some of these sites include Lynda, Digital Tutors, YouTube's Creator Academy, and Udemy.
Creative Commons: An excellent resource for finding images is Creative Commons which offers legal copyright licenses to reuse other people's work.
Images and free stock video footage: Many websites offer free stock footage and images, such as Moose, Pexels, and Unsplash.
Audio tools and platforms: There are several free stock audio libraries and platforms that you can use to get free audio. Some of these websites and resources include Fugue, Pond, Freesound Library, and AudioJungle. You can edit your audio using any of the audio editing tools, such as Audacity.
Takeaway
These tips and resources can help you edit YouTube videos for higher rankings, more engagement, and increased revenue. We hope this post has been useful in helping you generate ideas of what kind of content will work best with your audience.
With these tips, tools, and resources, it's easier than ever to produce an engaging video that drives results. Even if you are a beginner, keep these fundamentals of editing right to make a successful video. Happy editing!
Author's bio: Martin Luenendonk is a 3x serial entrepreneur with a deep passion for digital business models and marketing innovations. He is the Founder of cleverism.com and founderjar.com.