According to Statista, there are around 4 billion daily email users. Expect to it number climb to 4.3 billion by 2023. 87% of B2B marketers say that email communication is one of their top free marketing channels. Email communication isn't going out of trend anytime soon.
So we are going to talk about the ways you can optimize and automate email communication with clients. It will result in building long-term professional relationships without spending the most productive hours of your day answering emails.
Benefits of utilizing email communication
Email optimization can help you attract new clients and nurture relationships with current clients. Here are a few ways email communication can boost your business:
It is a trusted and tested communication channel. According to Radicati, there were 3.9 billion active email users in 2019. It is more than the amount of social media users, which peaks at around 3.5 billion.
It is an effective channel for building your lead lists. Many ways to communicate your services to potential prospects. Email offers complete flexibility without heavy investment. Email marketing automation tools allow you to create email templates and sequences. This will make the job easier and expand the contact base.
6 ways you can optimize email communication with clients
Did you know that email marketing offers a lucrative ROI? – earning $38 for every dollar spent on average.
Email as a communication channel seems pretty simple on the surface. But it requires loads of testing and tweaking until you find a winning strategy. First, you need to do market research and build a list of qualified leads interested in your services.
If your email communication and marketing efforts don't yield the desired results, analyze and optimize your current campaign.
Here are a few creative ways you can optimize your email communication and campaigns.
1. Find the right prospect information
To build a lead list of people interested in your services, you have to segment and narrow the list down. It is a waste of resources to collect random prospect information and just reach out to people.
The most effective is email finder and verifier tools that automatically find prospect information from a given URL. For instance, Hunter offers an accurate email finder. It finds the professional contact information of the key decision-makers in seconds.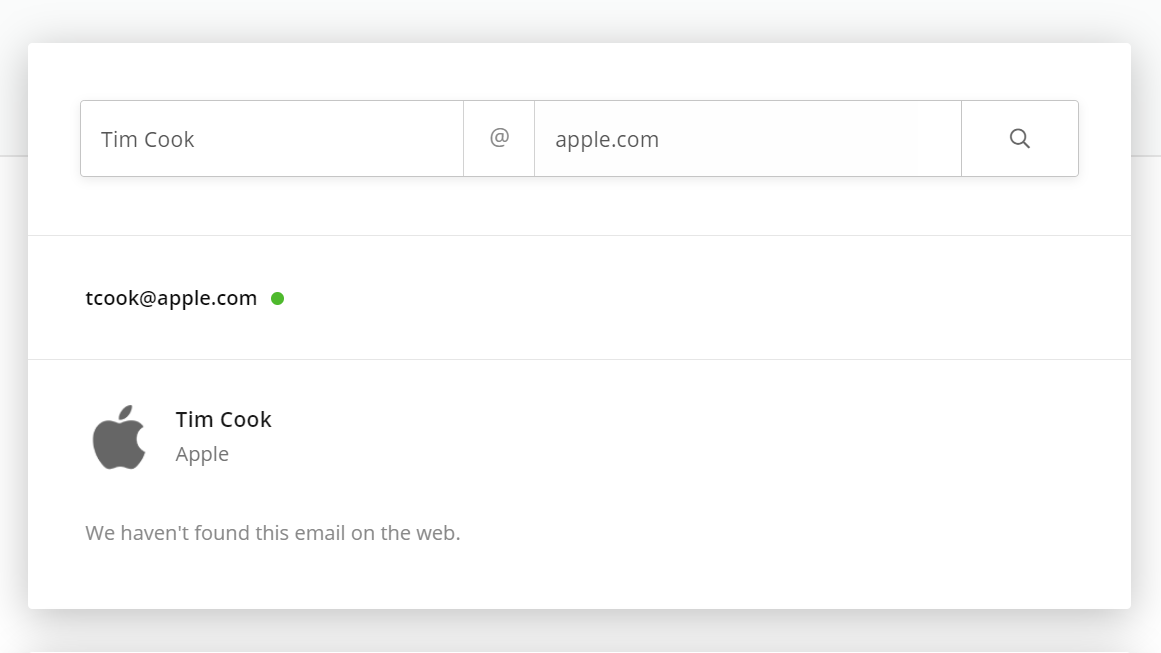 You type in the domain you'd like to investigate, and you'll get results:
professional email address
confidence score
position in the company
Once you collect a prospect's information, you can easily automate the whole outreach and lead generation process. A tool allows you to check if the professional email address you found is valid, and to track and measure the effectiveness of your current setup such as open rates, number of bounced emails, and response rates. That information is powerful and will steadily bring you more clients.
2. Personalize your messages
No matter whether you are communicating with a potential or existing client, the level of personalization is always important in email communication. Did you know that 71% of consumers feel happy to respond to a highly personalized message?
Personalized communication signifies that you care about your clients. It increases trust, credibility, and authority. For such a small time investment, personalization has the potential to generate an ROI of 122%.
Here are creative ways you can personalize communication with your clients that goes beyond the most obvious – a client's name:
Optimize basic email aspects. Be sure to personalize subject lines and copy to match a specific client and challenges their company faces regularly. Did you know that adding a tiny touch of personalization in the subject line can increase the open rates by 26%?
Perfect your timing. There is a high possibility you are collaborating with clients worldwide in many time zones. A good piece of advice is to know about your client's current timezone so that you can time your messages during their working hours. That way, you can increase your clients' responsiveness and engagement, which will help you deliver the highest quality work on time.
Offer personalized solutions. There is no "one solution fits all" in business. So it is crucial to ask your clients the right questions and offer a tailored solution for their problems.
Utilize dynamic content. Adding dynamic content to your email copy is a powerful personalization tactic. It tailors the whole message specifically for a client. For instance, you want to show the newest product designs to a client that sells women's sportswear. Creating beautiful sportswear designs worn by women is what you need in your message. Plus, you can optimize written and graphic content for geolocation and customer demographics.
3. Schedule email communication
Being available and offering fast responses during your working time is a huge advantage in a business. But do you need to check your email inbox throughout the day constantly? That's a trap many designers fall into, and it takes away their creative energy and focus. Did you know that working on one task and rapidly switching to another task can reduce your productivity by up to 40%?
Technology continually improves and makes communication more accessible and practical. It saves operational costs and time – while increasing conversion. You can use scheduling apps that centralize communication and collaboration between clients.
For instance, tools such as Calendly support the whole communication process and help you schedule meetings in one click. Also, these apps allow integration with platforms such as Google and Outlook. It makes communication easy even with clients that aren't tech-savvy.
4. Focus on clear and clean writing
Personalizing and sending emails at the right time is essential. Combining it with clean messages delivers the highest results in client satisfaction. Communication in designer projects is one of the most critical aspects. You need to set a clear and clean communication tone with the clients at the beginning to avoid wasting resources. Always communicate your expectations, needs, time frames, and processes in a clear tone.
Here are a few tips that will help you to have more effective communication with your clients:
Use clear and personalized subject lines
Create compelling CTA buttons, 1-3 convincing words are enough
Stay on point and avoid adding fluff in your messages, as it can confuse the client
Structure the messages in a way to limit one thought per paragraph
Avoid jargon or industry words, and use a self-explanatory style of writing
Don't show all project details in the first email since the amount of information can often confuse clients
Add graphic and interactive elements that help clients to navigate through the information
5. Utilize collaboration platforms
You can partially communicate in projects via email. However, presenting the work to the customer by e-mail will not work. Collaboration platforms such as Google Drive or similar can improve communication levels. Both sides can comment and request further changes and improvements.
For instance, Gmail is integrated with Google Drive. It makes the whole project communication effortless. Clients can quickly leave comments and suggestions on current work. Also, both sides get notifications once someone leaves a comment, which can simplify even the most complex projects.
6. Communication tips for professional platforms
You can use all of the tips shared above on professional platforms where people post projects every minute.
Professional platforms such as Upwork, Toptal, or Fiverr feature a ranking system combined with client's feedback. It's crucial to master the communication on these platforms. Here are a few tips for setting you off for a successful freelance career:
Set clear expectations before starting the new project
Set clear deadlines for each task and report the progress regularly
Diversify communication channels to ensure all sides are on the same page
Utilize written follow-up messages to confirm the client's needs
Offer advice and recommendations without charging to showcase your expertise in the industry
Organize the whole communication and project-tracking process through collaboration tools and cloud-based storage services
Make sure to respond within one working day to avoid further delays and complications
Clean and precise communication is the key to success
Email is a simple communication channel. But still, it offers an effective solution for business communication. According to Radicati research, there are 126 business-related emails sent and received per day per user.
This indicates a high optimization potential for this channel.
Author's bio: Robert's passion has always been web tools that make your life easier. That's why he founded the EmailToolTester, where you can find reviews and tutorials for the world's best website builders and e-commerce platforms.