One of the cool resources of art and design inspiration is communication with experts. Let's get inspired together: we offer you the interview with a famous French illustrator Mathieu Freak City.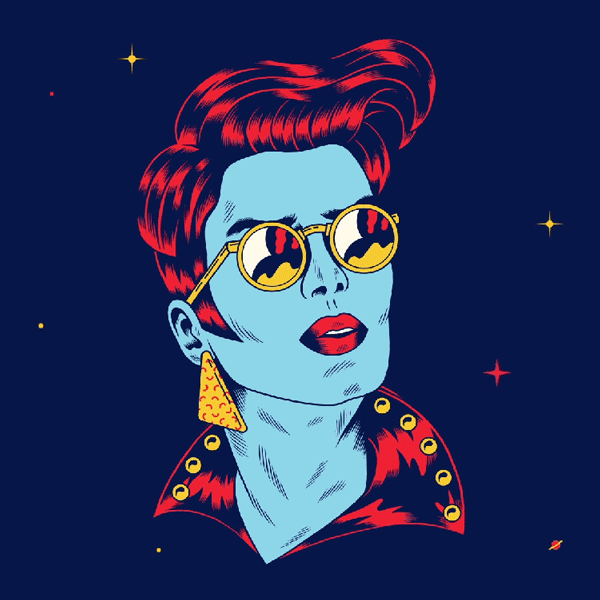 Why are you called Freak City?
Freak City was once the name of a global private project. A creative one, you know, with comics, pictures, characters. Freak city is more about a specific landscape and spirit, about something urban, with countless chimeric characters and monsters rather than the name of the artist. But it stuck to me somehow, so I am still called a Freak City.
Tell us a little bit about your background. Where did you study? How did you become an illustrator?
I was born and brought up in France, and received my education mainly in Bordo where I live now. As long as I remember myself, since being a kid I've been drawing characters of favorite animations and cartoons, also toys and skateboards – generally everything that looked bright and colorful. I've just never stopped and gradually learned from schools and books more and more technical and historical aspects of the art. That is a long neverending story.
How would you describe your style now?
I'd say that's a mixture of punk aesthetics with style of American and French comics of 80th. Something underground that takes roots in a musical punk-rock stage. Something that has a lot of energy, pranks, colors, and references to teenage. That's a visual soundtrack to what my life is like!
All that can be seen in your artworks today. How have you developed your professional visual language?
In the beginning, I was technically limited. So I've been gradually learning new tricks. Yet, I can't say that during those years my style has changed a lot. It's more about learning to be a professional, striving for style purity, discipline, self-education. The point is that I shaped my style when I was a teenager. And I still love the same things. When I come across the new ones, I integrate them into the visual language. But only if I feel I understand them well.
What influenced your style to the greatest extent? Perhaps, French graphic storytelling?
It did influence, absolutely! being a child, I used to read French novels with illustrations, and that definitely determined my visual language. They could be found everywhere in France: in libraries, schools, stores, stations, etc. It was a really popular media, which still exists. As for the commercial art world, for recent years there has been a great revival in illustration connected to comics. There are countless schools in the graphics world, and I love many of them. But most of all I've always loved comics of 80th with their so-called "pure lines". Exact lines, flat colors without shadows – that's the formula. You, for example, may look to what the Metal Hurlant is to understand how rock influenced the French comics of the 80th.
Are you still in a search?
Yes, all the time! I'm not afraid to be left without answers, but what really scares me is when there are no questions. Always ask yourself.
Tell us about your work process. Tools, techniques, workflow.
It's quite basic with me: I move from paper sketches to the final digital painting. First of all, I do lots of photographic research in a portfolio with references, but then anyway these are drafts and planning of the further look. I need clear instructions. I'm not a man guided by his pencil. My ink pictures are handmade, after that scanned, purified from all the unnecessary stuff, and just after that, it is a time for digital painting, mostly done with Photoshop or Illustrator.
Could you unveil your approach to color and texture?
I tend to keep a very limited palette, trying to go with up to five colors in one illustration in order to get a more attractive outcome. I want them to be really powerful. That means I need to find colors that effectively fit together and complete each other. Commonly, those colors are solid and rich, found in comics and art skateboards. I consider my artworks as if I were working on a film.
Digital media makes it possible to try and use different combinations in a fast and easy way. I love to use all these advantages. Actually, I make three colored options of one picture and then keep the one that impresses me most of all the next day.
Do you send any messages to the world via your works? Or maybe your illustrations mainly aim at aesthetic enjoyment and self-interpretation?
I believe that everything depends on the artwork. Personal works typically transfer more messages. First, you spread them, then people try to understand them. To reach the goal, I create books and private exhibitions. But when it comes to commercial projects, sure, everything gets more down-to-earth.
There are many giant clients in your portfolio. Could you, please, tell me more about work with Microsoft, Jägermeister, Red Bull, Vice, GQ, etc. What is the difference between collaboration with big international companies and all the others?
The big clients, in general, are easy in cooperation. It is awesome to work with them since there is a financial and material comfort. And also they are well-organized. As for the rest, they do not really differ from a smaller client because I still have to make illustrations. Probably you may feel more under pressure while working with them, but I do my best. That's why a client actually has little impact on my work.
Illustration for Vice
Illustrations for GQ
Which projects have taught you the most? And which ones are you really proud of?
I always learn something! I can't choose the one, but let's say like this: challenges are what teach the most. For example, when you agree to paint a giant wall or try new methods of work. It may happen in all projects that push you out of the comfort zone.
Releasing an illustration book is also a great pleasure. Such projects incorporate years-long efforts into one book, so that's a kind of cornerstone in your personal career. I've published three different books that I'm proud of. These are personal achievements really important to me.
Are social media important for your practice? If yes, what platforms do you use?
You can find my portfolio in many places. Instagram, Tumblr, Facebook, Behance and the like. I have to admit, it takes a lot of time. But you have to do that because the world of illustration is so big that some global visibility is required now. Still, you can work without it too. There are friends of mine who have a remarkable career without all those social networks. But if you want your career to be noticed at a global level, if you are eager to reach commercial and media success in your area, self-presentation is another full-time job for you.
And what is the favorite part of your job?
The pure passion of a drawing. Book releases, expositions, traveling in order to show my works, exploring new places and people. I just love what I do, from drawing at my desk while listening to favorite records to creating a mural together with friends outside.
I am absolutely crazy about books, music, and cinema. Can get stuck on certain styles and find inspiration in them for days. Also, hiking mountains, trips to a rural area and bicycle rides are essential for me: they are something very refreshing and vital to maintaining continuous motivation. I just need to do that from time to time to get the power that I direct into creative work.
The original interview was published on Telegraf Design
Images from the Freak City official website
Check the collection of free vector illustrations for UX
Read the interview sharing some job insights from experienced UI/UX designers