Editing your photos can be a real pain. And finding the best free photo editor among so many design tools just adds to the problem. Fortunately, we've gathered the best free photo editing software in one place for you.
In this article, you will find photo editors, image editors and even a photo collage maker. For your convenience, the article was broken down into two sections, casual photo editors for beginners and advanced photo editing software if you want to take your photo editing to the next level. Tune in!
Best Free Photo Editing Software For Beginners: Candidates
Pixlr X
Platform: web application
Link: pixlr.com
Pixlr X is a free photo editor developed by 123RF, a company that also stands behind Pixlr Editor (a free image editor we'll explore in the "advanced" section of the article) & Pixlr Express. In a way, Version X is a replacement of Pixlr Express, which is being superseded due to its outdated flash technology.
PIxlr X works directly in your browser. However simple, it allows you to perform a wide range of the most popular photo-editing tasks, such as adjusting colors, cropping, adding vignettes, blurring etc. It also comes with 80+ ready-to-use photo-filters that you can try with a single click.
You can also add several images to your project, which enables you to create photo collages. The photo editor supports layers, transparency controls, and multiple blending options just like in Photoshop. You can also add text to your photos, e.g. for your social posts and meme creating adventures.
The app works very smoothly with no lags. It also has a mobile version that works in a browser as well, just open the link on your mobile gadget. Pixlr X requires no registration, export is one click away and no ads were detected on both devices. What else could you ask for?
Pros:
Modern, minimalistic design
No registration, no ads
Layer blending
Mobile-friendly
Cons:
Icons8 Mega Creator
Platform: web applicaion
Link: icons8.com/mega-creator
Strictly speaking, Icons8 Mega Creator is not a photo editor [yet]. However, it offers something others services don't – a fully customizable photo composition. A photo collage maker that comes with a twist – you don't combine different photos, you combine objects in them.
Instead of editing photos, you create them. Dozens of models and each one of them has dozens of poses, outfits, and angles to fit every scenario. Add to that backgrounds and objects, and creative capabilities are limitless.
Any object can be positioned, rotated and scaled. You can add text to your collages and set custom dimensions for your projects. Default social media presets (e.g. Instagram story & Facobook cover) are also available.
The key aspect is that Icons8 Mega Creator uses its own, custom made photos from the Icons8 Moose project. All the photos are shot in matching style, which allows you to combine them in whatever fashion you want. Some models and objects have several shadow options available if you want to better fit them into the picture. The number of objects you can insert into a single composition is limited only by your creativity or willpower.
Pros:
Rich library of photos & objects shot by a professional photo crew
Objects are shot in one style and can be easily combined
Photos are ready to use – retouched, cleaned
Constant updates with new features (adding your own assets, shadow generation, auto-adjustments, etc.)
Cons:
No adjusting
Can't add your own photos yet (the feature is in development)
Colorcinch
Platform: web application
Link: cartoonize.net
Colorcinch is a powerful web-based photo editor that allows you to transform any photo into personalized artwork. You can crop, rotate, resize, and detail your photos and apply hundreds of AI-powered specialty effects to have a cartoon, painting, sketch, and more.
With Colorcinch, no sign-up is needed. You can upload your photo or choose from its collection of high-resolution stock photos to start editing. Then, you can add elements to your photo with its vast library of premium vector icons, artistic masks, overlays, and frames. It also has a text editor and freehand drawing tool that you can use to give a customized look.
You can create and organize your projects with a user-friendly layers panel and you have full control over your photos' exposure, clarity, color, and vibrance.
When you've completed your artwork, you can export it to your computer as JPEG, PNG, or PDF and achieve a stunning print quality of up to 400 DPI. You can also save your work as Project that you can access anytime with your Colorcinch account.
Inside Colorcinch, it's all intuitive. You can create stunning collages, banners, cover arts, and social media posts with just a few clicks!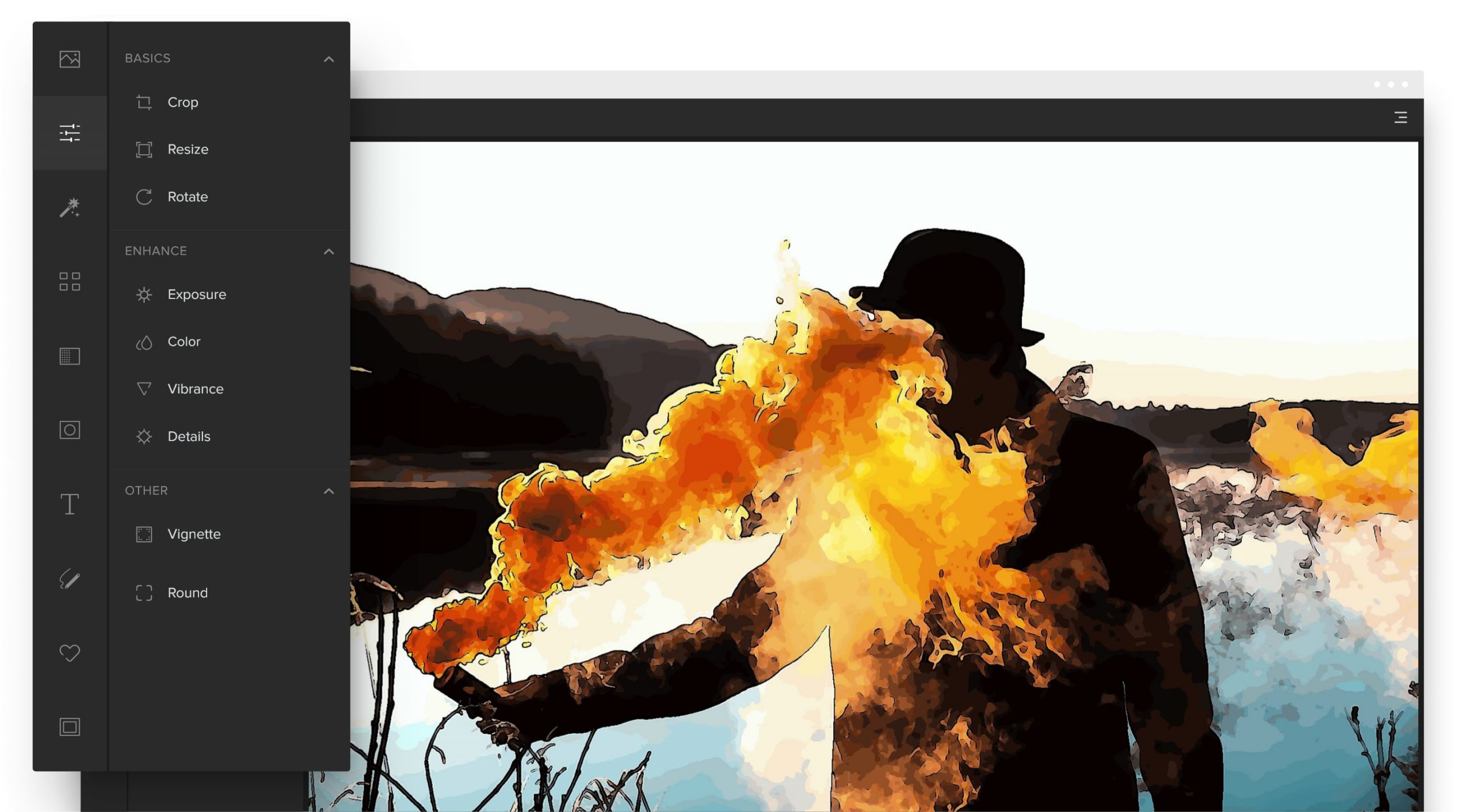 Pros:
Hundreds of special artistic effects (powered by AI) -turn any photo into a sketch, painting, cartoon
An incredible collection of stock photos, vector icons, masks, overlays, and frames
Intuitive UI built for everyone (clean, no ads)
Essential photo editing is free and no sign-up is required
Cons:
Features maybe limited for non-premium users
Pizap
Platform: web application
Link: pizap.com
Pizap is yet another free editing software for photos and images that operates in the browser. It has all the standard operations that you would expect from a program of this kind: filters, text, adjustments. However, there's also a collection of stickers, borders, and textures that you can easily add to your photos.
There are some basic adjustment panels to fine-tune your image, like brightness or contrast. Also, you may find several premade filters & textures, but you can only use one at a time. Overall, the editing is pretty basic, take it or leave it.
However, a couple of tools within the software hint at the idea that Pizap is a meme-creator's dream come true: text & cut-out.
Cut-out is a rare, interesting feature to find in online photo editors, however, it's here and it works:
There is a special "Meme text" option that only solidifies this fact: this tool is perfect for creating memes of all kinds. Add a few stickers from the library, maybe a border, and here we go:
Pizap is a great tool for creating fun social posts, trolling your friends or creating memes. The amount of out-of-box assets is enough, and there's a pro version ($2.50) to unlock more. Drawing mode is a plus, even though it comes with only one brush and two settings. Ads can be irritating, but creators gotta make money somehow. There are no watermarks, no worries.
Pros:
Cut-out
Meme creation tools 🙂
Stickers
Collage mode
Design presets
Cons:
Simplified layer blending
Ads
Performance issues – my project died right in front of me
Adobe Photoshop Express Editor
Platform: web application
Link: adobe.com/express/feature/image/editor
If you are looking for a one-button solution for fine-tuning your photos, APE photo editor should be your choice. The tool has nothing redundant (apart from the unnecessarily long name) – just a handful of the most popular photo filters to enhance your images.
With Adobe Photoshop Express, you can perform common photo-editing tasks, like red-eye correction, touchup, crop, etc. There are a few special effects available as well, e.g. "Pixelate", "Crystalize", "Sketch". They work exactly like their Photoshop counterparts. However, you don't have tweaking options for either effects or tools. Every adjustment comes in seven or eight presets, and all you can do is choose the one you like the most. However, you can combine effects from different categories and apply them at the same time, coming up with interesting combinations – a rare thing to see in online editors.
Burn, dodge and a few other tools that require manual control, but the controls are simplified.
Speaking of nothing being redundant in the tool, it has a "Decorate" section with stickers that seem a bit over the top. After all, the tool gives off a vibe as an express version of Photoshop, not a meme-creator, but it depends on the user. Adding text and text bubbles can be useful to marketers, presenters or social media creators.
Overall, APE is a great quick tune-up tool. Don't try to compare it with full-fledged Photoshop or other Adobe products though, and you won't be disappointed. There's also a free mobile version of the app for Android and iOS devices.
Pros:
Mobile versions for iOS and Android
Quick fixes for common problems out of the box
Photoshop-like interface
Cons:
Edits only JPEG files
Works on flash (security & performance issues)
Can't add more than one image, so no photo collages possible
Paint.net
Platform: Windows
Link: getpaint.net
It's hard to properly categorize Paint.NET because it's either the most advanced among simple photo editors or the most simple among advanced. But I've decided to include the editor under the "Casual section" for its pleasing ease of use.
Paint.Net's interface is a mix of good old Windows paint and Adobe Photoshop. If you've ever used one of these programs, you'll feel at home instantly. It works as a desktop program and, unfortunately, there's no version for Mac that has been released so far.
This free editor allows you to perform all photo editing tasks and more. Useful features you won't find in other online editors are edit history, gradients & advanced selection options like magic wand & combined selections. Of course, several adjustments & effects can be combined in whatever fashion you like. Unfortunately, Paint.NET does not support adjustment layers, but then again, we're just talking about casual photo editing software right now.
Pros:
Quick download & install
Desktop version – no internet required
More features than online counterparts
Stays simple
Cons:
No mobile version
No browser version
No Mac version
Canva
Platform: web application
Link: canva.com
Canva is not an editor as much as a visual constructor. With thousands of graphic assets, from icons and images to fonts and backgrounds you can come up with countless variations for your needs. However, some of the assets are not free and need to be purchased separately. On the bright side, you can upload your own images.
You can create social media posts, book covers, infographics, flyers, magazine covers, the list goes on… If your future creation has a name, Canva probably has a library of presets to kick off your project.
It also has adjustments & filters to tune up your whole project. However, you can't adjust the impact of each filter, it's either on or off. You can't combine them either – you'd have to save your project and re-upload it, and then apply the next filter as a workaround.
Overall, Canva is a great visual builder with some editing features for your photos in stock, but not to the point where it could be considered a fully-functional photo editor. But then again, it's not supposed to be.
Pros:
Great for social media posts
Rich text & graphical assets library
Cons:
No layers
No blending
Not many photo-editing features
Snapseed
Platform: iOS, Android
Link: play.google.com; Itunes
This list would be incomplete without a fully mobile photo editing app.
Snapseed works exactly like your standard mobile photo app. Only on steroids. If yours has 10 filters, Snapseed has 100. It also has plenty of specific tools, like tilt-shifting, perspective, grain, glow, etc. It also has a healing tool to help you get rid of blemishes & scratches on your pictures in a simple manner.
You can also save your own custom filters as presets and use them in the future.
It's easy to import your photo to any social network or save it for future reference. If you're using your phone camera often and want to enhance your photos before uploading them somewhere, Snapseed is a great choice, available both for iOS and Android.
Pros:
Mobile
Easy to use filter-based app
Cons:
Mobile only
Can't combine several images – edit only one at a time
Best Free Photo Editing Software For Advanced Users: Candidates
GIMP
Platform: Windows, macOS, Linux
Download link: gimp.org
How can there be an article about free photo editing tools without mentioning GIMP, the Photoshop of free editors? Released in 1996 exclusively for UNIX systems, this photo editor became widely adopted among the design community and subsequently was released for Windows and macOS systems.
The program was developed by a wide community of volunteers and has been updated dramatically since its first release. Even though the development stagnated for a while (there were no major updates since 2012), GIMP was still widely used and appreciated for its stability and editing potential. However, the last April update was a huge boost to all aspects of the program, from user interface to new tools and hardcore improvements to its performance. After addressing all the community feedback from the last few years, the program is now back in the race among the most up-to-date free editing software on the market.
GIMP includes everything you need to edit your photos: layers, masks, channels, blending modes, filters, and color adjustment tools. In the latest update, color management was added as a core feature of GIMP, not an extension as it was before. Advanced transformation tools like warping and handle transform also allow you to employ all sorts of distortion and correction in your photos.
Talking about extensions – plugins are one the hallmarks of GIMP. As there is a wide community of developers and designers working on the project, there are countless plugins that you can add to the editor, expanding its capabilities. Another advantage is a highly customizable UI – you may go as far as replicating Photoshop UI if you prefer working in a similar environment.
You can also draw in GIMP, and in the recent update the brush engine was updated, smoothing the brushwork and adding more advanced features like symmetry painting.
Lastly, the community offers a wide range of educational resources for beginners and experienced users. The program is hard to master, just like any advanced photo editing software, however, the learning curve is sweeping – learn things as problems arise and you won't be overloaded with information.
Pros:
Customizable UI
Lots of educational videos & articles
Plugins that expand functionality
Cons:
Rare updates
Rare performance issues (on non-Linux systems)
RawTherapee
Platform: Windows, macOS, Linux
Download link: rawtherapee.com
The primary purpose of RawTherapee is to convert from RAW photo formats to other, more popular formats, e.g. JPG. However, even experienced photographers admit that they can have a blast with this editor's functionality.
If you browse the photographer's forums, you'll find that many people like certain, specific functions of this program. For example, vignetting or rendering of fine tonality. Given the simple interface and workflow of the editor, you may find that certain things you are used to doing with Photoshop or any other advanced editor are much simpler and more fun to do with RawTherapee.
Another advantage of RawTherapee, perhaps due to its close connection to raw formats, is that it's great at retaining a natural look of the photos. Many other photo editors use heavy algorithms to process your image, which often results in an unnatural look. If you want to convey the atmosphere of your original photo while still being able to fine tune it, you should try using RawTherapee.
This free photo editor is regularly updated, and it has a version for macOS, Linux, and Windows. The installation is easy and straightforward – it won't take more than a few minutes to tune in and try the editor for yourself.
Pros:
Supports most raw formats (like Pentax, Sony Pixel Shift, Canon Dual-Pixel)
Preserves the natural look of your photos even after heavy editing
Convenient history of edits
Cons:
Not all features are explained on the website and tutorials
No layers, no drawing – only photo editing
Photo Pos Pro
Platform: Windows
Download link: photopos.com
Photo Pos Pro is a free photo editor with a common-looking UI that resembles that of a GIMP, Paint or Photoshop. It has a staggering amount of buttons in it, which might cause confusion for non-experienced users. However, there's nothing new to what the program does in terms of editing and you will find many functions working exactly like they do in other photo editors.
The editor comes with plenty of features for both basic photo editing (red-eye reduction, filters, auto-corrections) and advanced editing (magnetic selection, layer blending, color adjustment).
It also offers a layer system similar to that of Photoshop with opacity control and a lot of blending modes. However, as with all Photoshop analogs, the biggest limitation of Photo Pos Pro is the absence of adjustment layers.
Extensive tutorials available on the website are a plus. However, the amount of restrictions in the free version is upsetting: you can only export 1024 x 1014 pictures & many advanced features and brush presets are only available after purchasing the premium version.
Pros:
Extensive user guide from creators of the program
Ready-to-use tools for common problems (e.g. red-eye reduction, auto-correction)
Cons:
No keyboard shortcuts
No adjustment layers
Many functions are unlocked after purchasing the premium version
Occasional freezes
Many advanced editing features are not available with the free version
Outdated UI
PhotoScape
Platform: Windows
Download link: photoscape.org
This free photo editor has a very confusing UI when you use it for the first time. It's really far from your typical Photoshop & Paint – like programs. Don't let that discourage you. This editor is a gem. It was developed precisely for photo editing and it's surprisingly easy to use.
What are the most popular photo editing tasks – fixing red-eye? There's a button "Red-Eye Correction". Click it, select red-eye on the photo, and PhotoScape fixes it. A mole? Same thing. If you need to cover some nasty stuff with Mozaic… Well, you got the idea.
80% of usual photo editing tasks are grouped together in buttons that you can use right away. There are 35 film effects, several editing brushes (smooth, blur & darken), a paintbrush (kind of primitive, though) and a collage maker.
Basically, this free photo editing software is not super advanced, but not too simple to be included in the "casual" section of this article. If you often do basic stuff with your photos and nothing too serious, PhotoScape is for you.
Pros:
Easy to use once you get through clumsy UI
Fast
Install within 2 minutes
Cons:
Outdated, clumsy UI
No layers
No updates – the latest update dates back to 2014
Pixlr Editor
Platform: web application
Link: pixlr.com
Pixlr Editor is another product from Pixlr company, a free web-based photo editor with some advanced features you won't find in a more simplified Pixlr X.
First of all, it supports layers and editing tools, like brushes, stamp tool and fills to name a few. The second advancement comes from filters – there are more of them and you can fine-tune their strength and combine them in a linear fashion – one after another. The history of edit will allow you to return to any of your previous edits without constantly having to press the "Undo" button.
Overall, Pixlr Editor is an online version of Paint.Net with a modern look and more filters & adjustments available. It also has a red-eye reduction tool and spot-healing that prove useful in most photo edits. Don't let the simplicity of UI deceive you – this free photo editor is extremely powerful and has features you wouldn't usually expect from a web-based application, like layer blending modes and layer masks.
However, it comes at a price – the app has ads. A small price to pay, considering it's free otherwise.
Pros:
Simple, intuitive modern UI
Powerful features in a simple shell
Web-based – no install required, only internet connection
Cons:
Works on flash – consider performance & security issues
Ads
Krita
Platform: Windows, macOS, Linux
Download link: krita.org
Strictly speaking, Krita is a free drawing software (and a great one) and was not specifically designed for photo editing. However, if you already have it or draw a lot – why not use it for both?
It has everything you need for an advanced photo editing – layers, adjustment curves, filters, selections tools… Come to think of it, it's a photo-editor hidden in a painting program because nowadays digital art has a lot to do with both drawing and image-editing.
The layer system in Krita is so advanced it's the closest to premium image editing programs you can find. Better yet, Krita has a staggering amount of blending modes that allow you to create all kinds of special effects in your projects. Talking about effects – Krita has a bunch of filters and adjustments – and you can use filter masks with all of them for non-destructive editing.
If you want to create artistic projects based on your photos – Krita is your choice. There are plenty of tutorials available for you on the website, although most of them are dedicated to digital painting and you will have to transfer the knowledge to your photo projects.
Pros:
Strong brushwork
Plenty of selection tools
Non-destructive edits with layered adjustments
Cons:
You won't find many photo-editing tutorials for a drawing-oriented program