Free graphic design software has an interesting aura about it. Many people believe that it's better to invest in paid software if you want to create anything of commercial quality.
And yet, designers readily prove otherwise by creating entire artworks, UI interfaces, and designs using only free graphic design software.
It's hard to wrap your head around the fact that you can create logos, packaging designs, book illustrations, infographics, or pretty much anything else using only free graphic programs.
Years ago only a handful of free design software tools were available to us. These days there's a bunch of free graphic design software for beginners, free graphic design software for illustrations, interface design — all up for grabs.
In this article, we'll help you to pick the best free graphic design software for your needs and pinpoint the pros and cons of each. But before we begin, let's briefly talk about what graphic design software is.
What's Free Graphic Design Software?
Graphic design is the process of structuring and presenting information visually, following a creative process in order to achieve a certain goal or perform a certain function.
Graphic design is the process of structuring and presenting information visually, following a creative process in order to achieve a certain goal or perform a certain function.
Even from this definition, you might see that graphic design is a broad term that encompasses many aspects of a visual craft.
Designing a package for a new product? That's graphic design.
Creating an infographic for your marketing presentations? That's graphic design.
Preparing a visual mockup for your company's website? That's graphic design.
Below are the key elements of graphic design:
Add "TEXT" elements to that, or typography, and you'll get the picture. No pun intended.
In theory, any graphic design software has tools to work with color, text, shapes.
In the real world, some software is better suited for certain tasks or users.
That's why in this article we'll group together free graphic design software for beginners, graphic design software for illustrations, and so on.
Let's dive in!
Free Graphic Design Software for Beginners
Graphic Design Software doesn't have to be advanced and include every possible tool to be useful, especially if we're talking about graphic design software for beginners.
Marketers, blog writers, managers preparing presentations all need to create visuals to support their ideas and enrich their slides.
If you're a complete beginner in graphic design, simple graphic design tools can help you quickly get the basics, without having to waste hours and hours learning what your graphic software can do.
Let's review the best free graphic design software for beginners in detail.
Lunacy
Platform: macOS, Windows, Linux
Download link: icons8.com/lunacy
Lunacy is a graphic design tool developed specifically to help people bring their ideas into reality as quickly as possible.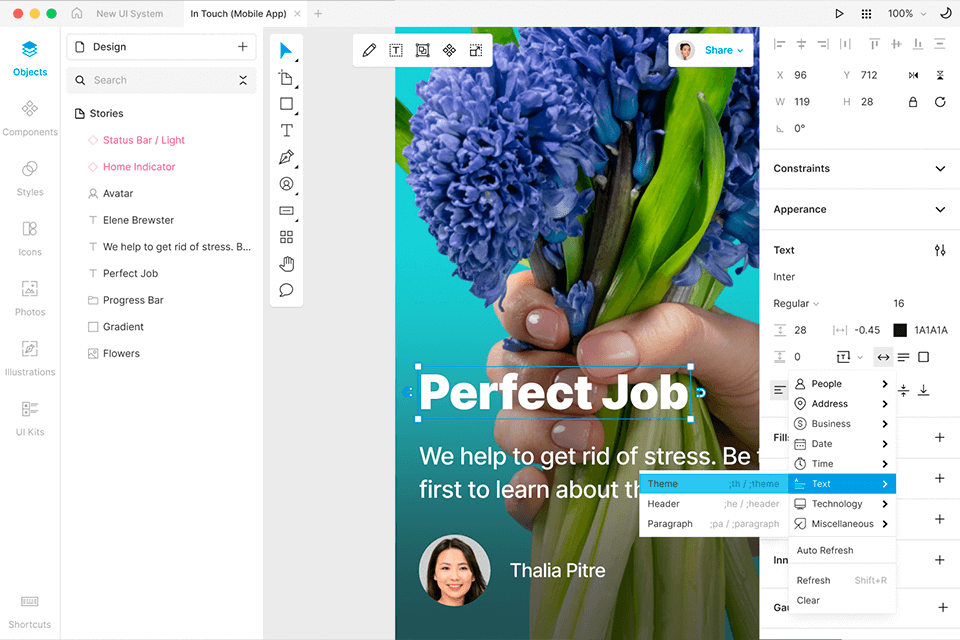 Not only does it feature all the standard tools of visual design, such as shapes,text, color, but also enables you to create visual artwork in a matter of minutes.
How does it do it? Lunacy features a wide, free library of graphical assets including:
With built-in graphic assets, you can create UI screens, blog illustrations, landing pages, prototypes, and so much more.
If you want, you can easily add text with its typography tool and draw your own vector illustrations with paths and transformation tools.
Lunacy is free graphic design software for both complete beginners and experienced designers who want to optimize their graphic design workflow and create beautiful graphic design projects quickly without losing on quality.
Pros:
Built-in library of high-quality illustrations, icons, and other visual assets
Simple, clean UI
Desktop version with offline access
Cons:
Canva
Platform: online
Link: canva.com
Canva is a go-to graphic design online tool for many non-designers because it makes their life so much easy.
It was created specifically to help people create designs from pre-made elements with almost no editing. All you have to do is find the appropriate visual assets in Canva's huge library of graphic elements and then combine them on your canvas.
Canva elements include icons, photographs, illustrations, charts, and many more. Canva also offers a great number of pre-made templates, font pairs, and visual compositions so you don't need to create your designs from scratch.
Although Canva's editing tools are quite simple, they get the job done. You can transform and resize elements, change their opacity settings, edit text.
You can also upload your own elements and either combine them with Canva assets or create compositions entirely from elements that you upload yourself.
The downside is, however, not all visual assets are free and you have to purchase some of them, otherwise, your project will have watermarks.
Pros:
Huge library of graphic assets
Animated posts
A great number of templates for every graphic design project imaginable, from infographics to CD covers
Cons:
Not all assets are free
Minimal editing capabilities
Pablo
Platform: online
Download link: pablo.buffer.com
Pablo is a simple online graphic design tool that was specifically developed for creating social media graphics for Pinterest, Instagram, Facebook, and Twitter posts.
No more, no less.
Pick any image from a built-in 600k+ library, add a text on top of it, apply photo filter, perhaps a company logo on top of it, and you're done.
But it's surprisingly good at that. You can create social media posts within minutes, which is especially useful when you have to prepare dozens of those each day.
So if you're an SMM marketer or want to create a series of inspirational quotes on Pinterest, go for it!
Pros:
Cons:
Very basic functionality (mostly for social media posts)
VistaCreate
Platform: online
Download link: create.vista.com
VistaCreate is a solid competitor to Canva. The thing is, both graphic design tools are almost identical.
VistaCreate features thousands of graphic design assets that you can combine on the canvas to create your designs, be it social media posts, business cards, postcards, posters, and anything in between.
Perhaps the biggest difference between Canva and VistaCreate comes from their pricing models.
While Canva charges you per every paid asset you use in your design, VistaCreate offers a subscription-based model when all of the assets are available to you given that you pay a monthly fee.
That said, both services are perfect for creating graphic design work, especially if you don't have that much of a design background.
Pros:
No functional limitations with the free version
Cons:
Most of the assets require a premium subscription in order to be used
Klex
Platform: online
Download link: klex.io
Klex may not yet have as many pre-made templates as Canva and VistaCreate do, but this free graphic design software surpasses them both with functionality.
Not only are there more parameters available for you to fine-tune your design elements, such as border colors, shadows, mirror effects, but you can also edit vector elements that are present on page directly.
If you're familiar with vector design basics, then you probably know that every graphic shape is, in fact, a series of points connected with each other. By carefully editing the position of every point you can dramatically alter the elements and edit built-in vector elements, such as icons, illustrations, and emojis.
As a bonus, Klex has no hidden payments and is completely free to use with all the visual assets that are included. You can upload your own elements as well.
Pros:
Completely free
Editing tools are more advanced that in Canva or Crello
Cons:
Fewer pre-made design templates to start with
Eagle App
Platform: Windows, macOS, Browser Extension (Chrome, Edge, Firefox, Safari)
Download link: en.eagle.cool
Ever had trouble organizing your graphic design files? Inspirations? Or even reference materials? Eagle App is a digital assets management tool made for designers to enhance your design workflow.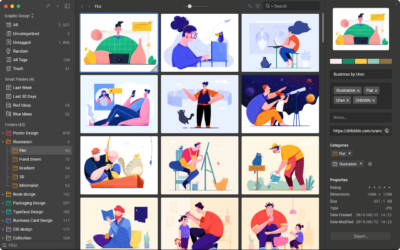 Eagle App comes in very helpful when you are doing graphic design/ illustration brainstorming, inspiration gathering, file management.
You can use the powerful browser extension to collect images on any website, then set your own filter to search for those design files by colors, shapes, size, dimensions, tags, ratings, annotations, and other attributes.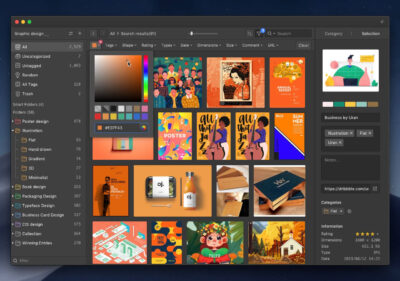 Unlike the original Windows Explorer and Mac Finder, where you have limited listing and viewing options, Eagle allows you to preview over 81+ formats directly.
If you want to get rid of your messy design files & folder, making the dull design file management into a fun and creative, try Eagle!
Pros:
Instant preview 81+ design formats: images, psd, ai, pdf, fonts, svg, gif, 3D and more!
Advance filter options: colors, shapes, size, dimensions, tags, ratings, annotations
Easy to use, beautiful UI and UX
Cons:
Mega Creator
Platform: online
Download link: icons8.com/mega-creator
If you've ever been to Dribbble, the most popular website for graphic designers, you know that its front page instantly tells you what illustration styles are in demand now.
Each of this artwork is created by a different designer and is mainly there for demonstration purposes. But what if you could access all of the trendy vector works and use them, even for commercial purposes.
Better yet, what if you could combine several elements and create your own vector illustrations?
Meet Mega Creator:
The tool makes up for the lack of editing features with the diversity and quality of the assets. You can resize, rotate, mirror, transform, and layer visual assets on the canvas.
Since Mega Creator is constantly being updated with new illustrations, you can be sure that additional functionality will follow in the future.
You can also add text and create images for different devices and custom resolutions since vector images are easily scalable.
Pros:
Trendy, popular vector styles
Simple, intuitive UI
Cons:
Limited editing capabilities
Best Free Illustration Software
So you need to dig a bit deeper and create your own illustrations from scratch? Well, there are free graphic design tools for that as well. In this section we'll talk about tools that can help you create more complex design projects.
The tools in this section are more advanced with more features, so you'll be able to create more complex projects and will have a greater degree degree of control over them.
However, it comes with a price: you'll need more time to master those graphic design tools. Now, shall we?
Krita
Platform: Windows, macOS, Linux
Download link: krita.org
Krita is a great free drawing tool and we've thoroughly covered it in our Best Free Drawing Software: Five Candidates article. However, Krita can also be easily used for graphic design projects.
Its typography and layer tools are no worse than those of a paid Adobe solutions, and Krita is available for free.
Apart from creating beautiful illustrations, you are free to compose different design elements together and edit them with built-in tools and filters. Perhaps, the biggest advantage of Krita is a smooth brush engine, and if you're good with hand drawing that can certainly enrich your illustrations and projects.
If you want to sketch out early designs for your graphic design projects and create great hand-drawn illustrations, Krita would be a great tool for that.
Krita also has built-in vector features, if you're really into vector graphics. However, we'll list more specialized vector tools in this article as well.
Pros:
Advanced drawing features
Desktop app
Vector features
Gravit Designer
Platform: online, maOS, Windows, Linux, Chrome OS
Download link: designer.io
Gravit Designer is vector graphic design tool that is available both online and offline with its desktop versions for different platforms.
It allows you to create graphic design projects from scratch or edit built-in vector elements to fulfill your needs. The editing capabilities are truly advanced compared to the more casual Canva and Vector Creator, if you're ready and willing to learn how to utilize them.
You can edit vector paths, modify shapes, and tweak many of the parameters that are typical for any capable vector editor.
Gravit Designer also has a library of visual assets that you can drop on your canvas, edit, merge, and align the way you want.
Gravit Designer is great for creating vector illustrations, blog illustrations, social media posts, and so on. It also has a built-in library of Unsplash photos that you can combine with your vector artwork.
You can export your work in PNG JPG, PDF and SVG formats.
The biggest drawback, perhaps, is that you can't work offline with this tool unless you buy a premium version.
Pros:
Vector editing tools
Build-int library of both vector and photo assets
Cons:
Works only online unless you purchase the premium version
Paint.Net
Platform: Windows
Download link: getpaint.net
Although Paint.net is positioned primarily towards photo and image editing, you can use it for your other graphic design projects as well.
First of all, many graphic design works are built around photography and imagery that was simply altered one way or another. With Paint.net you have access to image effects and color adjustments that can help you create a certain mood for your work.
Second, you can use Paint.net as a finishing touch for your art projects that were created using other tools. For example, Gravit Designer has no effects built-in, but you can create a vector artwork there and then fine-tune it in Paint.net later.
Other than that, Paint.net is like a standard Paint for Windows, but on steroids. If your typical workflow includes a lot of basic image editing and some occasional sketching and drawing, give Paint.net a try. Perhaps you'll find this intuitive editor is a real time-saver for yourself.
Pros:
A clean and effective image editor that does the job
Low system requirements
Available offline with no hidden costs
Cons:
Sumo Paint
Platform: online
Link: sumopaint.com
If Paint.net had an online version, it would be Sumo Paint. A neat, clean, simple, yet effective image editor that is free and available online. What else could you want?
Actually, it has a desktop version as well, but it's paid. The irony.
Sumo Paint features include filters, adjustments, shapes, text, and pencil tools. You can upload your own photos and images, and then later apply Sumo Paint effects to them. You can save your work in either PNG or JPG file formats.
Pros:
Cons:
Requires Adobe Flash installed for the older version
Best Free Logo Design Software
A beautiful logo is the hallmark of graphic design art.
But do you know how hard it is to find truly free logo design software online?
Most of them keep repeating this "download for free" phrase all throughout your logo creation process like a mantra, only then for you to discover at the end that it's actually NOT free.
Suddenly, all the friendly messages are being replaced with copyright infringement threats.
Duh. Well, we took some time and gathered five best logo design software services that are actually, really free. Hope you'll find them useful.
Hatchful by Shopify
Platform: online
Link: hatchful.spotify.com
Everything is great about this service: the design, the process, and the results. All you need is to pick a style you like, type your name, and then choose the one logo you like the most.
Do you want a cherry on top? Type in your email address and Shopify will send you a zip package with high-resolution PNG files in different formats, including Facebook cover, Twitter headers, website logo, and so on. Shopify rocks!
Logaster
Platform: online
Link: logaster.com
Logaster is a nice logo designing tool with many options to choose from and a rich visual library of icons and fonts, but it comes with a price: you can't use the logo you created for commercial purposes unless you purchase it.
Good thing is that Logaster lets you see how the generated logo looks in different mediums, such as t-shirts, papers, coffee cups, and so on. Nice for your inspiration and sort of reconnaissance before you dive into the logo design process yourself or with your designer.
Ucraft
Platform: online
Link: ucraft.com
Ucraft is a simple online logo maker where you have to do all the work by yourself: pick an icon, write a text, choose a font, and then compose in all on the canvas.
Although not many icons are available to you, with Ucraft geometry shapes and resize and recoloring options you can create truly magnificent minimalist-style logos.
Overall, if you like creating things and not choosing them from pre-generated templates, Ucraft might be a good option for you.
You can download free PNG 600 px versions of your logos after signing up. However, SVG will cost you $7.
Design Evo
Platform: online
Link: designevo.com
Design Evo logo making service will allow you to create your logo using a rich library of icons and pre-made templates, just like Logaster.
You can also create your logos from scratch, just like with Ucraft.
However, it's better than Logaster in terms of commercial use: you can use free low-resolution versions of the logos you generated if you attribute the founders.
Compared to Ucraft, Design Evo has more templates and basic shapes to build your logo with, but low-res PNG logos that you can download for free are 300 px wide and with no transparent background, compared to free 600 px logos made with Ucraft.
Emblemmatic MarkMaker
Platform: online
Link: emblematic.org
MarkMaker logo graphic design service may not have elegant UI and a large number of vetted visual assets, but it's free in the most honest meaning of this word.
The tool generates logo designs for you your goal is to like designs that you at least somewhat find plausible. Then MarkMakek keeps throwing new designs at you based on what designs you liked, and so on until you settle for something.
After that you can perform some basic logo editing like change colors, or line width, and, finally, download your logo. Completely free, in either PNG or SVG format.
You can chip in a small donation if you really liked the results, but that's totally up to you, the tool is free.
Best Infographics Software
The most important mission of graphic design is to convey ideas visually. Perhaps, one of the most practical examples of graphic design put to that use are infographics.
Numbers, statistics, terms, and citations, all in one, well-put a piece of visual content – what can be more practical to use for your presentation, blog post, or product description?
Although you can create infographics with almost any graphic design software featured on this list, there are services created specifically for that.
Let's talk in detail about the best ones that you can use for free.
Piktochart
Platform: online
Link: create.piktochart.com
What makes Piktochart great is how surprisingly intuitive it is to use.
First, it features a great number of visual assets even with the free version: over 4000 icons and images.
Second, it has a far greater number of graphs and charts available for free compared to other tools on this list.
As a bonus, you'll have access to incredibly useful elements such as maps, video embedding, and color schemes that allow you to quickly transform the whole color palette used within your infographics.
You can save your infographic in PNG or share it online. Also, there's an inspiration category with other people infographic projects that you can use as an inspiration for yours.
With Piktochart you can also create social media graphics and covers, but this is a truly great tool for infographics, so we'll let it stay within this category.
Snappa
Platform: online
Link: snappa.com
Snappa is an online graphic design tool that can be used for creating blog graphics, LinkedIn posts, Instagram posts, Youtube thumbnails, and more.,
But it's also a great tool for creating infographics.
There are several reasons for that. For example, Snappa has an awesome library of infographics templates that you can use as a starting point for your infographics project:
Although the library is not that big, you can customize each template using elements and cool features that you often won't find in other online editors.
One such feature is that you can apply filters to your backgrounds, if your background is an image or a photo, which can totally change the mood of your infographics in a whiff.
Also, you'll have access to hundreds of icons. The total numbers of graphics that you can use amounts to 1,000,000 elements. That includes photos, icons, shapes, illustrations, etc.
However, the free version has its restrictions: you are limited to 3 downloads per month, and can't share your infographics directly to your social accounts without upgrading to $10 / month paid version.
Easel.ly
Platform: online
Link: easel.ly
Easel.ly is an online tool for creating colorful infographics with minimum design experience.
Just pick a template from the standard set, add elements that you think are missing, and it's done.
Easel.ly's visual library includes lines, backgrounds, objects, and icons.
Although the number of assets available for free is limited, with basic templates you can edit text, change colors, control opacity to edit the templates for your needs.
Easel.ly also has four basic chart models available to you for free, also 65 images and 25 photos. Not much, but can get the job done.
Have in mind that with a free plan your infographics are publicly available to everyone.
Visme
Platform: online
Link: visme.co
Visme is another infographics creation tool that gives you an opportunity to use it for free, yet comes with a set of restrictions.
Visme comes with a set of templates that you can use as starting points for your projects. They all are unique, so you can find appropriate templates even without paying for premium templates.
The editing is quite similar to the other infographic tools: recoloring, text editing, and added graphics.
Visme comes with lots of video tutorials that show you how to create infographics using the tool, so you don't have to google tutorials or skim through the documentation to find out how the tool works.
Another interesting feature is the ability to insert audio and video into your infographics. Audio, in this case, serves as background music when you share your infographics online with someone.
As for the video, you can embed Youtube videos into your infographic by simply providing a youtube link to them.
As with Easel.ly, infographics shared with a free plan are made public and can be indexed by Google. If you want to share your infographics privately you'll have to buy a premium version.
Infogram
Platform: online
Link: infogram.com
What's great about Infogram is that all infographic templates are neatly organized. You can choose templates for infographics, dashboards, slides, and reports.
Each category has tens of templates that you can use in order to create your own infographics.
Another cool feature is that you can sort all the templates by color, if, for example, you need only those with green color prevalent.
It's also very convenient to quickly replace elements and whole elements groups in standard templates by simply clicking on them and choosing alternatives. For example, if a template has a pie chart somewhere, you can replace it with linear graph with just two clicks.
You can share your infographics online with a sharing link, but the download option comes only with the paid version. Also keep in mind that with free plan your infographics are publicly available to anyone, as they are indexed by Google.
Best Free Graphic Design Software For Wide Range of Tasks
Sometimes you need your graphic design software to do everything. And that's exactly what paid graphic design software does, like, for example, Adobe Photoshop and Adobe Illustrator.
One starts thinking that all this wide functionality cannot be accessed without paying a good buck.
Well, you're going to be surprised, but there is a great free graphic design software that has a number of features comparable to industry giants like Adobe.
And it works smoothly. And it has no hidden payments. Meet GIMP and Inkscape
GIMP
Platform: Linux, macOS, Windows
Download link: gimp.org
GIMP was released in 1996, and since then it's been one of the most popular free alternatives to Adobe Photoshop.
With the recent 2018 update, GIMP is now as close to commercial software in terms of functionality and relevancy as it gets.
This graphic design software features one of the largest and loyal user community that constantly creates new tutorials and videos that help both new users and experienced ones to learn the ropes of this graphic design app.
GIMP has filters, adjustments, layers, color filters, selections, and pretty much everything for both image editing and image creating workflows.
You can export your work in PSD, HGT, WebP, and many other graphical formats.
The brushwork is smooth and has been significantly reworked with the latest updates. So illustrators that need to create complex artwork can give GIMP a try, especially given that you can create and import custom brushes just like with any professional graphic design program.
It's also worth mentioning that you can transform GIMP's UI to your needs, managing panels, colors, and positioning.
GIMP is truly an all-in-one raster free graphics if you're looking for a valid Photoshop alternative without missing its advanced features.
Pros:
Advanced tools for image editing
Customizable UI
Extend basic functionality with plugins
Cons:
Advanced image editing tool with a steep learning curve
Pen pressure may need a manual adjustment on windows machines
Inkscape
Platform: Windows, macOS, Linux
Download link: inkscape.org
Inkscape is the GIMP of vector apps. Advanced vector editing paired with a strong, devoted community of graphic designers and available to you for free.
It was released in 2003 and since then the app has been translated into 90 languages, available for Windows, Mac, and Linux users.
The vector workflow is similar, if not identical, to paid counterparts. You can create and edit nodes, vector paths, apply filters, group and transform nodes, manage fills and strokes, all that.
You'll find tools like align, symmetry, pencil and knife work similarly to those in Adobe Illustrator.
If you've never worked with vector graphics program before, there are many tutorials available to you via the official website or Youtube & online courses.
However, advanced features like image tracing may not work as smoothly as those in Adobe Illustrator, they are still there and you can make them work with some tweaking.
Inkscape is a perfect graphic design tool if you're just starting in graphic design and want to learn the ropes without spending money on paid software.
This free graphic design software supports all the common formats like SVG, EPS, PNG, and PDF.
Pros:
Smooth tablet work
Multiple platforms support
Plugin extensions
Cons:
Rare performance lags with large design files
Some advanced features from AI are missing or need manual tweaking
Afterword
We hope you found this list of tools useful. Now it's time to get the real work done — install, update, read, learn, and experiment. Practice with the tools that you like and don't forget that your mind is the most powerful tool you have. And it's also free.