For most businesses online, the website is where the first interaction happens with prospects and customers. People often make decisions about your company and products based on the website's home page. That's why you need to 'wow' them from the second the page loads.
But a professional and modern website design goes beyond aesthetics. You want your website to convert. Old-fashioned website design will prevent buyers from buying your product or service. More importantly, your website must be attractive and incentivize people. That way, it'd be easier to get them to take the right actions.
Here, you'll see the examples of 21 award-winning website designs and we will analyze what they did right. The majority of the showcased websites below won "Site of the Day" at Awwwards and other credible web design platforms. Let's go.
REsimpli
REsimpli is a top-rated website for real estate investors. This website offers all-in-one CRM software specifically designed to cater to the unique needs of real estate investors. Its advanced features like list stacking, dialer, direct mail, drip campaigns, full accounting and many more allow real estate professionals to manage and organize all their data in one place, eliminating the need for multiple software or tools.
This website introduces a new AI feature that offers natural, human-like speech and diverse conversation outcomes, facilitating faster and more effective sales conversations. With the option of customizable sales methods, this feature underscores REsimpli's commitment to deliver tailored solutions for each business.
REsimpli also encourages learning and networking within its user base through the Mastermind Community. This unique offering allows like-minded investors and wholesalers to connect, discuss, and learn more about topics critical to their business. Additionally, the website hosts instructional videos, demonstrating the software's functionality. Overall, REsimpli offers a complete package for real estate investors looking to leverage technology for more efficient business management.
SendinBlue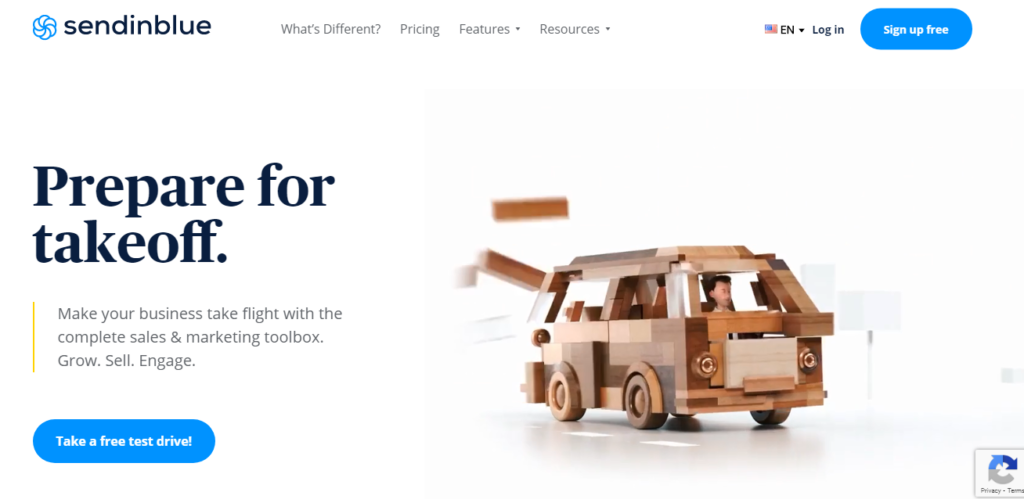 SendinBlue has one of the best designs you can think of. This website appeals to online markers and digital businesses who want to engage with their target audience, set up automated email sequences, and manage every customer acquisition aspect.
The homepage is clean and enticing. First, the Unique Selling Point (USP) reads "Prepare for takeoff" and then an animated guy that transforms into a wooden bike, then a car and a Bus that takes on flying apparatus and zooms off in the air.
Indeed, SendinBlue uses an intuitive and relatable website design to establish credibility in an industry that desperately needs it. SocialPilot, one of the popular SendinBlue alternatives, seems to be using this design style lately.
Simply Chocolate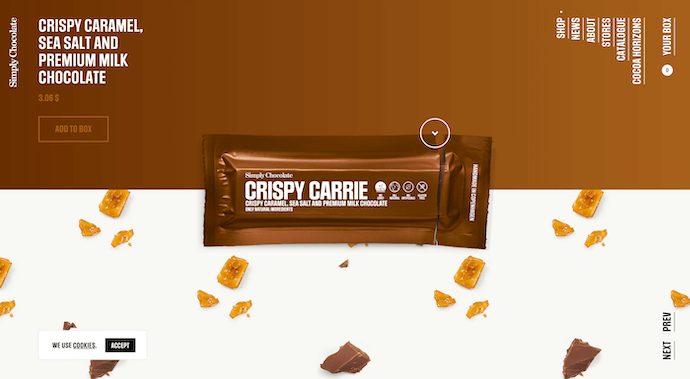 Simply Chocolate is another fascinating website. You'll surely crave Chocolate just by looking at this website. This brand is best known for its Danish chocolatey taste, which is simply amazing. The website is designed with various colors and lovely product names to tell a story behind each chocolate bar.
When you scroll from one product to another, you'll see a touch of consistency across the brand. Each chocolate bar uses a three-dimensional appearance to lure you in. You might attempt to grab it off of your computer screen; you never can tell.
There's a clear call-to-action (CTA), with a catchy copy "Add to Box," which appears to the top-left. It is a prompt for users to select the chocolate bars they want while browsing the website.
Amanda Martocchio Architecture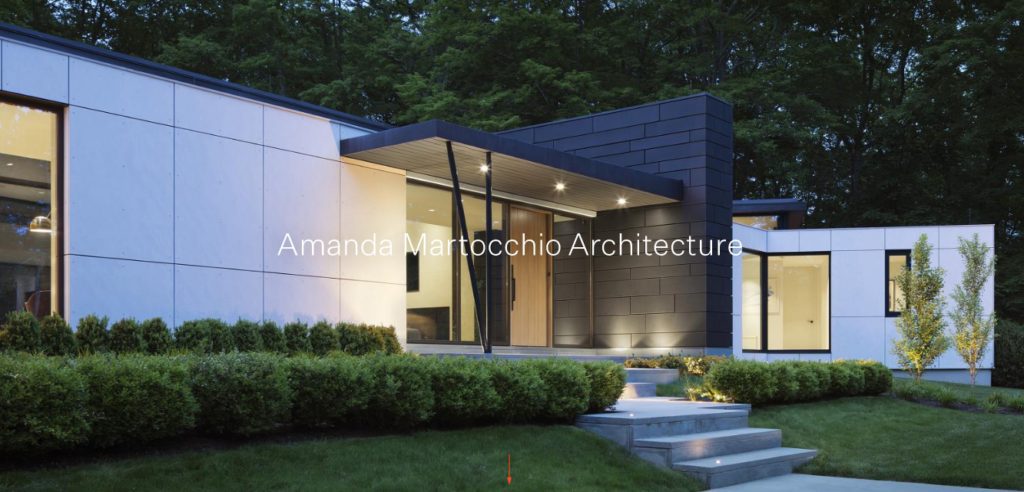 I have seen many websites owned by Architectural firms, but Amanda Martocchio Architecture is genuinely remarkable. It stands out from the pack.
This website is a real demonstration of the firm's commitment to a visually appealing design. A gorgeous website that puts the client first, showing them a taste of what's to come.
In the SEO space, niches like architecture and construction are hard to build links. But regardless, Amanda Architecture has built 200+ strong backlinks — presumably, due to its stunning site design.
From the website homepage, you can vouch for Amanda Martocchio Architecture that they genuinely love the work. Because every picture used on the homepage leaves a memorable shot of the houses the firm has designed.
Fiftythree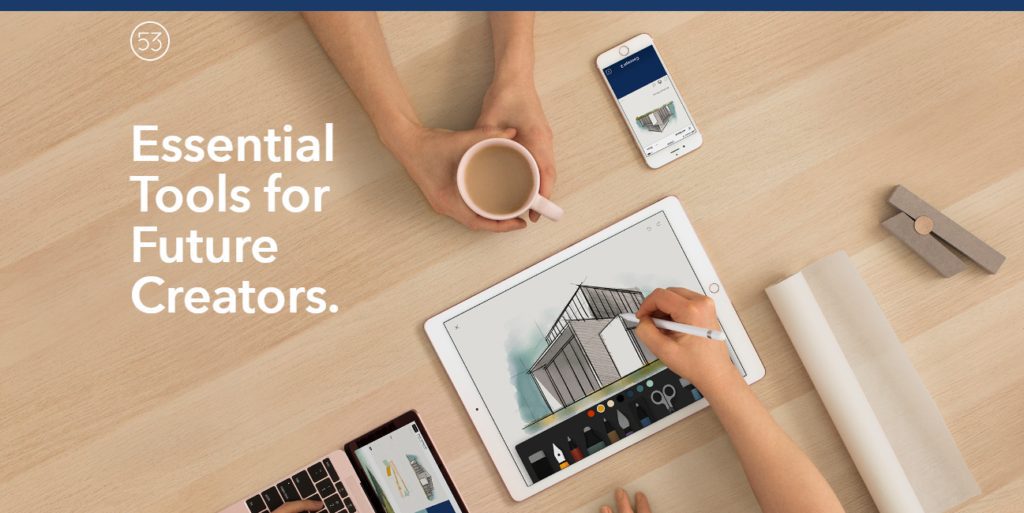 Fiftythree is quite an impressive website design. When you first visit the website, all of its Pencil Stylus features and benefits are identifiable on this standalone product page. There's more. The essence of these features and benefits are best visualized using images to illustrate how the product works. It makes it easier for users to visualize them and how they can apply the product.
What about the layout and visual touch of the product? That also comes with an irresistible concept and nudges the users to learn more about the product. It is unique and different from static sections that are common with companies of this nature.
Heart Water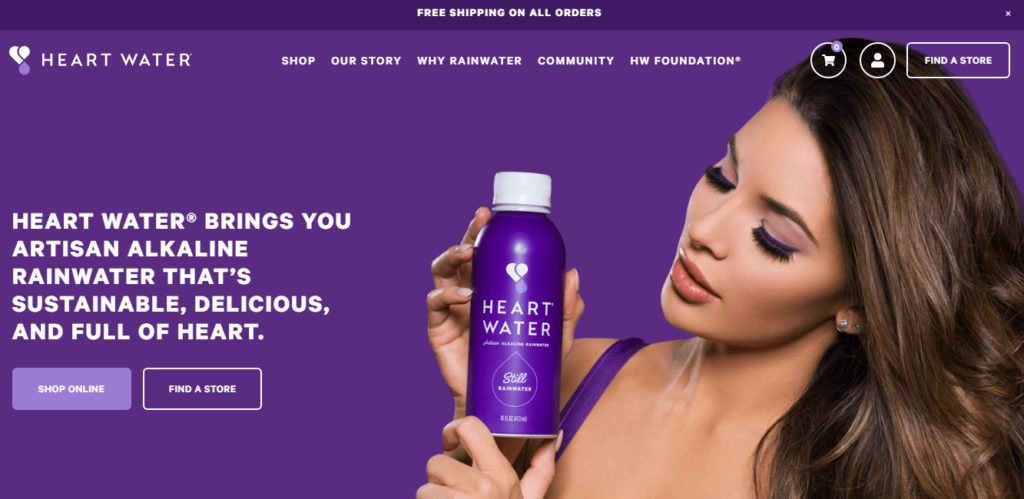 I can't sing the praises of the Heart Water web design enough. This company offers arguably the best bottled water, carefully formulated with Artisan Alkaline Rainwater that's sustainable and healthy. The founder and marketing team believe that healthy alkaline-based drinking water sustainably delivers a wide range of benefits to people today and in the future.
Heart Water brings the beauty of drinking water to the spotlight with its charming visual imagery, responsive layout, and cold tone color palette. The site uses a variety of fonts to simplify the reading process for users.
Woven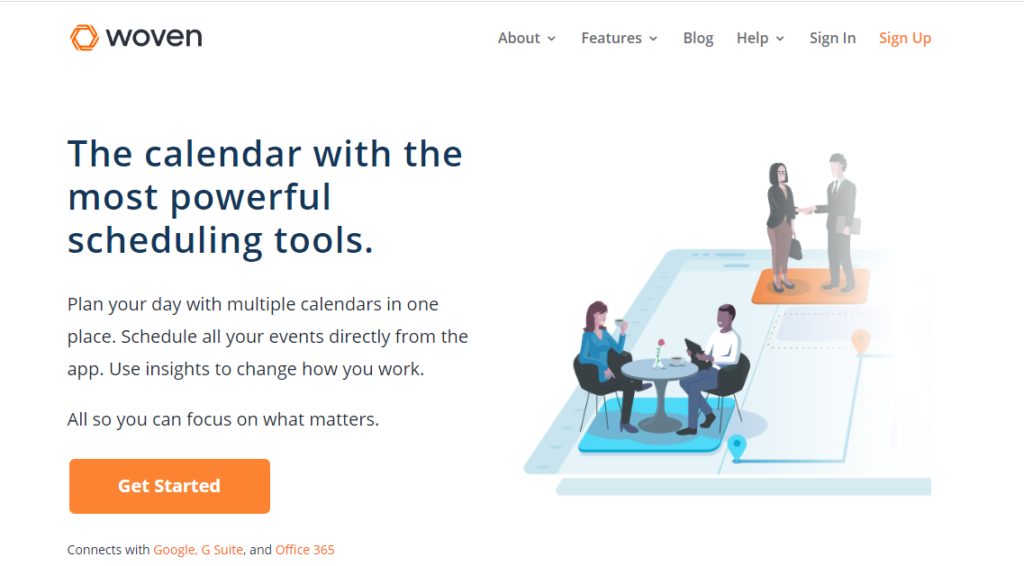 What makes this website design memorable? It's mobile-responsive, clean, and professional. Woven is a calendar app with a fantastic scheduling tool for businesses. The platform is essential when you're looking to plan your day and work smarter, so you can post on Instagram, Facebook, and Twitter at the right time. EverWebinar, one of the best webinar software, also uses video to inform, educate, and persuade customers.
The website uses a lot of white space. When you first land on the homepage, you'll feel a welcoming aura with enticing colors (gray and orange). One of the striking aspects of this website design is the video integration on the homepage. Just by clicking on the "play" button, you'll discover how this scheduling app can help your business.
SeaStreak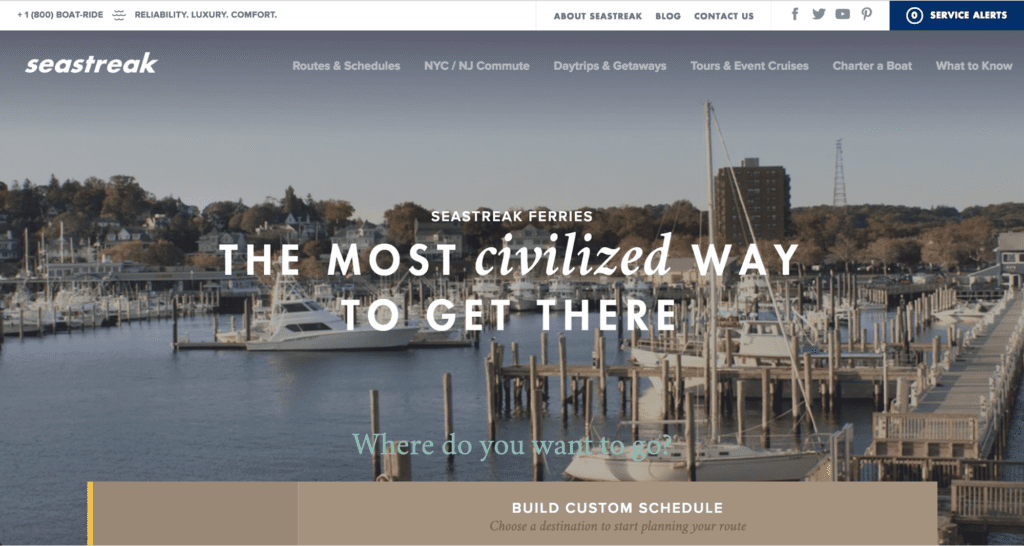 Seastreak Ferries takes a deep dive into the website design space. As a trusted company servicing New York, New Jersey, and other states, it needs to live up to expectations. With a clean and organized site UI, users can easily build a ferry schedule that suits them.
The website is easy to navigate, and there are some fantastic images and videos as you scroll down the homepage to help you get up close with Whales, Dolphins, and other magnificent creatures.
I also love the arrangement of the day trips and getaway menu, which drops down intuitively to show you all the options you can grab.
S Bottles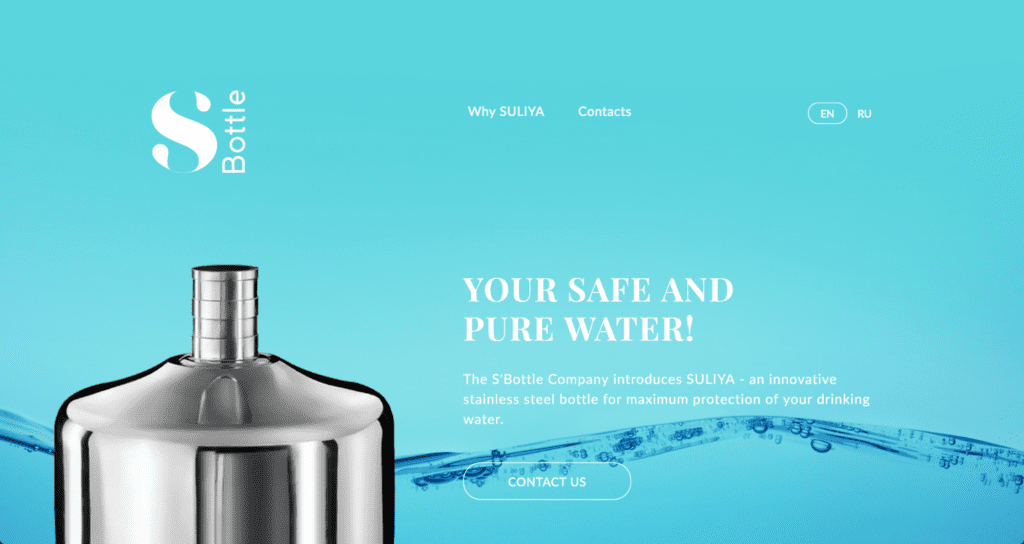 S Bottles Company is best known for producing an innovative and stainless steel bottle, and it forms the pillar of this catchy website design. It's given full attention throughout the design to highlight all of its beauty and benefits. This site uses plenty of white space to spice up the homepage. For example, when users come from organic search, they want a clean page that provides information for the keyword they searched for.
As you scroll down the page, the Sibolle (stainless water bottle) flips 90 degrees and intuitively fits into the water dispenser equipment. It is such an impressive way to market a product on the web.
Morgan Stanley
Morgan Stanley is a global leader in al services. The firm operates in a delicate section, so building relationships and establishing credibility is a MUST. It's the right step to making more money and retaining clients in this industry.
But unlike financial websites where the homepage showcases the primary services or products, Morgan Stanley pulls the headline of its best article as the USP — to initiate engagement with the right audience and drive traffic to the resource page (blog). The site also uses a grid-focused layout beyond the homepage hero section. It helps to organize the recent articles that might help people take control of their finances.
WealthSimple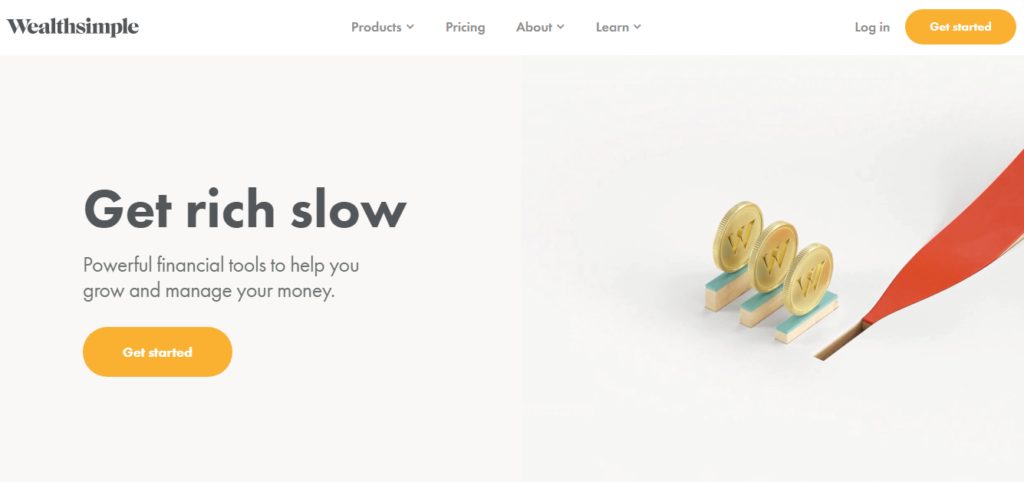 Wealth Simple stands on the premise of helping the target audience to grow rich slowly, invest, and file taxes. There's a creative use of white spaces throughout the website to give users a chance to control their financial life.
Each section of the website homepage is segmented. The beautiful GIFs above the fold and throughout the page creates an exciting learning experience, and they're not purely all about investing money. Instead of showcasing spreadsheets, using tacky language, or using stacks of cash imagery, the brand stands tall among other financial platforms.
Toggl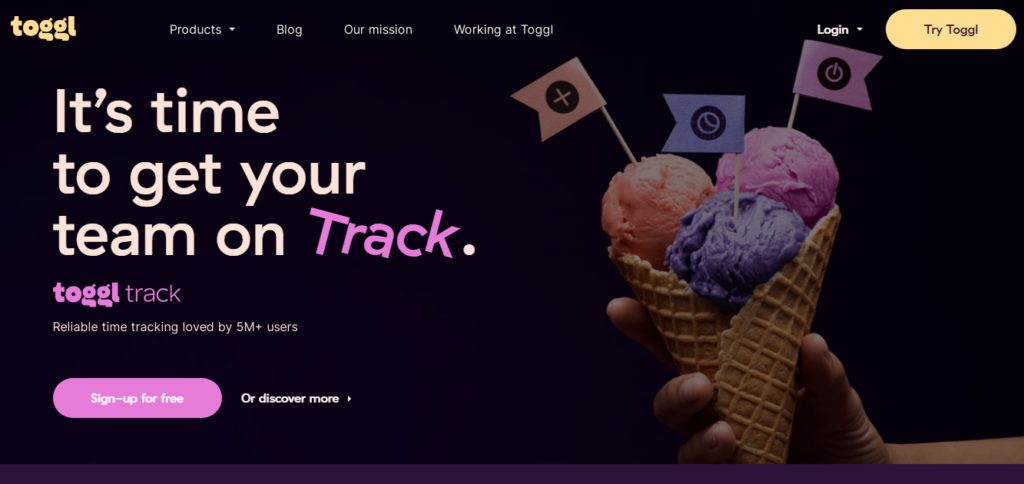 Toggl offers beautiful and straightforward tools to help teams work smarter and better. If you're looking to get your team on track, this award-winning website design should inspire your next product. One thing Toggle did right with its website design is the creative use of animation. The team remembered to animate after the page loads.
That is to ensure optimal page speed. Do this if you're podcasting or publishing image-heavy posts: load page first before the video or image. For instance, Toggl's pricing page fades smoothly into the hero; the same applies to each pricing section from left to right. The site feels welcoming and polished as a result of the web design concept and approach.
Groove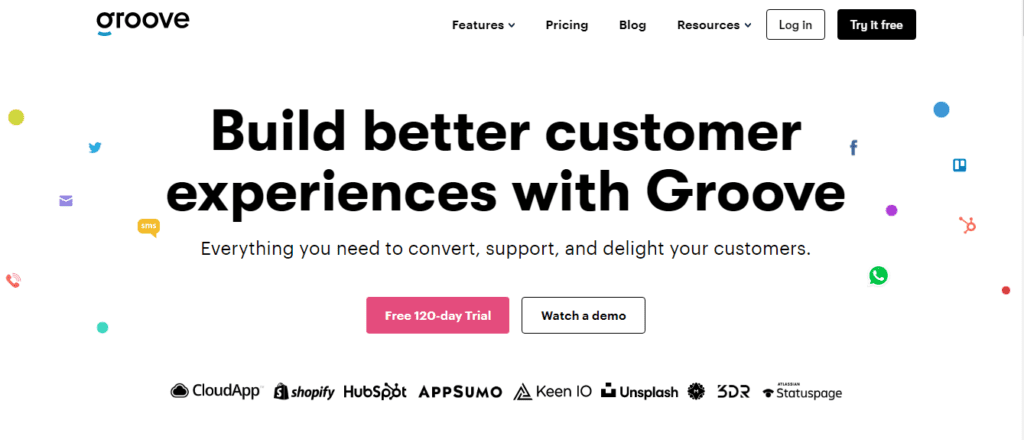 Groove made it to our list of award-winning websites with stunning design concepts. When you land on the homepage, you'll see animated gifs of social media logos and icons, such as Facebook, WhatsApp, LinkedIn, Twitter, and other CRM platforms including HubSpot, you name it. Although there's a ton of white space (the background) used on the homepage, these 'moving' icons add a layer of functionality, confidence, and delight.
The call to action (CTA) for "Free 120-day Trial" uses pink to spice up the background color. Everything on this website stands out, with no overlapping whatsoever. It is important when designing or redesigning your website.
MailChimp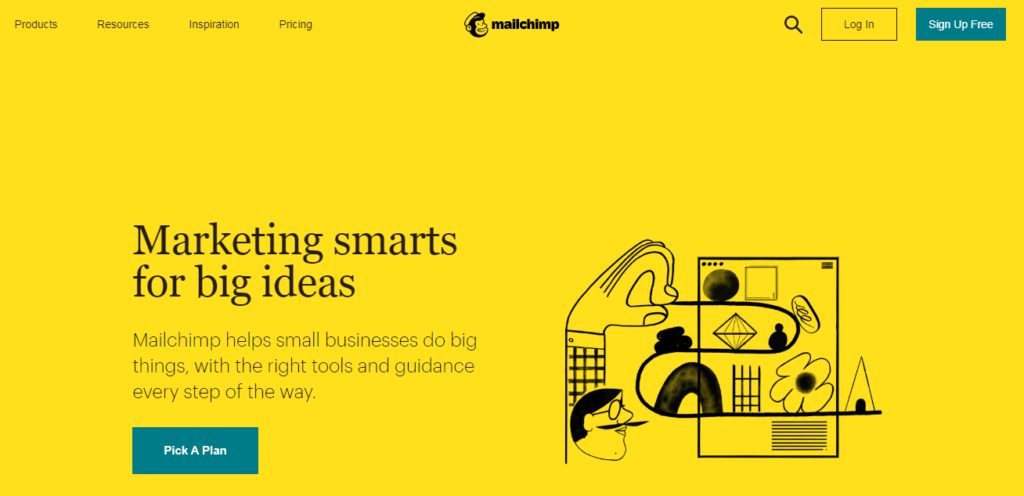 One attribute of award-winning website designs is the creative use of white space. MailChimp uses a dose of yellow 'blank' spaces to lead the market. MailChimp is an email marketing platform. It's been around for more than a decade. So the team understands how to create converting pages. Truly, cluttering your website is the quickest way to build a "leaky" website that pushes people away. Keep it clean and simple. Other great websites that use this concept are iNECTA, ConvertKit, etc.
MailChimp has undergone several redesigns in recent years. Today, the website is cleaner, intuitively responsive, and the graphic imagery above the fold depicts an abstract concept that helps small businesses do big things.
Infinite Recovery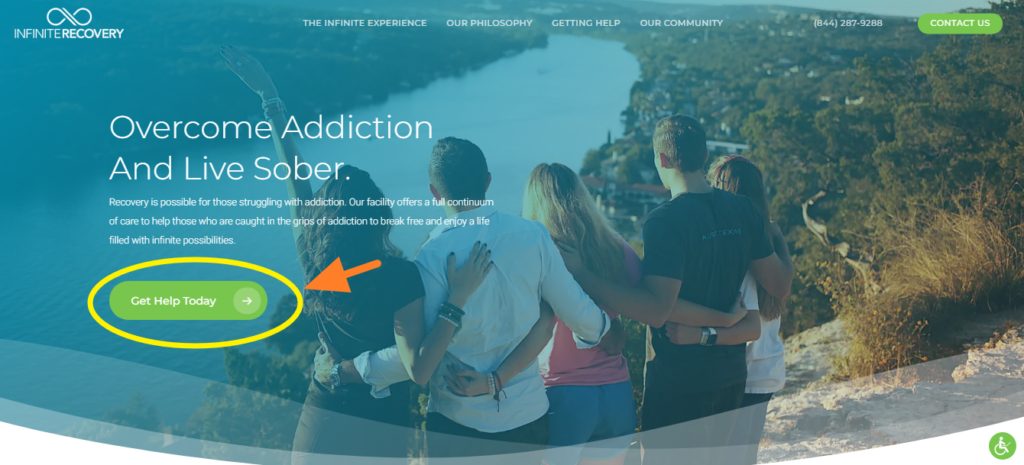 Infinite Recovery is a Texas rehab center and a real example of a well-crafted health website. It uses one of the best website designs to attract patients and clients, helping them to overcome addiction and live sober.
The website design incorporates welcoming tones and calmly backgrounds, focusing on the green CTA button. The goal is to get the ideal client to click on the "Get Help Today" button on the homepage.
Regardless of your industry (business, health, sports, manufacturing), you can design a website that not only attracts users but also converts them into clients and customers.
Wozber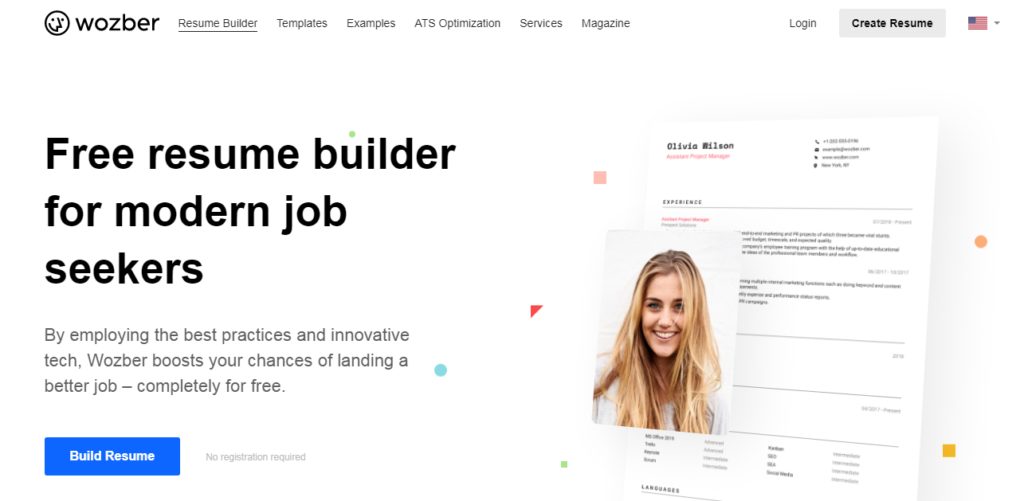 Wozber is a free resume builder for job seekers. Even though people love 'free tools," you don't have to make them boring to use. This platform breaks down the process of building a resume step by step right on the website. The goal is to make your resume stand out and perfect for that dream job you're searching for.
At the right-hand corner of the homepage, you'll see the animated GIF image. It's a clear illustration of how your resume will look like after using the tool.
Opus Grows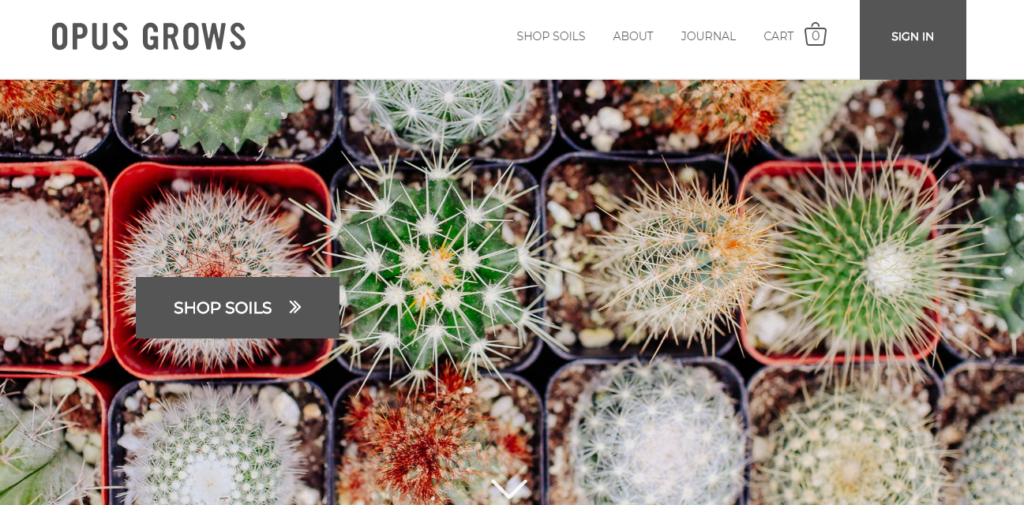 Opus Grows is a stunning online retailer website with an amazing design. Once you land on the homepage, you'll quickly understand why the company sells organic and natural potting soil. The website design is an accurate representation of the organic, natural, and health benefits of using its soil to add a ton of eco-friendly touch to your garden. Opus Grows takes a unique approach by analyzing its soils' ingredients and physical properties that differentiate it from the traditional brands.
Quiver Cloud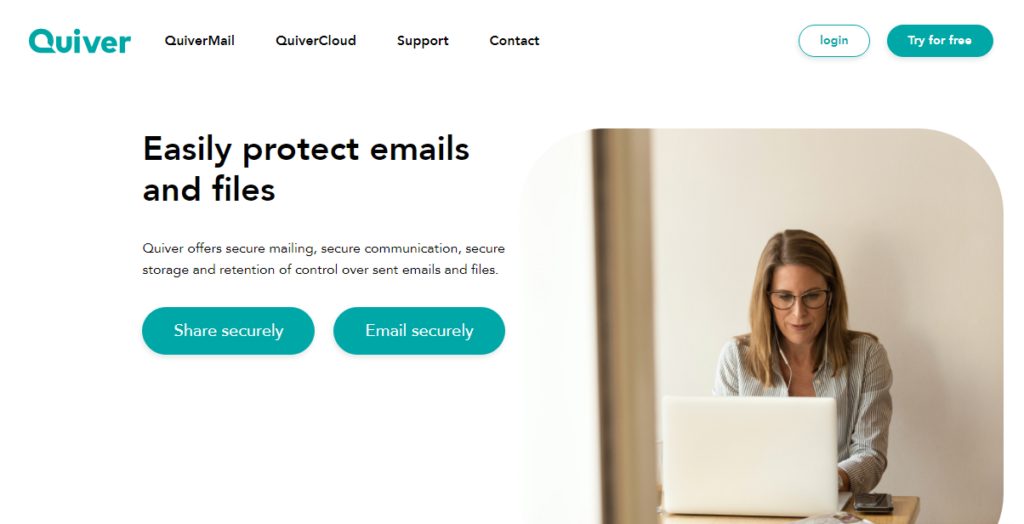 Quiver Cloud helps businesses and individuals to protect emails and files. I love how they incorporated a professional visual on the homepage. The two calls to actions (CTAs), which are "Share securely" and "Email securely," stand out with a distinct background color.
Unlike some file sharing and encryption sites, Quiver uses a modern and minimalist design and layout with many white spaces. That is a good practice when designing your website, especially if you want to motivate users to sign up and become customers.
Evernote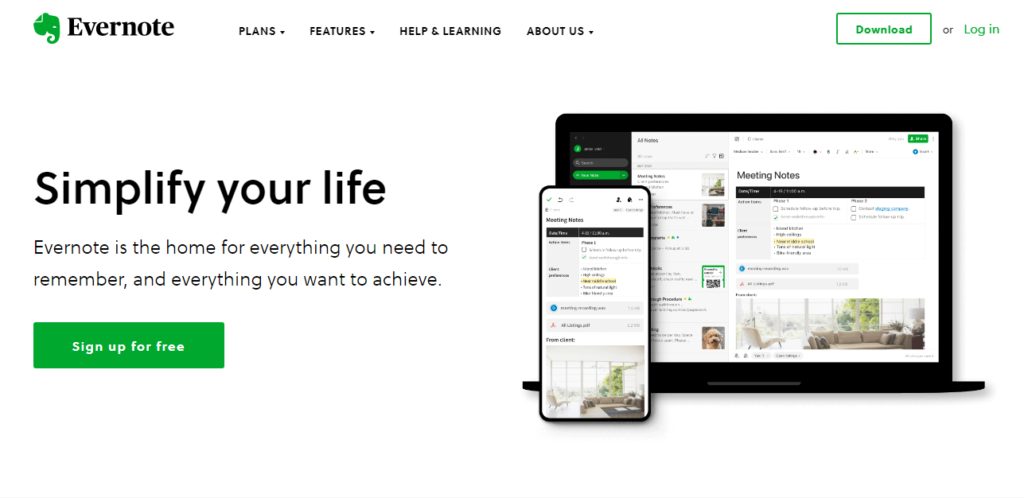 Evernote is a popular note-taking app. It's easy to navigate and uses a white background with lots of negative space. Just like the majority of online platforms, I love how Evernote uses a strong USP to show precisely what the app does: Simplify your life.
The large screenshot imagery above the fold and consistent use of color palette, coupled with the creative styling throughout the pages, create an incredible uniform design. Evernote also uses professional and colorful icons to organize each section of the website, making it easier to navigate in real-time.
Campos Coffee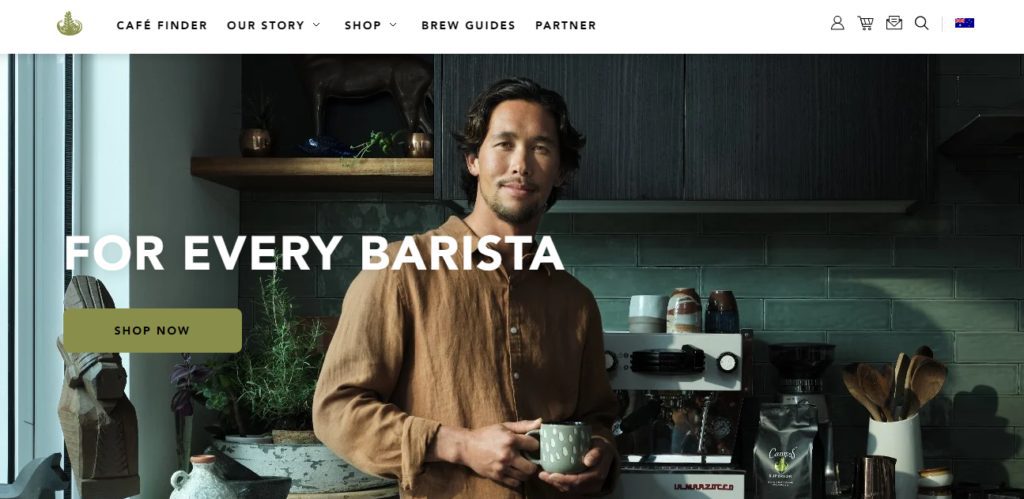 There's nothing like a great cup of coffee. Imagine wrapping it with a professional website? For all the coffee lovers, you can steal some ideas from this unique website design. At first glance, you can tell that Campos Coffee is out to deliver quality products to its customers.
This online coffee brand capitalizes on its website to showcase how much effort the team puts into their coffee. The website also shows how this coffee benefits the community and how good you'll feel buying it. It's more like telling an exciting story behind a coffee brand. It is prominent and relatable on the homepage and throughout the pages of the site.
Kin HR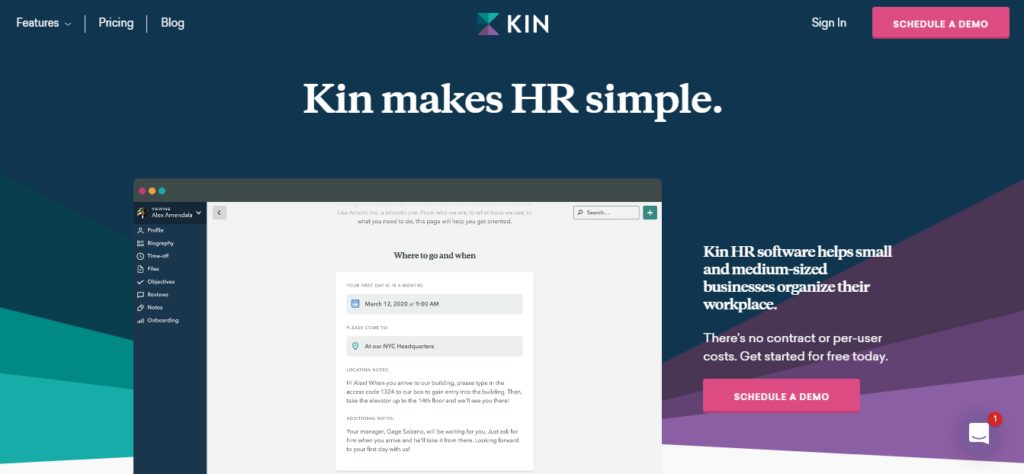 Kin HR is a simple but beautiful website. It's not only a mere display of aesthetics but a true definition of what a modern workplace looks like. The website doesn't just list the features of the Kin HR software; the homepage also projects the benefits of its products. Another aspect of Kin's website design that I love the most is the creative use of larger serif fonts throughout the site, accompanied by the animated software dashboard, which adds a considerable amount of trustworthiness to its brand.
ETQ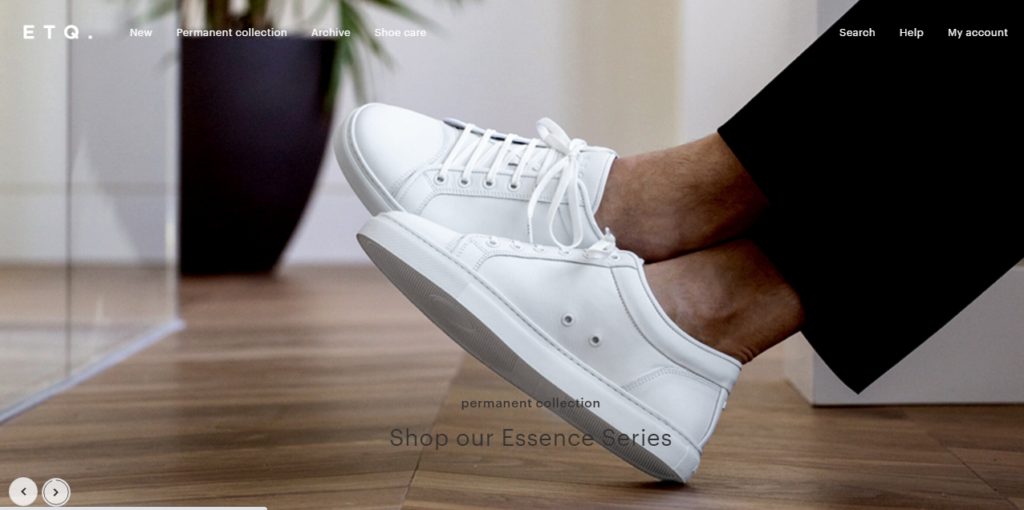 ETQ is home to some of the best shoes in Amsterdam. The website design takes a very minimalistic approach to ecommerce business, incorporating a stripped-down layout with big, bold, professional, and compelling visuals of their product. The image-driven background is an inspiring design, to say the least. The strong typography is intuitive and helps keep the customer's focus on exactly what they're looking for: Shoes.
Conclusion
When it comes to the best website designs, the rules and standards aren't set in stone. You have to be creative, dynamic, and put the user's interest first. Use these best website design examples as a model and 'idea' bank for your next web design project. More importantly, find ways to make your website interactive — users will appreciate it and stick around.
Remember to focus on improving the mobile experiences of your users while maintaining a good UX on desktops. If your website design can successfully tell your brand story with fun text, photos, videos, and other visuals, you'll be able to convert visitors into customers.
About the author: Burkhard Berger is the founder of awesomex™. You can follow him on his path from 0 to 100,000 monthly visitors on www.awesomex.com. His articles include some of the best growth hacking strategies and digital scaling tactics that he has learned from his own successes and failures.
For more UI inspiration, we also welcome you to check the review of popular UI design trends and sets of dashboard designs, eye-pleasing mobile interfaces, tab bar animations, loading animations, and web designs with hero illustrations.