You can make visuals yourself without spending hours and waiting for a designer to help.
If you are a little bit like me, a text-minded guy, creating catchy pictures can be challenging, but you still need it to draw attention to your content. Here are a bunch of tools simple enough even for a non-designer to master. They can save hours of your life or a few bucks.
Template-based apps to create social media posts
With template-based graphic editors, you can create media posts, stories, or covers by simple drag and drop. And you don't have to resize images to fit the social media standards. These apps have already done it for you. And not social media only, they have templates for presentations, blog illustrations, advertising banners, and YouTube thumbnails.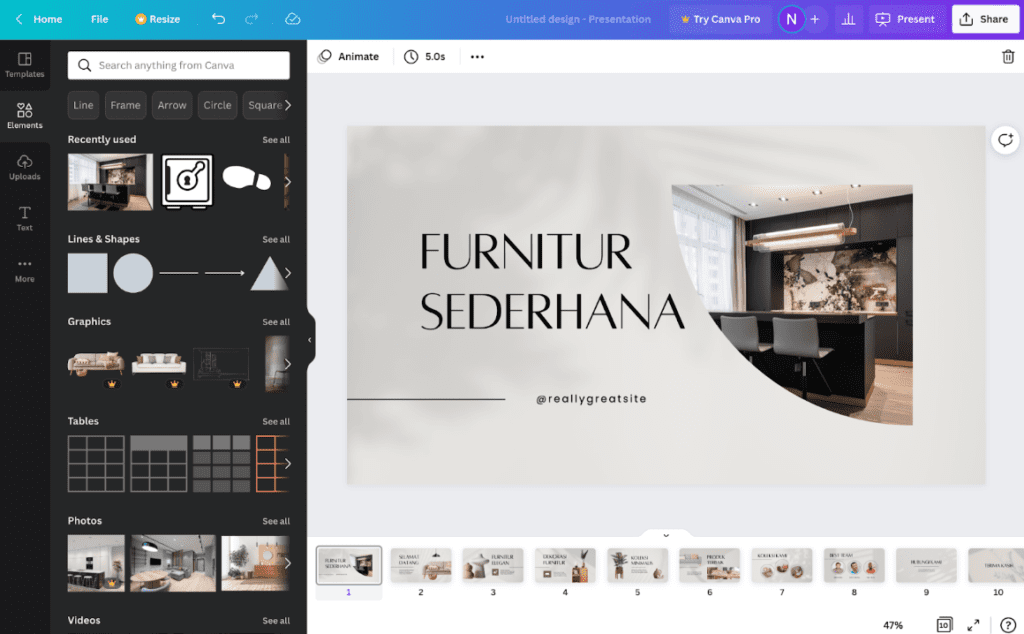 The renowned market leader. More than 400,000 customizable templates for posts and stories for social media, postcards, promos, presentations, and YouTube thumbnails. You can work on one design together with your colleagues, leave comments, and suggest ideas.
You can get from 10 to 15 designs per month for free. If you want more, buy the Pro plan for $9.95 per month.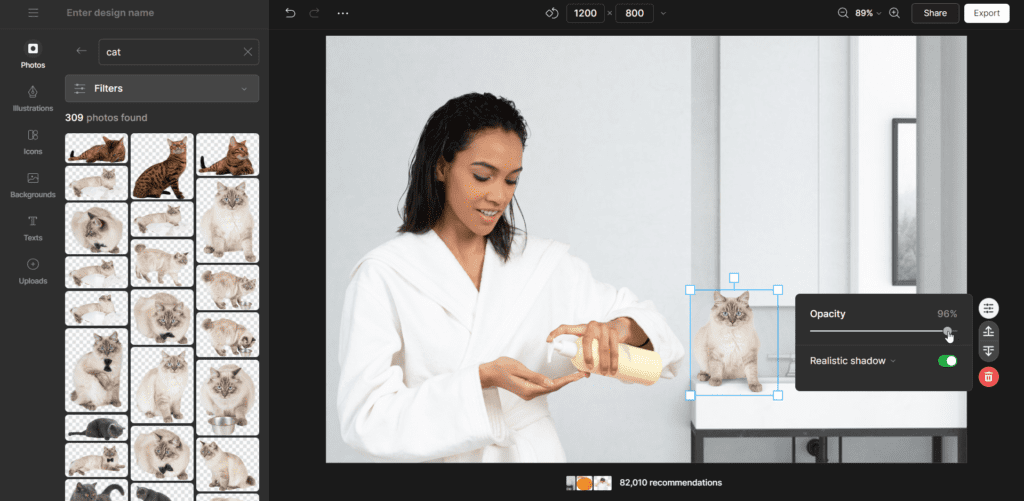 Like Canva, Mega Creator also offers built-in templates for social media. But in this editor you can create your very own illustrations and photos, using pieces of other images. Add AI-generated photos to make your images truly unique. You can also remove background and swap faces in one click using AI-based tools.
$29 for 100 assets per month. All unused credits rollover to the next month. You can also buy one or few assets without subscription.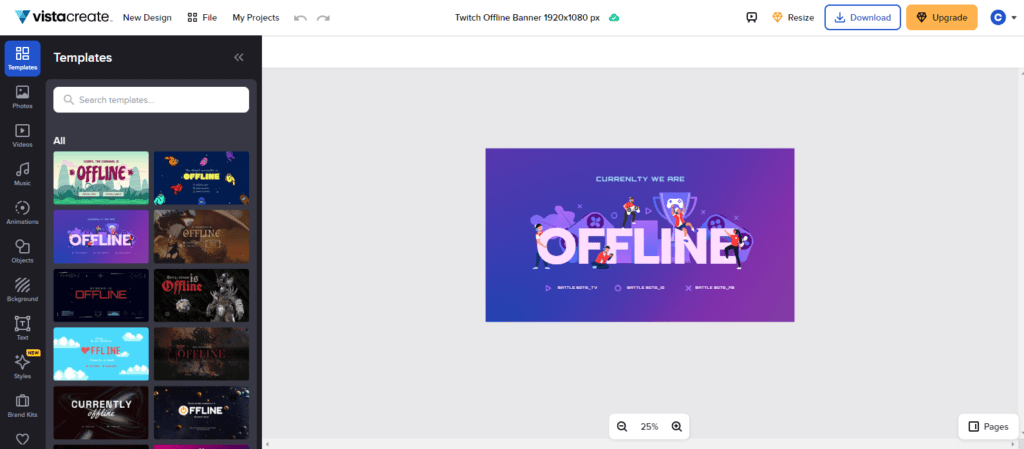 The biggest collection of free templates and graphic elements all over the internet. 50,000+ ready-made templates, 1 million images, and 200M+ licensed stock files in the free version. But on the flip side, it's hard to find something worthy for free.
$10 per month for the premium assets, unlimited storage, and the opportunity to collaborate on the same project.
If you need a more advanced tool, try Lunacy. It is intuitive for a non-designer and also has the features of a full-fledged graphic editor. And it works offline. If you ever find yourself in a place without internet connection, you don't need to hunt for a diner or a workspace with wi-fi.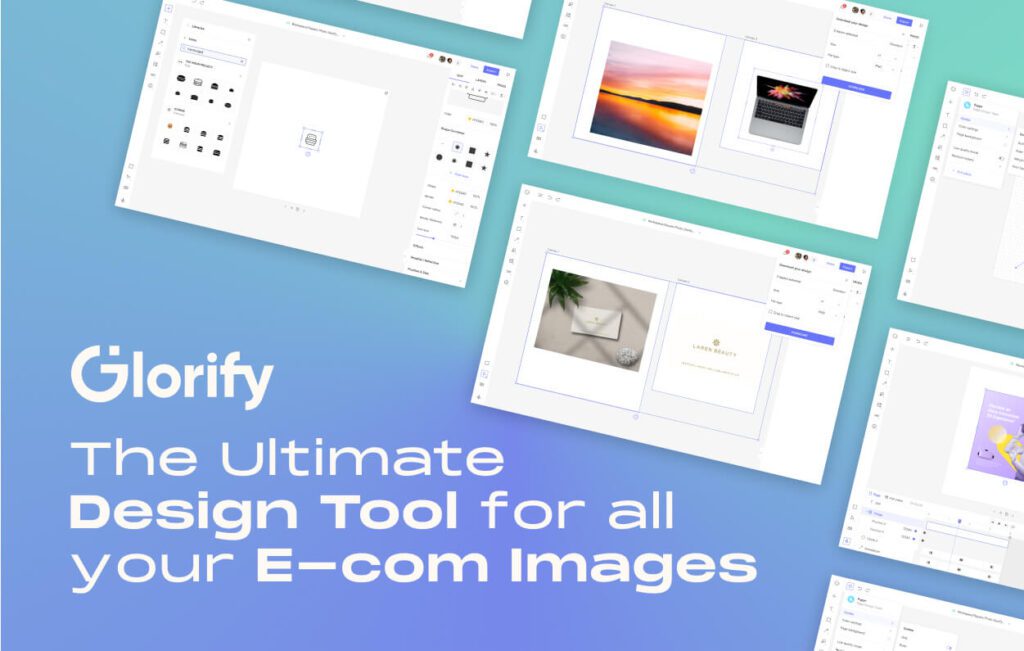 Glorify is an easy-to-use yet powerful graphic design tool that allows you to plan, design, launch and analyze all your big ideas in one place. It is a life saver for if you're looking to easily create high-quality images without the need for pricey outsourcing .
Glorify makes design accessible to all. Entrepreneurs, marketers, agency owners, designers and just about any busy professional can use this tool to create aesthetic images that convert.
Glorify offers a free plan for those just getting started. Monthly subscriptions to their Pro and Business plans cost $39.99 and $99.99 respectively. However, if you choose either plan as a yearly subscription, you will get a 25% discount.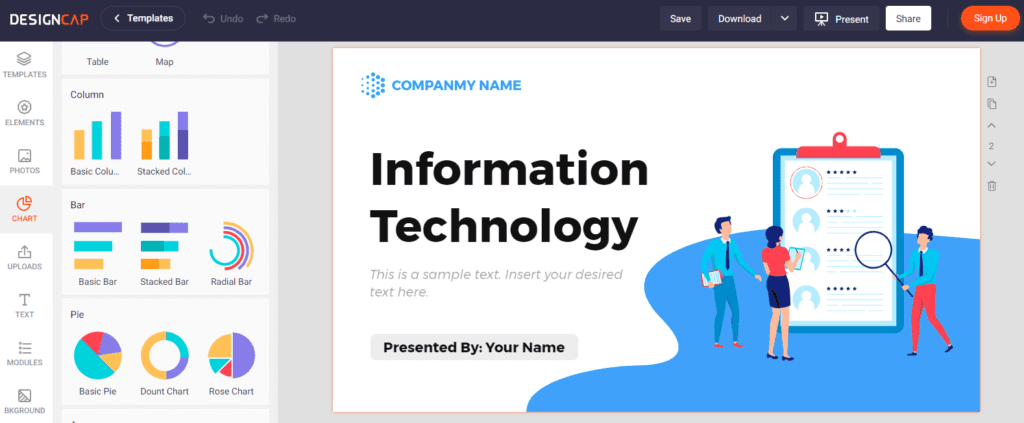 DesignCap is an excellent graphic design tool that creates high-quality visual content in minutes. The best part about this tool is that you do not need to be a professional designer to create visually attractive vector graphics. You can create an easy graphic design thanks to numerous templates, filters and options like adjust, crop, resize, etc.
You can level up your design with built-in fonts, shapes, backgrounds, and a large library of stock photos and icons. It allows you to make striking graphic designs for your business, event, social media, and more.
Animation tools for non-professionals
If you need video, but not ready for After Effects yet, these tools should do the magic. You can only create short videos with a watermark using the free version. Paid plans give you access to HD quality and other premium features, such as the ability to upload third-party video and change the soundtrack.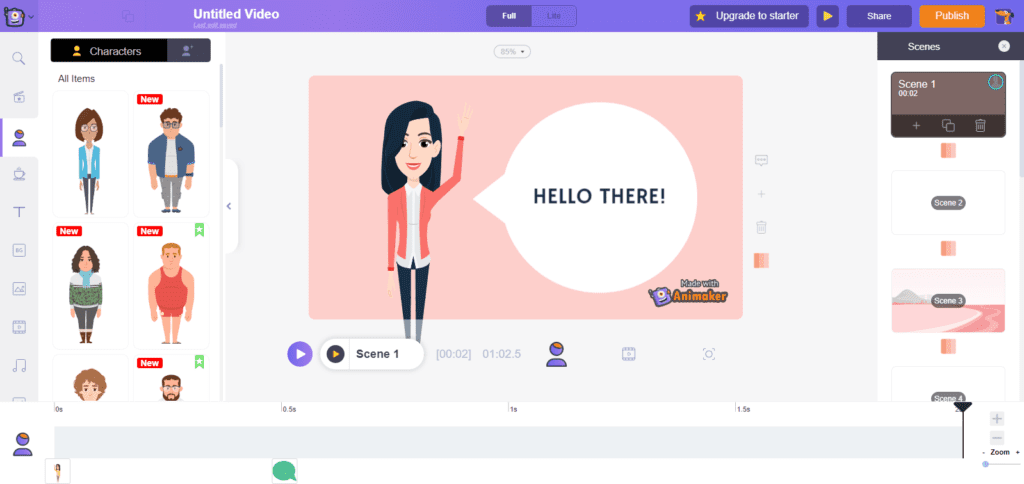 Renowned video making platform for beginners and non-designers. 1000+ templates for different occasions from official presentation to St. Patrick's Day. 100,000,000+ assets in the library. Advanced drag-and-drop based character builder on board. You can create videos for up to 3 minutes and download up to 5 videos with watermark for free. To get rid of the watermark and get the ability to customize your video, choose one of the paid plans starting from $10 per month.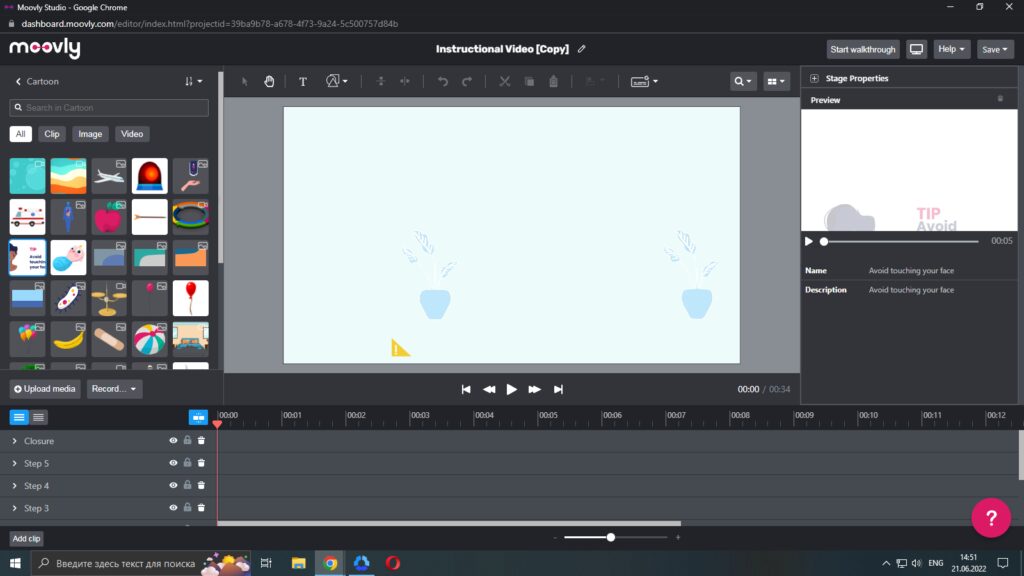 At first glance, the interface seems overloaded, compared to Animaker. The built-in library has about a million assets. Besides the standard drag and drop video maker, it offers several advanced features, such as chroma keying, webcam recording, screen recording, subtitling with an automated translation, but it will cost $ 49.92.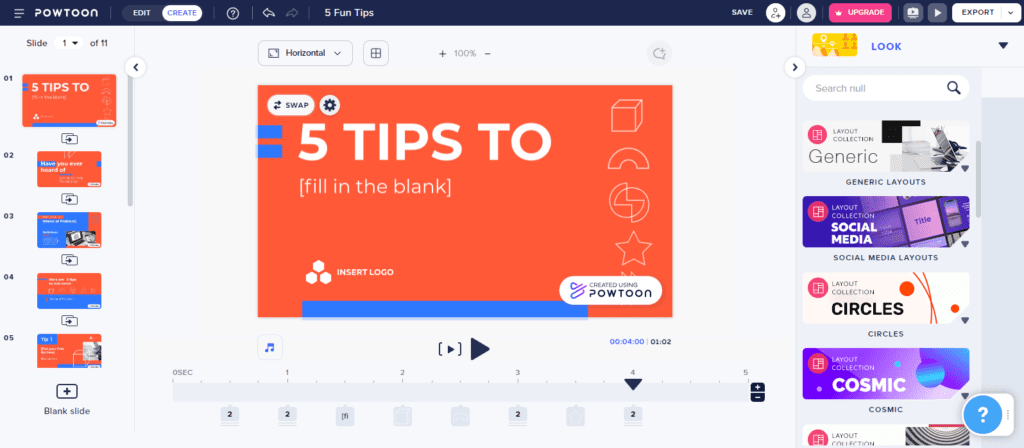 This tool offers the most professional-looking templates and the most extensive customization options. You can customize character outfit and face, add custom fonts and use advanced animation tools. This pleasure will cost you almost $200 per month. But you still can create videos of up to 3 minutes with watermark for free.
Tools for presentations
For decades, we had only two options for presentations, good old PowerPoint and Keynote. Now we have a variety of other tools functional enough and easy to learn.
Google slides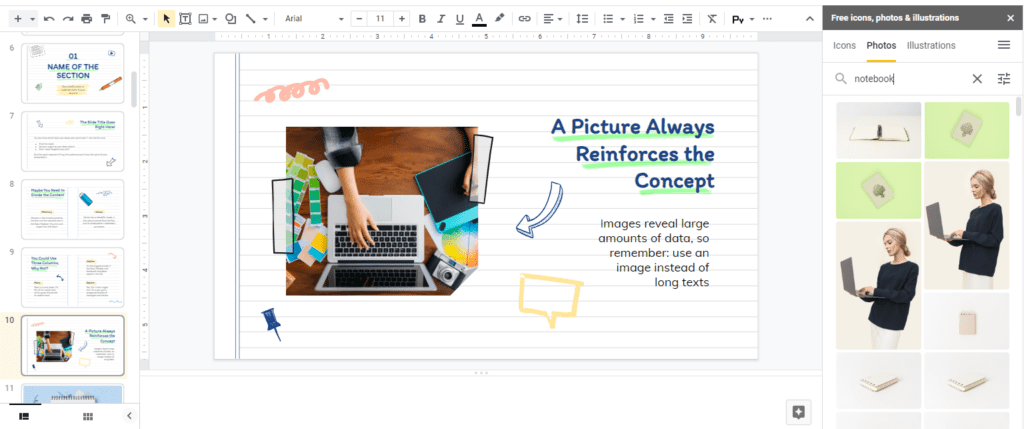 Google Slides is a handy collaborative tool for making presentations. It's intuitive and it's free. But it won't give you much room for visual appeal. If you want to add more flair to your presentations, install a free Icons8 extension for Google Docs. More than million high-quality graphic pieces: consistent icons, illustrations and photos. Drag and drop it to your slides, to make them more stylish. It also works with Docs, Sheets and Forms.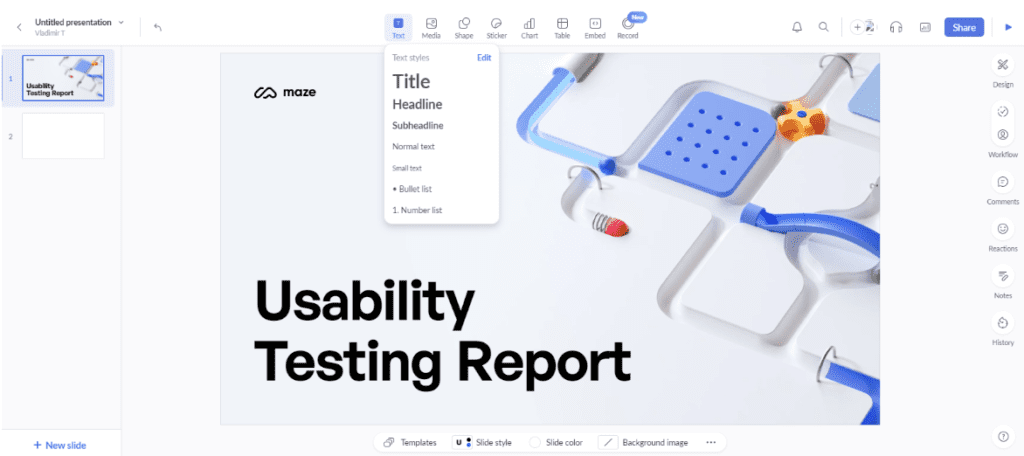 Collaborative template-based tool. Unlimited presentations even in a free version. You can expand the media library, add presentation analytics, and export PDF without watermarks for 8 euros per month.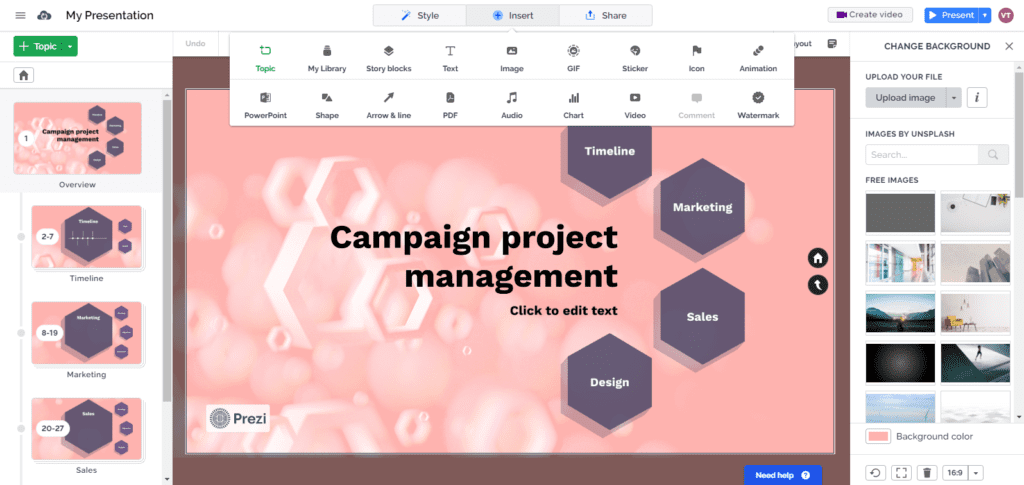 It's also a collaborative template-based tool, but here you can add animation and audio files to your presentations. There is also a mobile version for iOS and Android. You can create up to 5 projects in a free mode.
Tools for creating infographics
One proven way to get the message to the audience is to show them numbers, graphs, charts etc. Here are the tools that help you create attractive infographics, without the designer's skills.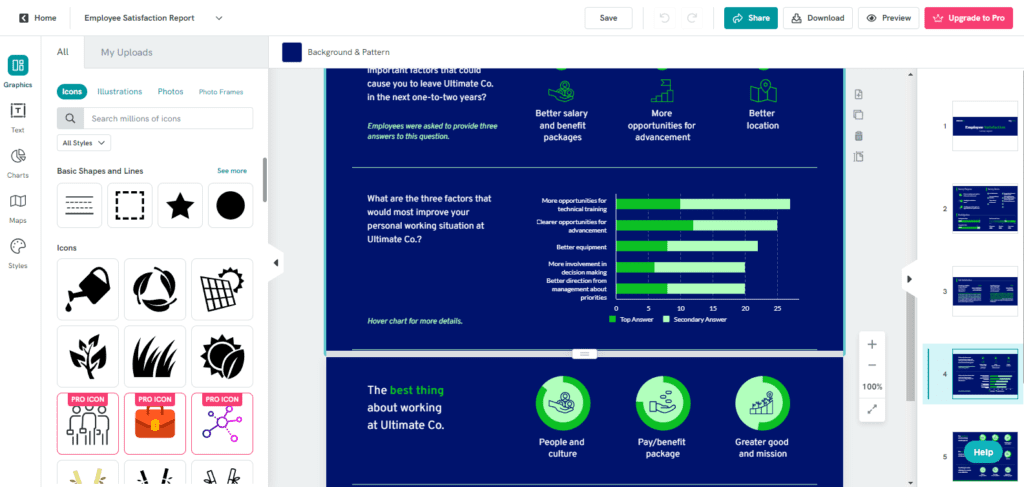 Over 600 infographics templates and personally, I like them all. Moreover, you can import an Excel file or Google Sheet with data into Piktochart and the software will transform your spreadsheet into a nice-looking graph. You can create projects without a watermark even in free mode, but no more than 3 per month.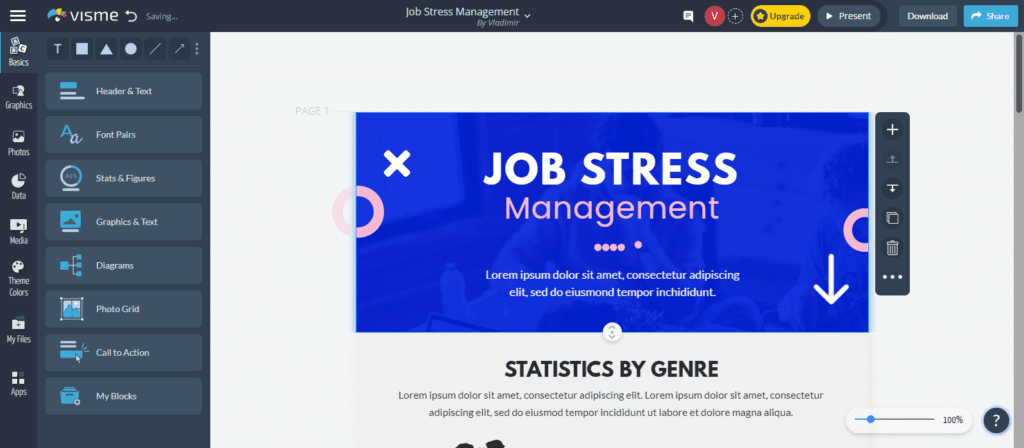 It is a comprehensive tool for business presentations with a good collection of data visualization assets, including charts, graphs, and tables. You can import data from Google sheets, Exel, Google Analytics and Survey monkey. To get access to premium templates, the ability to download files in JPG, PNG, PDF, and get rid of the watermark, you have to pay $24 per month.
Screenshot editors
Step-by-step guides and how-tos are popular types of content. To create them you often need screenshots. Here are some free tools to help with that.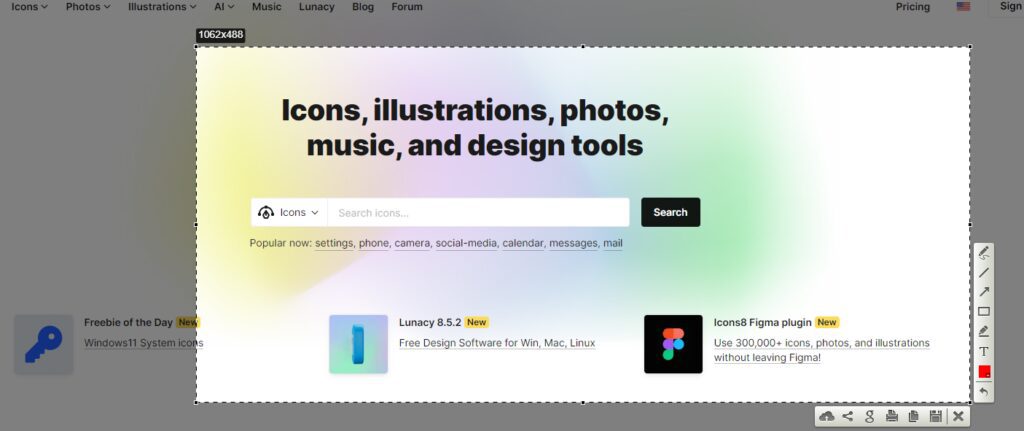 Сapture a full screen or selected area of the screen, make a screenshot and save it in .png, .bmp, or .jpg. Add your own text notes or simple graphics to the screenshot.
You can use LightShot as a free app for Windows, MacOS or Linux or install browser extensions for Google Chrome, Firefox, or Microsoft Edge.
This tool automatically uploads screenshots to the cloud so you can instantly send them in a private message or share them on social media.
Joxi is available as a native app for Windows, macOS, and Linux or as an extension for Chrome, Firefox, and Opera.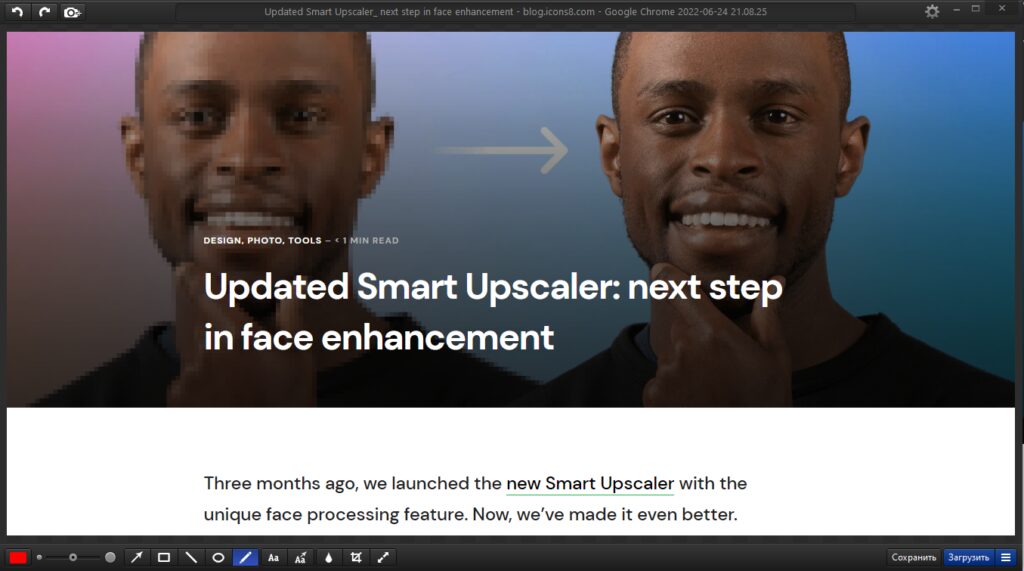 Besides making static screenshots, this tool can record videos or .GIFs. Like Joxi, this software automatically saves screenshots to the cloud for quick sharing.
There are free native apps for Windows and macOS, but no browser extensions.
Monosnap integrates with Zoom, YouTube, and Google Drive even in a free version.
Video recording tools
Sometimes you need to make a short video for a guide or tutorial. You can use these tools even in the free version to handle these tasks.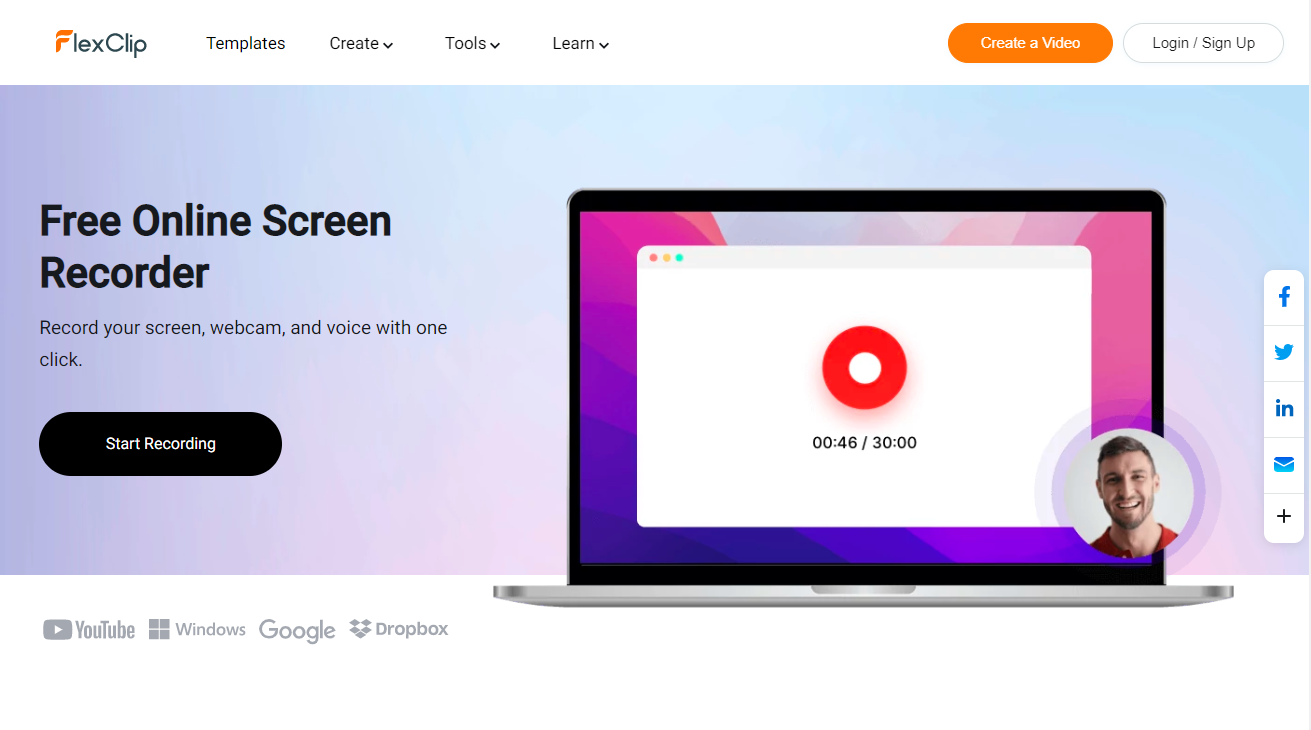 Based online, FlexClip Screen Recorder is compatible with Windows, Linux and Mac OS. It allows you to make a screen capture of the whole screen, application windows, or browser tab, which makes it perfect for recording online meetings, tutorials, gameplays, and live streams.
FlexClip Screen Recorder also comes with an inbuilt editing suite that allows users to edit their recordings easily. Users can add text, annotations, and even trim their footage.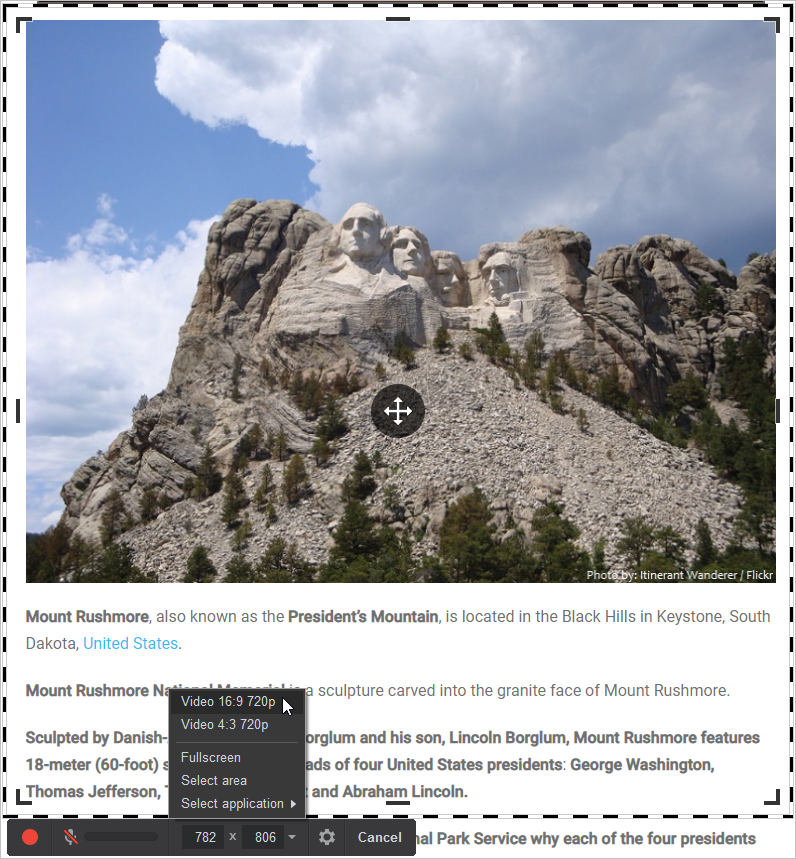 Intuitive free screen recorder with a built-in audio and video editor. Fast upload to YouTube.
No watermark or time limits. For Windows only.
Make video records and upload them directly to YouTube in a few minutes. Other features include facecam, voice synthesis, slideshow maker and a bunch of free music to add.
Very feature-rich for a free tool, but works only on Windows.
Audio and video recorder with webcam capture. Share the results to Facebook, Twitter, Google Classroom, and MS Teams, or publish them on YouTube, Google Drive, Dropbox, or Vimeo.
You can edit videos for free. Pay $4 for advanced options like adding visual and sound effects, music, and speech-to-text captions. It works with Mac, Windows, Android or as a Chrome extension.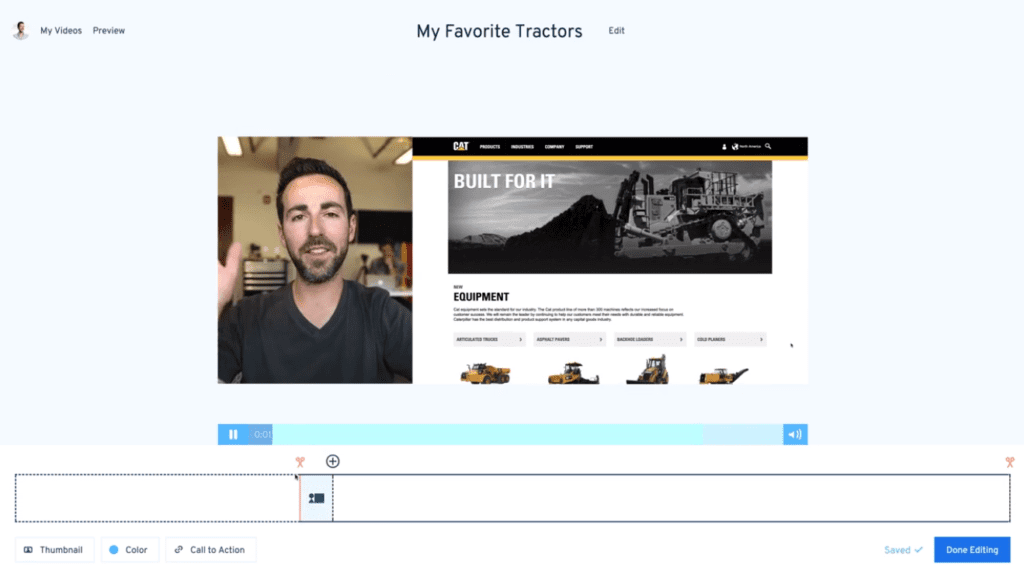 Record video with screencast and webcam together. You can also create video thumbnails with looping GIFs and text overlays.
You don't need to download anything. It works online, but only three videos a month for free.
Free color matching tools
If you're not a designer, picking colors can be tricky. Here are a few websites with free tools that may be useful.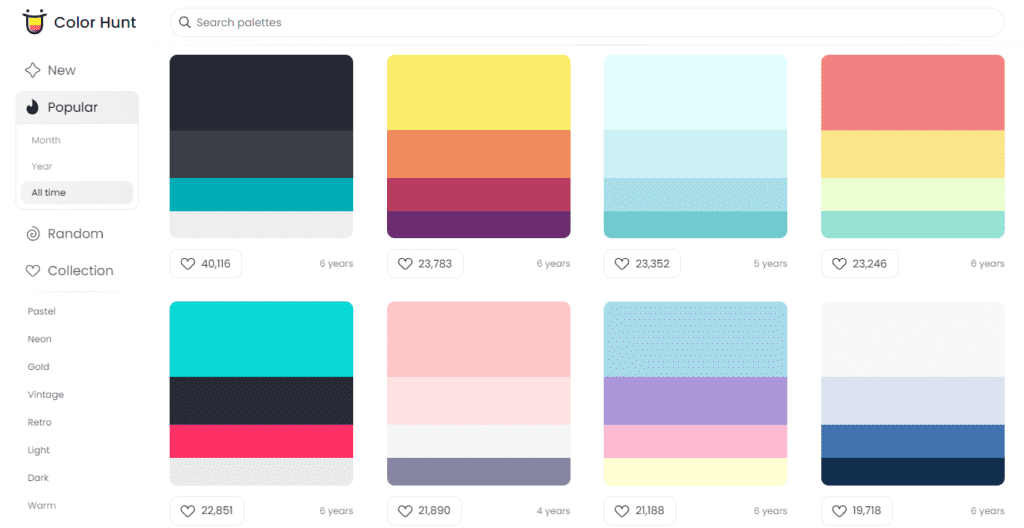 Thousands of hand-picked color palettes are ready to use. You can filter them by popularity and by style. Create your own collections for quick access.
Colorhunt is also available as an extension for Chrome.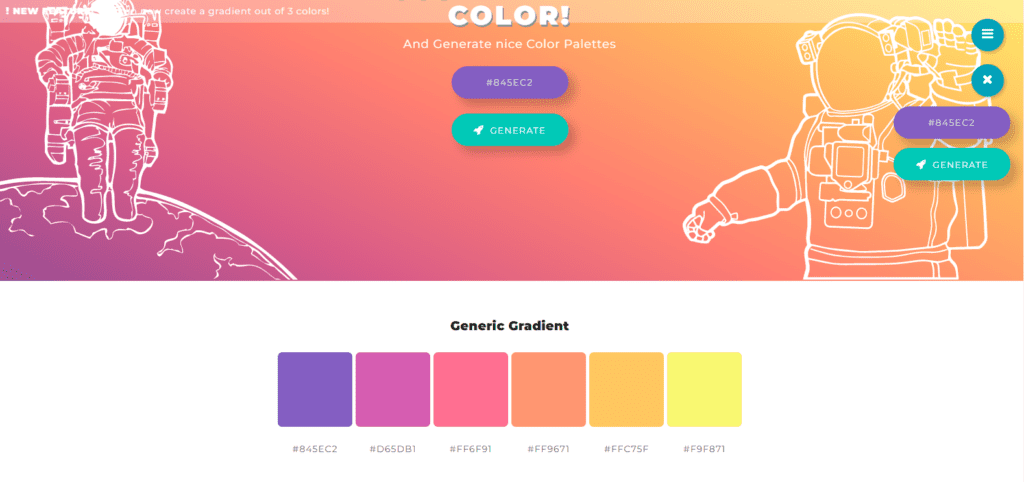 This tool can generate a whole palette based on your color choice. Select color and build a color palette around it.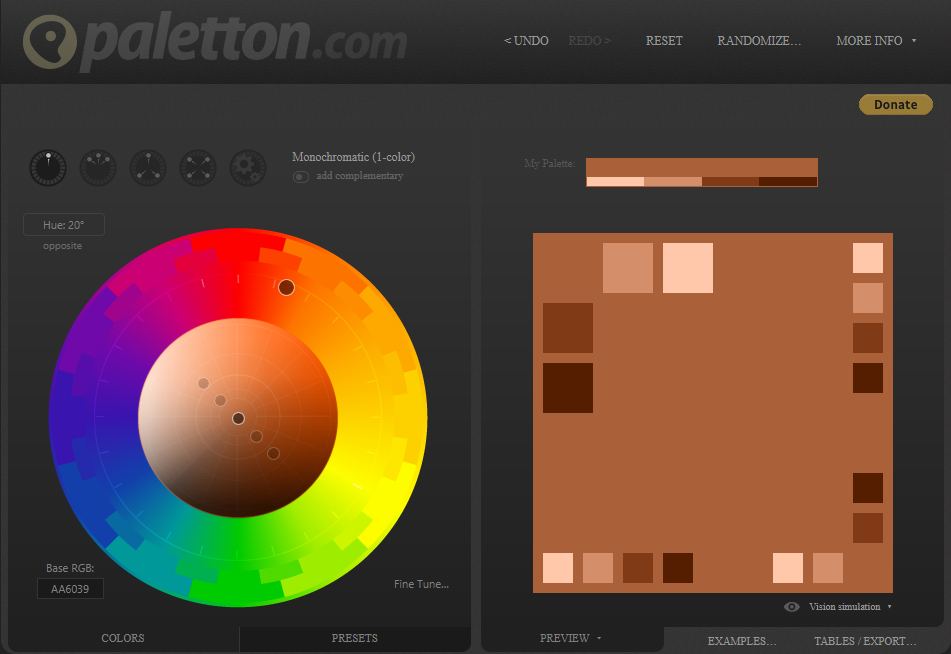 A more advanced, but still intuitive online tool for creating color combinations and palettes of colors that work together well. It's built on a classical artistic color wheel, applies classical color theory and works within a specially created RYB color space. You can use fine-tuning for color selection and export the resulting palettes to HTML, CSS, and other formats.
This tool will help you to build your palette expertly with explanations of why these colors are relevant.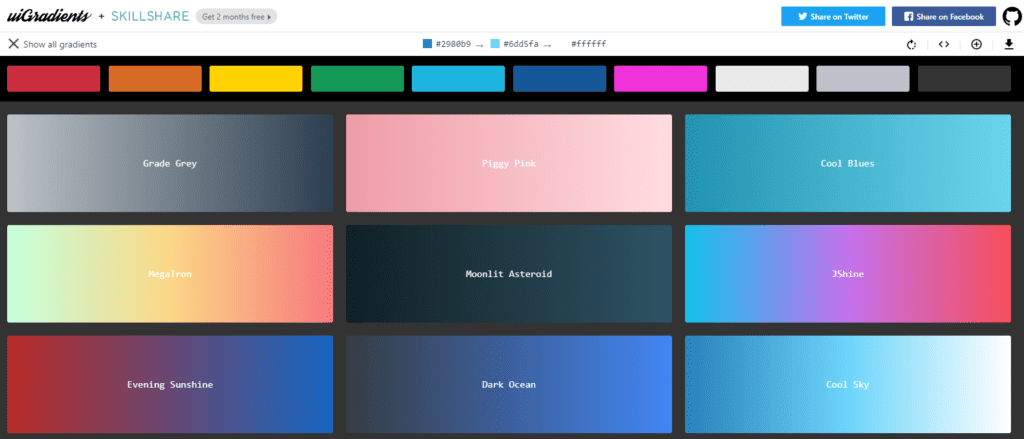 Collection of color gradients for designers and developers handpicked by SkillShare team.
Font pairing tools
This task can puzzle even a professional designer. Here are a few websites with free or partially free solutions.

This is a Tinder for fonts. It helps you pair fonts automatically or manually with a detailed description for each font.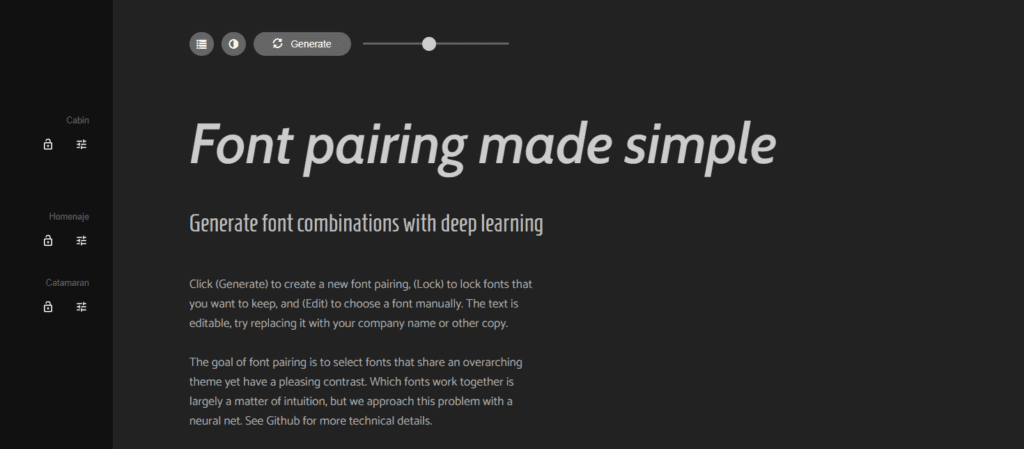 Generate font pairs in one click with AI help. This tool uses deep learning techniques to analyze the key visual features of fonts and calculate which ones work best together.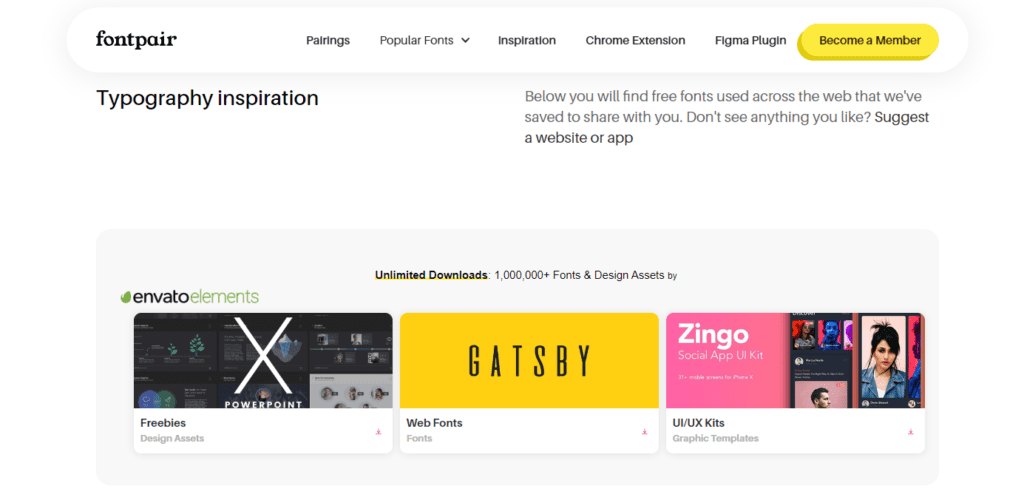 More than a million fonts and font pairs from the Envato team. Download the chosen combination with just one click.
Also available as a Figma plugin or Chrome extension.
Did we miss anything?
These tools help me spend less time creating visual content. What tool saves hours of your life? Share your tools for non-designers on Twitter, tag @icons_8 and I will add the best to this article. Let's make non-designers' lives a little easier together!
Read also: